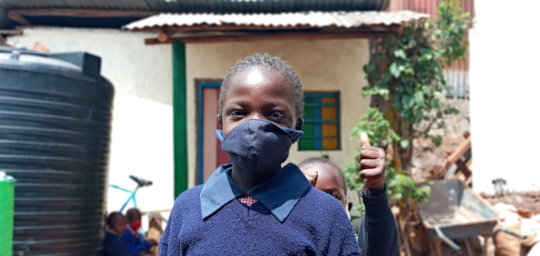 The School Transition Programme reopened its doors on the 4th January to welcome children after a 9-month break.
We are picking up where we left off with 35 children in our school preparation and transition classes.
The government had opted for a phased reopening of schools. So five children successfully moved from the transition programme into the Fountains of Hope School in October last year.
The children are excited to be back with their friends and to have lots of activities to do each day after a long time of being at home with little to do.
We're following the government's guidelines to keep children COVID-safe. All children and staff wear masks and sit 1m apart in class, we've also added more handwashing stations to ensure all kids keep washing hands regularly.
Thank you to everyone who has supported us over the past year to provide food vouchers and home learning resources to children while they were out of school. We are so grateful for your partnership.
While the schools were closed, we were able to rebuild some of our classrooms after one of the walls crumbled. We're delighted with the extra space and bright environment that's been created.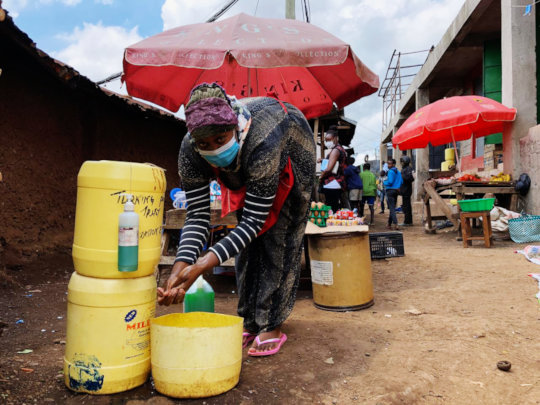 With your help, we have been able to achieve so much since our normal programmes were closed in March. Here's a snapshot:
We've provided 3,840 food vouchers to families in Kibera struggling without the free school meals their children normally receive at our centres.
We've sustained 19 free handwashing stations to help community members wash their hands regularly despite not having running water in their homes
We've supported over 100 children to keep learning at home by sending work packs home
Our students have taken part in the My Home My Playground Campaign by Futbolmas Kenya and learnt new life-skills and engaged in fun, positive activities while outside of school
Our Social Workers have checked-in regularly with each family to support their wellbeing
The Ministry of Education called for the phased reopening of schools in October so we have reopened the Fountains of Hope School for 40 students in Class 4 and Class 8.
We're happy to report the reopening process has gone smoothly. The school staff and students are working together to make sure we stay COVID safe with everyone wearing masks and observing social distancing. We also fumigate our school regularly with an impressive machine that looks a lot like it could launch a bazooka!
Since reopening, our team have run art therapy workshops with our students so that they can process some of their challenging experiences during their time out of school.
We are looking forward to January 2021 when we hope to reopen our programmes fully for all our students. In the meantime, we continue to support the 111 families whose children are still waiting to return to school with weekly food vouchers.
Thank you so much for enabling our response to coronavirus in Kibera. At the time of writing, we are just about $500 away from reaching our fundraising target. Would you consider giving another gift to help us reach that target? We will use the funds to continue providing free handwashing and support the over 100 children who remain out of school until January.
Thank you!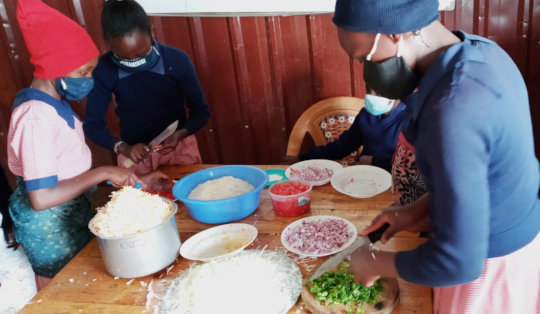 This week over 30 children have returned to the Fountains of Hope School!
Our doors have been closed since March 2020 and it looked as though they would remain so until next January but on 6th October, the government announced that two age-groups in primary schools could return to school from October 12th!
On Monday, children in Grade 4, aged 10-11 years and Class 8, aged 14-16 years came back to school.
We are following the Ministry of Education's guidelines to make our school COVID safe. This includes all children and staff wearing masks, children sitting at desks 1m apart and everyone having temperature checks when they enter the school. The school will also be thoroughly cleaned at the end of each day.
We are delighted to be able to meet with our learners (masked) face-to-(masked) face again and we look forward to welcoming more students back soon. The government have suggested that other students may return to school in the coming weeks so we are preparing ourselves for that. In the meantime, we continue to provide food vouchers and home learning materials to our students who are yet to return to school.
Thank you so much for your support over these last few months of school closures. We are very aware of how challenging this year has been for people everywhere, thank you for thinking of us and standing with us.
WARNING: Javascript is currently disabled or is not available in your browser. GlobalGiving makes extensive use of Javascript and will not function properly with Javascript disabled.
Please enable Javascript
and refresh this page.