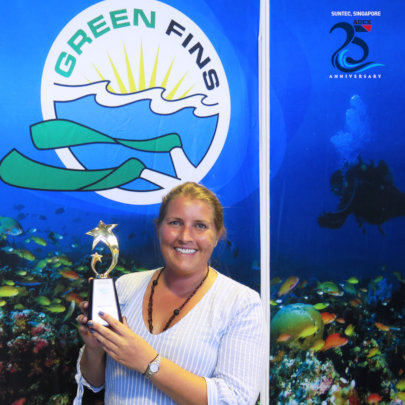 Green Fins is the world's first and only set of assessed environmental standards for scuba diving. This is done through adopting a 15-points Code of Conduct that will help mitigate dive operators' impacts when carrying out diving activities, both underwater and on land. Members receive annual assessments, training, and feedback to help them achieve the Code of Conduct.
In March 2014, a Malaysian Team was established, comprising Marine Parks Malaysia, Sabah Parks and Reef Check Malaysia, with the capacity and skills to implement Green Fins.
As of today, in Malaysia, there are 49 certified Green Fins members, 3 Green Fins trainers and 9 Green Fins Assessors.
We are proud to announce that the winners of the coveted 2020 Green Fins Award are
Bubbles Dive Centre, Pulau Perhentian, Malaysia,
Flora Bay Divers, Pulau Perhentian, Malaysia
and Tioman Dive Centre, Pulau Tioman, Malaysia
The prestigious annual award recognises Green Fins member with the lowest environmental impact. This year, competition was so tight there was not one, but three winners all tied in first place. What's more, all three of the winners and seven of the global top 10 centres are based in Malaysia!
1. Tioman Dive Centre, Flora Bay Divers and Bubbles Dive Centre (all in Malaysia)
4. Ceningan Divers (Indonesia)
5. Scuba Junkie Mabul (Malaysia)
6. Sea Voice Divers (Malaysia)
7. Evolution (Philippines)
8. Orca Nation Rawa (Malaysia)
9. Equation (Philippines)
10. The Barat Perhentian Beach Resort (Malaysia)
Reef Check Malaysia will ensure Green Fins members in Malaysia continue to undergo annual training sessions and assessments of their dive centres to ensure that they are continually working to minimise their environmental impact.