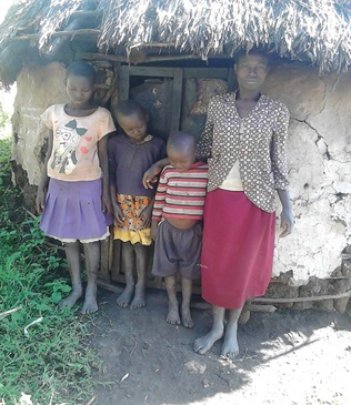 Picture # 1: Family of the victims attacked on Mt. Elgon. Note the lack of shoes even on the mother and the very basic structure of their small home. In other words this is a poor family as were most of the victims.
Update on the situation on Mt. Elgon: After the gang on Mt. Elgon killed 30 people, raped 42 women and girls, and destroyed substantial property, a reward of one million shillings (US$10,000) was put on the head of the leader of the gang, Timothy Kiptanui Kitai. For details on this please see me previous posting on March 16, http://davidzarembka.com/2018/03/15/491-attacks-on-women-on-mt-elgon-march-16-2018/. Fortunately last Monday, he turned himself in at a police station near Eldoret. His brother who also part of the gang also surrendered to the police. Even though some of the members of the gang are still at large, this should be the end of the gang and its killings, rapes, and destruction on Mt. Elgon that lead to fear and people leaving their homes for security in schools. The damage, both material and psychological, is going to take a long time to recover. While some of the community members who had fled are now returning to their homes, a considerable amount of healing, reconciliation and debriefing needs to occur.
Getry told me, that the womb of the eleven year old girl who had been gang raped was so extensively damaged that it had to be removed. As a result, in a culture where women are expected to have children, she will never become a biological mother. As Getry said, "This is an issue she is going to have to deal with the rest of her life."
Report on HROC workshop with rape survivors:
Picture #2: A participant with disability who escaped the hands of the gang in TCSC's basic HROC workshop.
My husband was killed by the armed gang. From what I was told, he was suspected to be a government informer. Two men pulled me from the kitchen. They threatened to throw me in a pit latrine if I screamed. One raped me with protection; another did not use any protection. Notwithstanding my pain, my husband's family members have excommunicated me with my three children. I can't afford basic needs. Because of stigma I have had to change the school my kids attended. It's so hurting because the sole breadwinner was killed. Tell my story to shame and name them. Help me to meet Mavis; I want to tell her "thank you" for supporting this training. Rape survivor participant at HROC basic workshop.
To make a tax deductible (US) or gift aid eligible (UK) donation through GlobalGiving for TCSC to continue its recovery program on Mt. Elgon, go to http://goto.gg/32883
TCSC conducted one three-day Healing and Rebuilding Our Communities basic workshop with three female facilitators for 21 survivors of rape. As Getry reported the workshop was very emotional. Fortunately a trained counselor attended the workshop to individually counsel any woman who needed and wanted help.
Training for local male leaders:
Picture # 3: HROC training with Nyumba Kumi [ten households] leaders that introduced one whistle in every household.
A second workshop was held with twenty-three male leaders from six villages. Many of these were nyumba kumi [ten household] leaders. This is a program in Kenya where ten households in a community come together to chose one person to be the leader in these ten households. The government had put a three-month night curfew from 6 pm to 6 am on the community. This caused considerable inconvence since no one could go out at night even into their own farm. If a woman was giving birth at night, she was unable to be taken to the clinic for birth on the motorcycle "ambulance" system that the Mt. Elgon Peace Centre has set up. By the end of the workshop, the leaders vowed to remain vigilant, use the TCSC Call-In Centre to text messages for early warning, and initiate a one whistle per household to be blown in case of any dangerous night activity.
One issue that was pending was if the former Sabaot Land Defense Force (SLDF) which had terrorized the Mt. Elgon community from 2006 to 2008 was regrouping. Since TCSC had done a number of workshops with reformed SLDF members, one of the HROC facilitators visited one of these members who said,
Seven of us [former SLDF members] met to mourn one of our members who was killed in the Saria village in Chepyuk in an attack that left six people dead. If we were still in SLDF we could have revenged, but the training that we got from HROC has help us transform. It's until all those who were previously involved in SLDF activities are trained in peacemaking will violence on the mountain subside.
The way forward:
In order to restore this wounded community on Mt. Elgon, a tremendous amount of trauma healing, both at the individual and community level, needs to occur. While TCSC has begun work with the women who were raped, this work is only the initial healing that these women and girls need to go through. TCSC and the people on Mt. Elgon would appreciate your support.