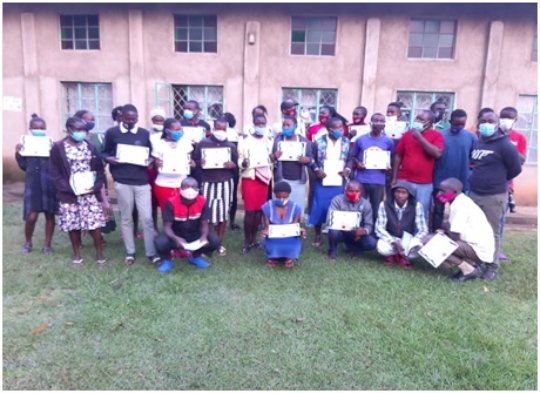 I was a vigallante under the government with the directive to kill any raider or bandit and honestly I killed ruthlessly in the name of bringing peace. Little did I know that we can achieve that coperation in a small circle like this. Participant in cross-border listening session.
HROC Report
The Covid-19 pandemic has wrecked unprecedented havoc on children, teenagers, families, schools and community in and around Transnzoia County specifically in Kitale town, disrupting vital services and put many lives at risk. Since March attempts to avert this global pandemic have seen closure of most schools, affecting so many children and livelihoods of teachers who were employed by the school management.
For the most vulnerable children, especially girls, accessing basic needs has been a challenge forcing them to engage in unwanted behaviours to meet their needs. The pandemic has caused additional, unanticipated disruption and the likelihood of the vulnerable girls being unable to meet their life goals
The vulnerability that is known to increase due to the closure of schools in time of crisis and risks is "teenage pregnancy". School closure during crisis can result in girls spending more time with men and boys than they would were they in school, leading to greater likelihood of engagement in risky sexual behaviours and increased risk of sexual violence and exploitation.
In as much as currently we blame Covid-19 for the increased cases of the teenage pregnancy; it can further be linked to lack of sexual and reproductive health education, child marriages, substance abuse, increased poverty and insecurity which is predominant in Trans Nzoia. Complication from teenage pregnancy account for more cases of death of young girls in Trans Nzoia. The situation that has put the leadership of the community in a dilemma wondering what to do.
Since March more than 10 deaths have been recorded in the area as a result of young girls wanting to conduct back alley abortion which is either aided by their parents or a close relative. Due to not believing that children are taking a wrong direction, two parents succumbed because of the death of their young one.
The training brought about so many lessons which included:
Through trust walk participants acknowledged the importance of a shoulder to lean in times of distress
We see people suffer but we couldn't identify that it was traumatic stress
Trauma is an accompaniment of covid if not shared it leads to quick death
People living in suburb's are prone and at risk of traumatizing events
There is dire to be close to our children during this pandemic
Prompt more sharing from our teenagers
Recommendations
Have regular follow ups to people who are more traumatized
Partner with other organization to enhance referrals
Develop and train more healing companion in the region
Testimonies
it was on June the second day of the week, memories are still fresh in my mind. I was preparing lunch for my family and children were busy playing at the main house, while others were glued to their phones. Then my younger daughter came to me telling me that Joyce, my form 2 girl, was playing a bad game at her bedroom. I assumed and told her to go and tell to stop the game. She went and again after five minutes she came back again and told me the same story. This time I decided to go with her to Joyce's room. Friends, what I found was shocking. Joyce was hanging from the ceiling, at first I could not believe it was true but from a closer look i saw her tongue out, what transpired next I don't know because I found myself at Kitale district hospital. I was there for two days in a comma. I buried my daughter because she refused to share her problems with me and I was also not available to her. I am in a lot of pain and when I see parents talk of teenage pregnancy I see the letter my daughter left behind informing me of her pregnancy and that she didn't want to be a shame to the family. I am still mourning my beloved daughter and kindly I welcome you to my house to come and help me mourn and talk to my kids."
AVP Report
Venue:cheptonon in Suam, Mt Elgon
Suam isoin the boader of Uganda and kKnya. They border the hostile pastorlist comunities of Pokots from Kenya and Sebei from Uganda. The cross boarder conflicts between the warring communities have led to loss of many lives and displacements of hundreds of people.The old, women ,and children seem to bear the brunt of this socioecomical and politically instigated forms of violence. Violation of fundamental rights of women and children are widespread in times of conflict. This include crimes like murder, rape, torture, mistreatment and neglect. Women are left in situation where they can hardly make ends meet. With little or no resource at their disposal eventually leads to unfaithfulness to look for the basics from the haves.The communities live in constant fear of attacks from bandits and raiders. The often wanton destruction of life and property and the use of terror and threats in all its manifestation tend to undermine peoples value, dignity, and hermony .
When security forces fail to net bandits and raiders in their operation, they often vent their anger on the civilian population,who they accuse of colluding and harbouring the bandits. As a punishment they always confiscate their cattle to put pressure on the locals to return the stolen cattle. And on the other hand the bandits may also heavily punish some mebers of the community who are suspected to be working with the government. The locals therefore finds themselves in jeopardy or unsure on how to balance between the two forces. It's such scenarios that often lead to victims running and escaping for safety. What has real aided this henious act of banditry and raids is the inflitration of small and light arms in the region from neighbouring countries.
The government has tried several measures to end this unending conflict at the boaders which include
Police post and military camps in the region
Political approach
Having homeguards and vigilante groups
Disarment programs
But with all this the conflict continued. Even the police posts were being raided. After several listenning sessions with the so called perpetrators, we realized that the gap in all this measures was lack of :
Addressing attitudes
Perceptions
Retrogresive culture
Behaviour change
This informed the AVP tranings contacted in the community to address the gaps.
Lessons learned from the training
Timeliness and effective response is key and this can be achieved through identfying hotspots.
Identify pattens and trends of the conflict for proper intervention planning.
Use the locals who understand the history of the place to do further tranings in their dialect. This will ensure sustainability and ownership of the process.
Coflicts in this region are dynamic, interlinked and its this relationship that determines the nature of conflict .
Exclusion of a segment of the community from decision making is a recipe for prolonged conflict
Cordination and patnership is paramount in achieving desired outcomes
The locals want to be treated with love and repect
Reccomendations
a) Have cross boader dialogues between the communitie living there.
b) Let women also participate in this forum as they also play key role in instigating violence.
c) Increase political wing in the campaign against ending violence in the region by invting them in the trainings.
d) Have the trainings even in schools to transform the violent nature at a tender age.
e) Have regular follw-ups for encourgement.
Challenges encountred
Changing the narrative of gun ownership is tricky since they find value in them.
Due to their living nature most of them haven't gone to school hence communication is hampered.
Fear and uncertainity is still high hinderig concetration during training.
The hilly terain of the region makes participants to come in the training a bit late and tired .
Due to the sensitivity in the group partcitipants didn't want their pictures taken.
Testimonies
I am gratefull today because all along I knew this other tribes as people who came to snatch our land but I have realized through this training we can build a new society and stop fighting each other.