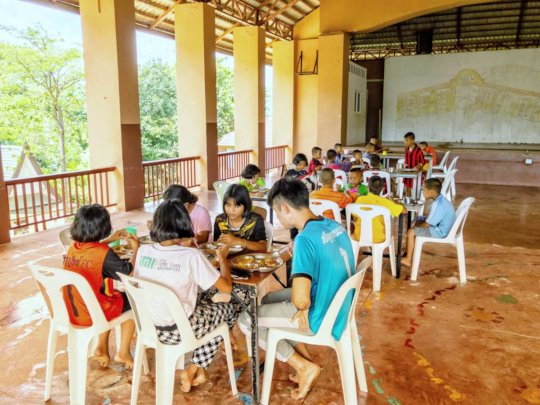 Dear Children's Sponsors,
Thank you for your generous donations for our children.
Because of the virus pandemic, Thailand's ministry of education ordered all schools including Yaowawit to close until June 30, 2020, which practically extended the holiday for another month, which otherwise would have ended in May 2020. However, because Yaowawit is a boarding school and thus also a home, many students remained at the school during the holiday, and a few more had just arrived at the school back from their holiday (figures 1 and 2). The new arrivals go through regular checks of their body temperatures to make sure they are free from any symptoms associated with the coronavirus.
As of now, there are 22 students, and because they are not taking any formal classes, the teachers have assisted them two hours a day with online lessons, which have been provided by Thailand's ministry of education for school students across the country during this pandemic time. In addition to that, the children stay put at the school at all time. Therefore, your one-time sponsorship donations have been used to buy school materials like books, pens, coloring crayons, pencils, erasers, etc. for this group of students for their learning activities with the online lessons (figures 3, 4, 5, and 6) that in turn occupy some of their free time.
Again, thank you for your generous support.
Kind regards,
Yaowawit Team