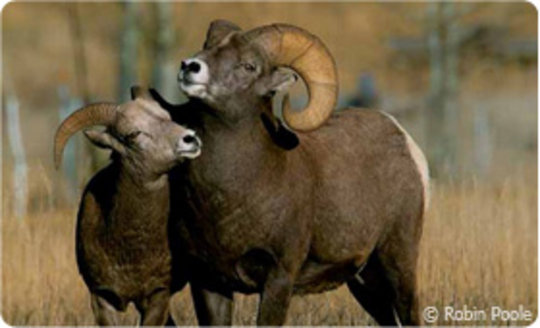 Hello Friends!
National Wildlife Federation is making great strides in our efforts to protect wildlife and we are so grateful for the support of our generous donors and friends at Global Giving who are helping us reach our goals. To date, NWF has already secured more than 620,000 acres of vital wildlife habitat. NWF has restored 61 wild, Yellowstone bison to the Fort Peck Indian Reservation in March 2012, and since then, more than 20 calves have been born to the herd. This was the first-ever return of wild bison to tribal lands after more than a century of being absent from their native prairie habitat. Through these efforts and more, bison have slowly begun to recover and thrive. With the help of our supporters, we will continue to move forward with our Adopt-a-Wildlife-Acre program to restore bison to the expansive Charles M. Russell National Wildlife Refuge (CMR).
To expand on our efforts, NWF's Adopt-A-Wildlife Acre is also focusing on wild bighorn sheep In Montana. They are facing devastating, deadly outbreaks of pneumonia when coming into contact with domestic sheep carrying the disease. The diseases are highly contagious and often fatal, leading to slow and painful deaths. The situation is complicated because scientists don't fully understand how these diseases spread. As long as domestic sheep continue to graze on public lands near major herds of bighorn sheep, the bighorns will remain at risk of catastrophic illness.
Another problem - bighorn rams roam far and wide in search of a mate, often onto public lands where domestic sheep grazing is permitted. Entire herds of bighorn sheep are at risk of contracting deadly diseases if they come into contact with those domestic sheep. One recent study found a single domestic sheep caused more than 86 bighorn deaths between 1997 to 2000.
Fortunately, we have chance to resolve these conflicts. Just as we are doing for bison, we now have the chance to "retire" domestic sheep grazing privileges in key areas adjacent to bighorn sheep habitat, including two critical allotments spanning 12,000 acres in southwest Montana. The two bighorn herds that are adjacent to these domestic sheep allotments have suffered two 75-percent reductions in their populations in the last thirty years due to disease outbreaks. Retiring grazing privileges would be a huge improvement for the health of local bighorn herds.
NWF is taking advantage of this rare opportunity and with the support of our donors will be able to purchase domestic sheep grazing allotments that border bighorn sheep habitat, and retire these lands from grazing by domestic animals.
We at NWF, along with our wildlife friends, cannot thank you enough for your help and support!
Links: