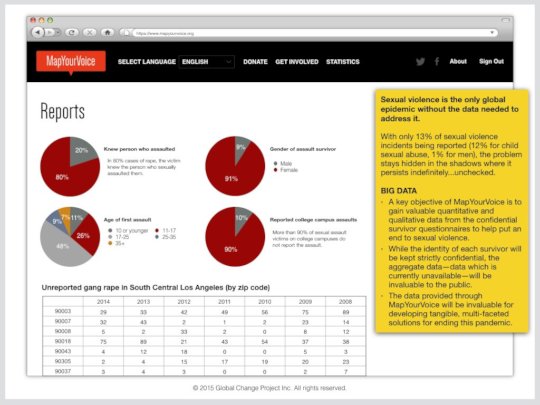 With only 13% of sexual violence incidents being reported (12% for children, <1% for men), the problem stays hidden in the shadows where it can persist indefinitely ... unchecked.
A few of the things we do know
Sexual perpetrators tend to be repeat offenders, preying upon members of their communities over-and-over again.
Sexual violence has far-reaching harmful impacts on many aspects of a victim's life: physical and mental health, relationships, education, career, quality of life, and more.
Statistically speaking, everyone on the planet knows at least one person who has been victimized by sexual violence: a relative, a friend, a classmate, a teammate, a coworker…or oneself.
The MapYourVoice Data-Oriented Solution
As survivors establish their private MapYourVoice member accounts and complete their comprehensive assault reports, they become our partners — our co-researchers — in developing meaningful quantitative (statistics) and qualitative (subjective experience) data to help end sexual violence.
As more and more survivors around the world participate, a clearer and clearer picture of sexual violence emerges through the aggregated (combined) data.
This data can be viewed in literally 1000's of ways to bring understanding to many aspects of sexual violence. It can also be analyzed locally to understand the specific nature of sexual violence within a local community — or globally to gain regional and global understandings.
MapYourVoice data serves street-level solutions
All of this unique, valuable data is intended to serve our efforts in teaming up with local, regional and global partners to develop tangible, multi-faceted solutions for supporting survivors and ending sexual violence.
Your donations help support a data-informed solution for ending sexual violence.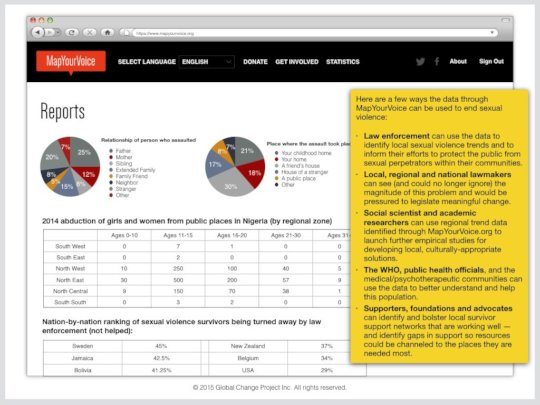 Links:
We want to thank you again for your support of the campaign to fund printed resources to support survivors. Your support is important to bringing much needed information and resources to people who are often not sure what to do after being harmed.
At present, we are awaiting grant funding to arrive to augment our crowdfunding efforts, to help us proceed forward with this endeavor.
In the meantime, please make sure to spread the word about MapYourVoice.org - a place where survivors worldwide can safely, anonymously share their stories, access local resources, and be supported by the public. And as you view The Map, please remember to click the "support buttons" to let each survivor who has mapped that you care!
We will keep you in the loop as this progresses!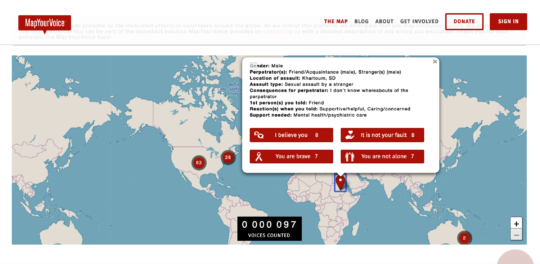 One of the most important things we can do for survivors of sexual violence is to give them a safe place to tell what happened to them and to help them get proper help.
MapYourVoice was purposefully designed to accomplish these objectives. With your help, MapYourVoice has giving voice to nearly 100 survivors on 4 continents. With over a billion survivors worldwide, we are just getting started!
Check out The Map here.
Did you know we've made it easy for you to play an important role in helping survivors feel less isolated and more understood?
By simply clicking on each survivor's pinpoint, you will find 4 'support buttons' that tell each person who was brave enough to create an assault report that you care.
As experts in the field, we customized these messages based upon the most healing things survivors need to hear:
"I believe you"
"You are brave"
"It's not your fault"
"You are not alone"
So visit the map to lend your care.
And thanks so much for your continued support of the important solutions MapYourVoice provides to survivors across the globe.
WARNING: Javascript is currently disabled or is not available in your browser. GlobalGiving makes extensive use of Javascript and will not function properly with Javascript disabled.
Please enable Javascript
and refresh this page.