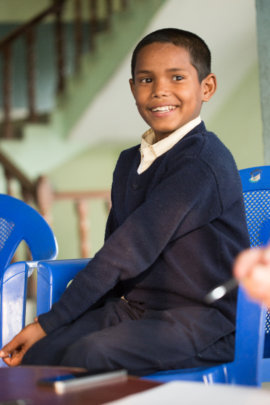 Dear GlobalGiver,
Back in March, I traveled to Nepal to meet with our team and spent a day at Hamro Ghar. After a formal greeting by two grinning students, I visited one of the classrooms where former child laborers were seated in rows of desks, focused on their morning English lesson. Before they were rescued by GoodWeave inspectors, these children could only dream of life outside of the factory, and now many are holding a pencil for the first time ever. Their excitement and desire to learn was deeply inspiring, and I wish you could have been there with me to see the impact of your generosity.
As the students returned to their lessons, the Hamro Ghar staff introduced me to a young boy named Binod and explained that he had arrived just three months before. We sat together and Binod began to share his story with a social worker's help.
Binod was born in rural Southern Nepal into a caste that is deemed "untouchable" in his community. By the time he was seven, both his father and mother had died tragically, and Binod was under the care of his neglectful step-grandparents. He was often left alone.
One day, as Binod and his friends were walking to school, a labor broker approached them. He promised them a good education, food and money if they went with him to Kathmandu – promises that never came true. For two years, Binod worked tirelessly – first in a garage and then a carpet factory, where he wove 16 hours a day with little pay and frequent beatings.
While the beginning of Binod's story was hard to hear, I could tell by the way he smiled that the ending would be a hopeful one. This past December, GoodWeave inspectors rescued Binod. At Hamro Ghar, he receives intensive counseling and is slowly adjusting to his newfound freedom. He is now an energetic, talkative 12 year old, and has developed a love for badminton. And with your support, Binod has finally returned to the classroom.
I have heard so many stories like Binod's over the years, and I want you to know that it's only with your help that GoodWeave can create endings like this one. Thank you for supporting these children and for enabling GoodWeave to find the many more still waiting on the looms.
Gratefully,
Nina
P.S. There is one more exciting update I'd like to share. You may remember that the Hamro Ghar building which GoodWeave rents was somewhat damaged in last spring's earthquakes, but engineers deemed it safe for now. In order to ensure that children like Binod have a secure home for years to come, we are asking for your support to help us build a new, safer Hamro Ghar to protect these children from future earthquakes and ensure the long-term sustainability of GoodWeave's work. If you'd like to support this project, please check out our new project page: https://www.globalgiving.org/projects/hamro-ghar/. From now until the end of June, your donation will be matched at 100%!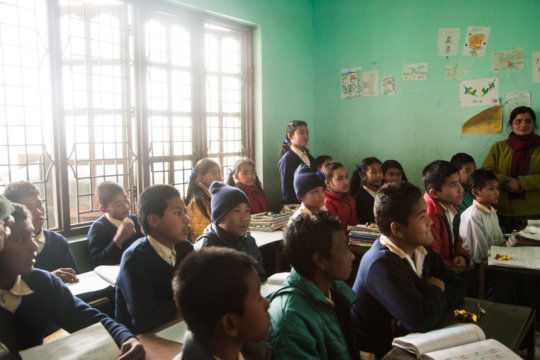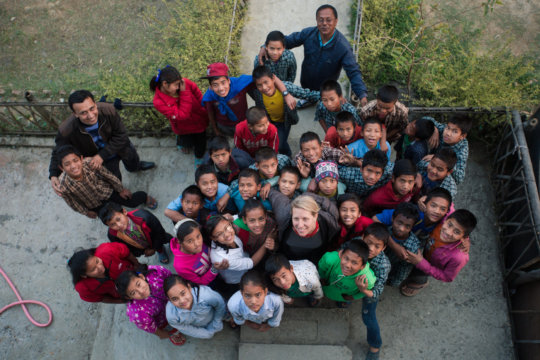 Links: