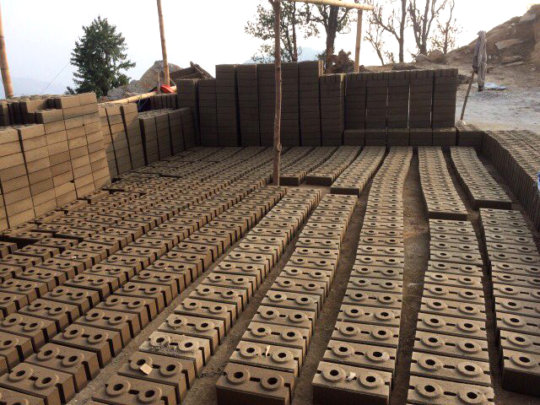 Dear GlobalGiver,
In my last update, I reintroduced you to the recovery process of a country still healing from the damages of a devastating natural disaster. I told you of our plans for rebuilding homes in the Kathmandu Valley, despite the distinct challenges of the last two years. At the time, our partnership with Build up Nepal was at its very beginning: GoodWeave was just learning about the benefits of earth-reinforced bricks, and discovering new ways to reach the 85 weaving families that had been struggling for two years.
In the months since my last update, GoodWeave has worked alongside Build up Nepal to implement the earth-reinforced brick building process across the Sindhupalchowk District. Compressed Stabilized Earth Bricks (CSEB) trainings have been completed in four out of our five targeted villages – Lisankhu, Thulo Dhading, Fulping Kot, and Hagam – and are in progress in the fifth, and final, village of Dubachaur. I was struck by the images of those trainings, which are shared below; they show an engaged and excited community. And, next to each training, the rows and rows of interlocking bricks stand proudly as symbols of hope and resilience.
In Lisankhu and Thulo Dhading, community members have broken ground on the first houses. Trainees in Linsankhu have produced 2,200 bricks – enough to build not only the first model home, but the foundations of several others as well. With the help of the GoodWeave team, the community has also chosen its very first beneficiary: a man named Arjun, one of the poorest members of the weaving communities we support. Thulo Dhading has taken similar steps; trained community members have produced 1,900 bricks, which will provide a roof over the head of Samjhana, a single woman with a small parcel of land and little else.
Other villages are not far behind. With the support of the GoodWeave and Build up Nepal teams, model houses in every targeted village will be constructed by the end of August. Enough bricks to support all 85 weaving families will be produced by the end of September. And, by December of this year, each and every one of those families still recovering from the devastation of the earthquake will have a permanent home.
As always, GoodWeave exists to help children find better lives. Children without the foundation of a steady home are more vulnerable to exploitation, and parents focused on rebuilding efforts cannot earn wages or prioritize sending their sons and daughters to school. With your support, this project has enabled us to give security and safety to 85 families and their children. As we help them build their homes, they can begin building their futures.
Your support for this project and your consistent care for families across the world are what enable GoodWeave to make sustainable change. Thank you, deeply, for your continued support. I look forward to providing further updates as the project progresses.
Gratefully,
Nina Smith
CEO