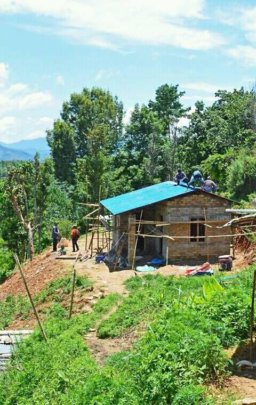 Dear Global Giver,
For the past several weeks in Washington, DC, we have been hit with large thunderstorms. As thunder claps and rain pounds the concrete, I find myself deeply grateful for the solid roof over my head.
For so many families in Nepal, a torrential downpour still means hours of trying to stay dry in a corrugated tin structure. It means leaks onto floors made of tarpaulin, because two years after the earthquake many families still do not have the means to build their own homes. But today, I write with a success story: one family who no longer has to worry about monsoon season, and an entire community that benefited from the rebuilding work.
Arjun, the first community-selected beneficiary of GoodWeave's project to rebuild homes in Nepal, was a carpet weaver by trade when he lost his home in the 2015 earthquake. Now, thanks to the trainings provided by GoodWeave and Build up Nepal, Arjun and his family officially have a house to call their own. The last Compressed Stabilized Earth Bricks locked into place, and they are now protected from the weather and danger that comes with living in a temporary structure. Moreover, this new home is earthquake-resistant; if disaster ever strikes again, Arjun and his family have a much better chance of not having to rebuild from the ground up.
But Arjun's story is just the beginning. In the process of building his home, another 25 members of the community received training in CSEB production. Eight of them were employed daily. This job, in combination with other household earnings, helped these workers earn over 800 rupees each day (for reference, the minimum wage in Nepal is approximately 265 rupees per day).
As GoodWeave grows to reach more communities in Nepal, we want to be sure that we stay true to the very heart of our organization: ending child labor by unraveling the system that makes it seem necessary in the first place. By helping these workers find stability and a profitable job, we ensure that they will never feel the need to send their children to work. Children can then focus on their studies and, by extension, their futures.
The next time it rains in DC, I will be thinking of Arjun and his family, now safe and warm because of your support. Thank you for your continued commitment to this project, and I look forward to sharing the stories of more families that find safety and stability through this work.
With gratitude,
Nina Smith