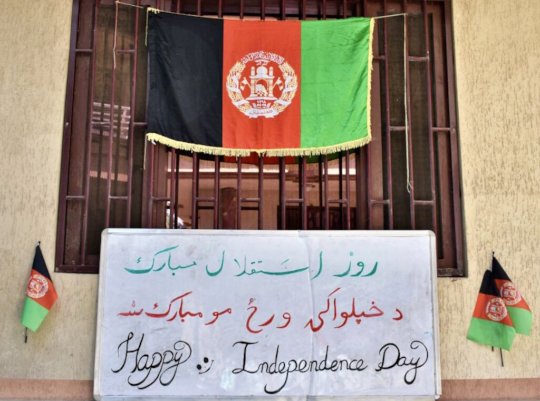 Dear SOLA friends:
Summer's end means the beginning of admissions season at SOLA: as you read these words, we are heading out across Kabul and into the provinces of Afghanistan, in search of the girls who will join more than 70 classmates on our campus as the members of our incoming 6th grade class in 2020.
These are kinetic times in Afghanistan, and it is no exaggeration to say that 2019 may prove to be one of the most transformative years in the nation's recent history.
The terrible violence that overshadowed August's celebrations of 100 years of Afghan independence is a dark reality. Equally real, though, is our unshakable commitment to providing our students -- both today's and tomorrow's -- with a safe, secure, and nurturing environment in which to grow into the women who will change the world.
The need for a school like SOLA and the mission we pursue is perhaps more immediate than it has ever been, and it is thanks to you that we are able to do what we do. As you may know, "sola" is the Pashto word for "peace"; on behalf of all of us, I wish you sola, today and tomorrow.
Kevin
Dear SOLA friends,
The official start of summer is nearly here, and for many students, that means the last day of school is at hand -- but the Afghan school year runs from March to December, and at SOLA, our girls are just hitting their stride.
Classes are in full swing in Kabul, and our students' days are packed with courses on our campus and virtual lessons provided remotely by our dedicated international instructors. When classes come to an end, the extracurriculars are only beginning -- and with our girls taking part in everything from poetry club to participating in a global essay contest, 2019 is unfolding like no other year in our history.
Meanwhile, our president and co-founder Shabana Basij-Rasikh has been bringing SOLA's story to a wider audience than ever before. Last month Shabana received her second honorary doctorate, this one from Cedar Crest College in Pennsylvania during their 149th annual Commencement Ceremony...a ceremony at which Shabana also delivered the commencement address. We've included a link to YouTube at the end of this message; scroll down and click to watch the speech in its entirety.
Thank you for your generosity. Thank you for believing in our students -- not just in who they are now, but in who they will grow to be. You are the reason we can do what we do, and we're happy to have you with us.
In the Pashto language, the word "sola" means "peace." Thank you again, and sola.

Kevin
Photo courtesy of Cedar Crest College
Dear SOLA friends --
It's our favorite time of year: the month of March. While for many of us, March means an end to winter's darkness and the promise of warmer days, for schoolchildren in Afghanistan, March means something quite different; March means the first day of school.
At SOLA, we've just recently come to the end of our admissions season. We received 179 applications from 25 provinces. We conducted 74 interviews. We accepted 17 students.
17 girls.
These girls will be the members of our new 6th grade class, and will join our rising 7th graders, 8th graders, and 9th graders -- our first 9th grade class in our history.
Thank you for your continued support of our students and our mission. You truly are the reason we can do what we do, and this month there is an opportunity to double your impact: a generous donor is matching every dollar raised in March up to $25,000. We hope you'll join us in our matching challenge, and help us make 2019 our most memorable year yet.
In the Pashto language, the word "sola" means "peace." Thank you again, and sola.
Kevin
WARNING: Javascript is currently disabled or is not available in your browser. GlobalGiving makes extensive use of Javascript and will not function properly with Javascript disabled.
Please enable Javascript
and refresh this page.