Dear SOLA friends --
Six months have passed and six months remain in 2020 -- the coming of July marks the halfway point of a year like none other.
As our co-founder and president Shabana Basij-Rasikh has said: "We aren't going to get back to normal. None of us are. Instead, we must choose to go forward towards normal." These words mark our path across the next weeks and months.
As some of you know, SOLA's school year, like many schools in Afghanistan, runs from March-December, and we have been actively transitioning to a fully virtual classroom experience. School is in session, and students are receiving assignments and communicating with their teachers from the safety of their homes.
The word "sola," in the Pashto language, means "peace." This word is our mission, this word is our goal -- and in 2020, this word is more meaningful than ever.
We wish you health, and sola, throughout this very different kind of summer.
Kevin
Dear SOLA friends,
March means spring and new beginnings -- and for all of us at SOLA, this spring ushers in a year that will be like none other.
As you're no doubt aware, the final day of February saw the signing of an agreement between the Taliban and the United States that is expected to, among other things, lead to a drawdown of American military forces and the start of talks between the Taliban and the Afghan government.
To this news, I'd like to add a single number:
233.
That's the number of applications we've received for this year's incoming 6th grade class – and they're the most we've ever received.
The desire in Afghanistan to let girls learn is one that will not go away. It grows, year to year, like our pool of applicants, like SOLA itself. We're in the final stages of admissions as you read this, and we'll be celebrating the first day of school this month. We'll be a school of grades 6-10, and this will be the first 10th grade class in our history.
2020 will be a year of uncertainties – and of certainties. You've just read about some of both.
Here's to a peaceful school year ahead.
Kevin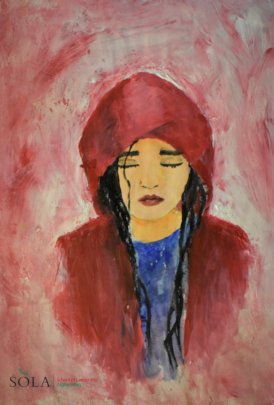 Dear SOLA friends,
December means the coming of winter and the end of our school year -- and what a year 2019 has been.
Classes began in the spring with news that our co-founder, Shabana Basij-Rasikh, had been named to the Forbes 30 Under 30 Asia list as a social entrepreneur. As summer rolled in and turned to fall, our students found countless new ways to express their creativity -- one of which you see above. This is a painting by one of our 9th graders, who describes her work in these words:
"In this piece, I use white and red in the background. White means humanity, and red means the challenges girls face in society. White is almost completely covered with red. The girl is turning away from inhumanity. She doesn't want red, she wants white with all its beauties!"
As you read this email, nearly 80 girls from 25 provinces of Afghanistan are on our campus, preparing to celebrate the last day of school. In March 2020, a new class of 6th graders will arrive. SOLA will be, for the first time in our history, a school of grades 6-10.
We grow, safely and securely -- and we do so thanks to you. We are happy to have you with us as we nuture a generation of girls who will become the women who create a new, and beautiful, world.
Kevin
WARNING: Javascript is currently disabled or is not available in your browser. GlobalGiving makes extensive use of Javascript and will not function properly with Javascript disabled.
Please enable Javascript
and refresh this page.