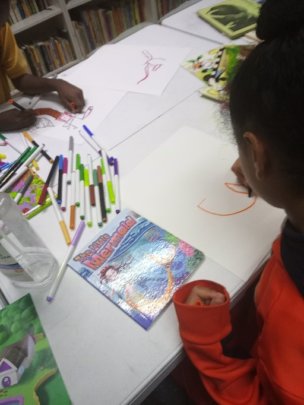 Since our last report, we have transitioned from the Summer Enrichment Program to the After-School Enrichment Program and attendance has dropped. However, this is not uncommon, and we usually see an increase after the first reporting period for grades. We are happy to say that many of our current students transferred over from the summer program.

Our after-school curriculum includes Life Skills, music, sports, wellness, and art. We are especially honored that the music students will be taught vocals by renowned artist Tweed Smith, the only female to be a member of the 1970's R&B and Funk band "WAR."

Parental support continues to strengthen the program with almost 100% participation in our bi-weekly parent meetings. Our parents have shared insightful feedback and we are listening! We learned that parents are concerned that their children will face challenges during the reading portion of standardized tests because of the lengthy passages, which require at least an hour of reading time. To help the students prepare, we are instituting mandatory reading for at least 15 minutes each day, with incremental increases every two weeks. Parents are also asked to do the same thing at home.
We also learned that parents and students are facing challenges with "new math" procedures. In response, we will incorporate "new math" sessions in our free Saturday tutorials. In the upcoming weeks, we hope to provide our students with language classes in Spanish and Swahili.
Although Hurricane Harvey may seem like a distant memory to some, there are still people in Houston and surrounding areas who have not been able to return to their homes or still need extensive repair work.

We visited four homes on the outskirts of Houston, in Galena Park, Texas and had a chance to speak with residents who were displaced. Lee shared with us that his home had been in his family for generations and was already in need of some repairs before the storm. After Harvey, he was no longer able to live there and has been staying with friends and family members. He explained that information did not filter through Galena Park as much as it had through Houston, which left many people unaware of resources that may have been available. We were able to help ensure that Lee was connected to the county program that just received additional funding, and he has submitted his application.
Even in Houston, we are receiving calls from community members who are aware that additional funding has been released, but they are confused by some of the language in the application for assistance. We do have a staff member with HUD certifications, and we have been able to help elders in the community go through the application step-by-step.

Aside from individual assistance, we are working with the City of Houston as a Fair Housing Ambassador. Over the next two months, we are planning three events in which the community will be able to share the housing impediments they have been facing. These events will give the community a chance to give direct feedback to the City of Houston and help shape the Fair Housing plan for the next five years.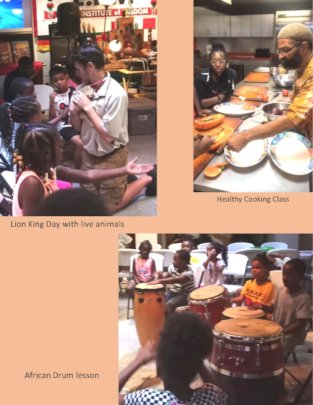 Thanks to your support, our youth have been enjoying an exciting summer! We have been managing approximately 50 students each week along with maintaining biweekly parent meetings.
We have added a free Saturday dance class in coordination with Flo-Motion Houston. The dance association is teaching the Houston Two-Step to children ages 11-17.
In addition, the children are learning healthy eating habits and food preparation as they assist the Executive Director in cooking and serving lunch to approximately 35 community elders.
The children received a special visit from some exotic animals as they prepared for their field trip to see the Lion King movie. The interactive event included a petting zoo, face painting, balloon arts, and African Drum lessons.
This period also kicked off our critical "Cease Fire" initiative. We've hosted three community meetings, including a press conference and call-to-action, addressing the astounding number of tragic child deaths in the Houston area. Following the press conference, we hosted a youth services provider meeting in which 50 organizations signed on to The Village Collaborative. While the collaborative is still a work in progress, we have all agreed to work together, increase communication, and support each other in our efforts to keep children safe. The next meeting has already been scheduled and will be a working session. We look forward to keeping you updated on our progress.
WARNING: Javascript is currently disabled or is not available in your browser. GlobalGiving makes extensive use of Javascript and will not function properly with Javascript disabled.
Please enable Javascript
and refresh this page.