Techos para el Caño is progressing satisfactorily, helping families recover from Hurricane Maria effects by providing safe and resilient roofs. Our architects continue to ensure that the roofs built are safe, resilient, well designed, and adapt to each home's specific situation. They have assessed a total of 27 homes to evaluate hurricane inflicted damages, and ensure that they can appropriately support a new roof. They have adjusted the typical design to each home's particular situation, designed individual-specific roof repairs, producing a plan for construction for 23 of those homes. More assessments and designs are currently underway.
Contractors then carry out roof repairs or construction as specified by the architect, ensuring appropriate anchoring and construction. Thanks to donations from non-profit organizations and people like you, a total of 23 families have a new, resilient, permanent roof over their heads. More roofs are underway, and we will continue to work to provide safe, resilient roofs for Caño Martín Peña families.
Our architects inspect each roof after it has been fully constructed to ensure quality and compliance with standards. Currently, inspections for all of the 23 roofs constructed have been completed. All inspections have yielded positive results, meaning all the roofs have been constructed according to the standards and specifications set by our architects. The most important reviews the roofs will get are the ones that come from homeowners themselves.
"Durante el huracán las ráfagas de viento sonaban increíblemente fuerte. Perdí mi techo y, básicamente, todo lo que tenía en el segundo piso de la casa. Usé toldos, pero el agua se colaba como quiera. Estoy muy agradecido y satisfecho con mi techo nuevo".
"During the hurricane, wind gusts made an incredibly loud sound. I lost my roof and, basically, everything I had in the second story of my home. I used tarps, but water filtered in anyway. I'm very grateful and satisfied with my new roof."
- Don Ricardo, homeowner
"Gracias a dios, hasta ahora, no se cola la lluvia. Estoy agradecida y conforme, con dios y con ustedes".
"Thank god, so far, the rain does not leak through. I'm thankful and satisfied, with god and with you."
- Doña Yolanda, homeowner
"Bueno hasta ahora, gracias a Dios, estoy contenta porque tengo mi techo. No he terminado todavía [el resto de las reparaciones], pero ya, gracias a Dios, espero que ese techo aguante".
"So far, thank god, I'm happy because I have my roof. I haven't finished yet [the rest of the repairs], but now, thank god, I expect this roof to endure."
- Doña Carmen, homeowner
"Y ahora pues gracias a Dios tengo el techo que no me mojo, porque cuando tenía el toldo también pasé bastante porque me mojaba. Gracias a G-8 le doy por esto que me hicieron".
"And now, thank god, I have the roof and I don't get wet. When I had the tarp, I did get wet. I give thanks to G-8 for this that they've done for me."
- Don Luis, homeowner
The reviews we receive from our community members are the greatest measure of our accomplishments. The 23 finished roofs evidence that we've had many successes, but we've also encountered challenges along the way. Due to the large scale of Hurricane Maria's impact, there is an extremely high demand for materials. The scarcity of construction materials has drastically increased costs. We are looking into creative ways to get the most impact from the donations we receive. Our goal is to use these challenges as an opportunity to learn, adjust and continue helping as many families as possible. Your continued support helps us achieve this goal.
Of the ~1,000 homes that lost their roofs partially or totally, we've increased our goal, and we now hope to impact 60. As evidenced by the testimonials of the people who have benefited from Techos para el Caño, living under a tarp is not a solution. With your help, we can continue to provide safe homes for our community members. Thank you.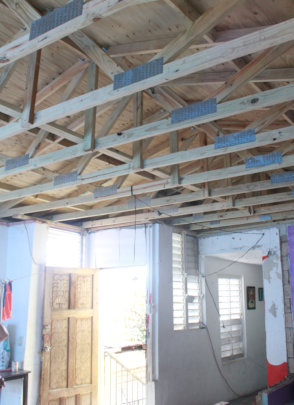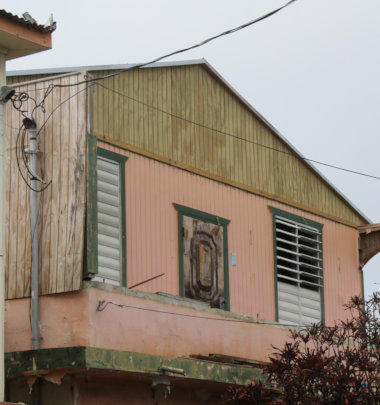 Links: