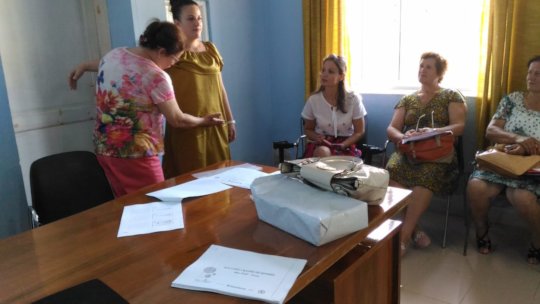 Dear Supporter,
Healthy Women, Healthy Familiesis a project set up by the Diakonia Agapes – the social, development and relief office of the Orthodox Church of Albania. It is to screen approximately 800 women in rural Albanian areas (Kuçova Municipality) forcervical cancer and sexually transmitted diseases. Workshops and awareness campaigns and have begun providing screening and treatment vital for their health following education and consultation as well as gynecological visits.
Through your financial support the project was able to implement the following activities:
Establishment of the Health Outreach Activists (HOA) group - There were 3 HAOs groups established (one group in Perondi, one group in Tapi and one group in Magjat) where 60 women (25 women/group) participated. The groups were composed of women of different professions such as: nurses, midwives, students, entrepreneurs and teachers
The groups attended a three day workshop focusing on: Health Outreach Activist and community mobilization;Cervical Cancer and the importance of PAP tests;and Sexually Transmitted Diseases (STDs). The trained women have shared the information with other women in the community during the awareness campaigns before the gynecological examinations. The campaigns aimed to change the mentality of women in the area to value and seek screening and early detection for cervical cancer as well as sexually transmitted diseases. A health note book containing information for Cervical Cancer, PAP Smear, STDs, symptoms and treatment was given to each women.
9 Gynecological examinationswere conducted in three areas where 238 women (126 women of Tapi village; 82 women of Perondi village; and 23 women of Magjat village) were screened for STD and PAP Smear were offered for 89. 16 women out of 89 who did the PAP Smear were send for further examinations in specialized clinics. 80 % of the women screened have at least one infection and, in some cases, they have a combination of two infections. Data's will be provided in the next progress report. The screenings were provided by a team of two people (a qualified doctor and a lab technician).
Implementation of the above activities have encouraged women to seek out medical screenings regularly. In addition, it also built awareness among public health officials as to the need to continue outreach in the communities and encourage women to be screened before the illnesses can advance
Stories from the field
A. H is 39 years-old mother of 4 children (the oldest 18 years-old). It was the first time for her to see the doctor after 20 years. She has given birth to her children at home assisted by her mother-in-law. She said that the periodic checkup is very important and the women need to take care of their health. Being healthy they could better serve their families as well as their communities. They are becoming aware that prevention is better than treatment.
M. N 50 years-old expressed her gratitude toward the project that gave her the opportunity to be part of the HOA group. She said that the information received during the three days of the workshop was very important. Being a seasonal emigrant who travels to Greece working as sanitation worker or do agricultural work they are exposed to different situations. She said that the women have low level of information for the topics addressed. By joining the group and receiving the health information she will be careful for herself while working in a foreign environment because she could prevent different infections.
Diakonia Agapes continues to raise funds on this platform and would appreciate if you could contribute to reach other women in the area.