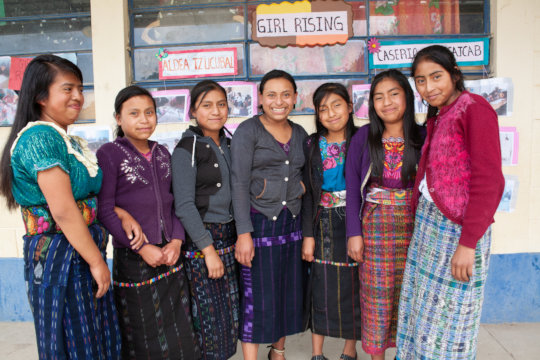 During the past three months, the GR Guatemala pilot with our partners REDMI and MAIA has been in full swing, and we are nearing the completion of the sessions.
With both groups, the mentors who lead the sessions report that the girls are identifying with the materials and understanding these issues in the context of their own community. Many of the REDMI participants shared that gender-based violence and forced-labor is something they have witnessed, along with lack of access to education, that resonates the most for them from the stories of other girls from around the world.
With REDMI, we are working with more girls and a larger age range than anticipated, with approximately 230 girls ages 5 to 16 years, participating in eight rural communities of Nahualá and Santa Catarina Ixtahuacán in Sololá. Because REDMI works at the community level, any girls who would like to attend may do so, whether they are in school or not and regardless of their age (although most girls who are participating are between 10 and 12 years of age). Due to home and other responsibilities, it can be difficult for older adolescents to come to sessions, so GR is adapting our resources to be effective with all. The range and number of girls interested has been tremendous, which highlights the need and enthusiasm for this project.
At the MAIA school, girls have discussed the privilege they have of access to education beyond grade 5 and have learned to identify allies and supporters of their education who've helped make this possible. This sense of the importance and power of community action for change was seen during one activity where the girls made a paper plane and talked about where they would dream to travel. During this session, one of the 9th grade groups decided to conduct a collective imaginary trip instead of an individual one, "because together we can achieve our goals and dreams, supporting each other and forming a support network."
In early May, the girls from both groups met with a group of GR staff and board members who were eager to see the project in action. These were special visits for all! At MAIA, GR observed a session with the GR curriculum and also spoke with mentors and students about the pilot program. Additionally, GR staff had the tremendous opportunity to visit the homes and meet the families of two girls with everyone participating in joint learning activities. The girls at the REDMI program in the community of Xeabaj II impressed the GR staff and board with an incredible dramatic play they created and performed. They told the story of one girl and the attitudes and challenges she faced to get an education because of migration of the father and economic difficulties faced by the mother, highlighting the importance of engaging parents and adults to getting girls into school.
Future Plans
As we near the end of the pilot program in July, we have received enthusiastic feedback from the participating mentors and girls and thoughtful recommendations for additional engaging activities to include in the curriculum. The girls participating are eager to explore how to better support other girls in their communities as well as throughout the country. The pilot evaluation and analysis will be completed by August, which will then be used to adjust and improve our curriculum accordingly.
In the future, we are hoping to expand our program to other communities through engaging with more organizations, partners, and schools to reach more students, including male students. Working with MAIA and REDMI has provided valuable insights into the different strategies and ways to work with communities, especially about how to reach girls who are not in school or have limited access to safe spaces.