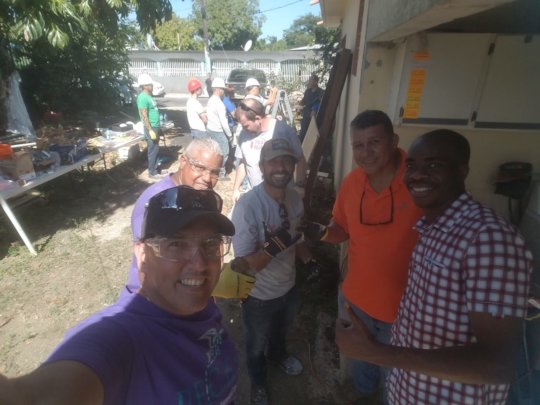 Last Christmas, our community of Punta Santiago had no electricity and little had been done in terms of repairs and reconstruction. It took up until April 2018 to get power back in the neighborhood. It has taken longer to go into the rebuilding phase, for so many reasons --delays in insurance and FEMA funds, scarcity of construction materials, and more.
We are so happy to say that, thanks to our friends and allies, this Holiday season feels more hopeful and inspiring for both our beneficiaries and our employees and volunteers.
Our teams have taken special trainings for dealing with emergency response and recovery, including tactics for safe reconstruction after a hurricane. We have been able to distribute building materials and equipments: paint, wood panels, and more. And as neighbors see the community in recovery mode, they feel optimistic and engaged in the process.
We look forward to 2019 with hightened hope. There is still much work to do, but each time a door is installed or a house is painted we feel closer to being the neighborhood we all dream of: resilient, sustainable and happy.
Thank you to the Global Giving team for their support, and to all donors for trusting our work.
We wish you all a blessed 2019!