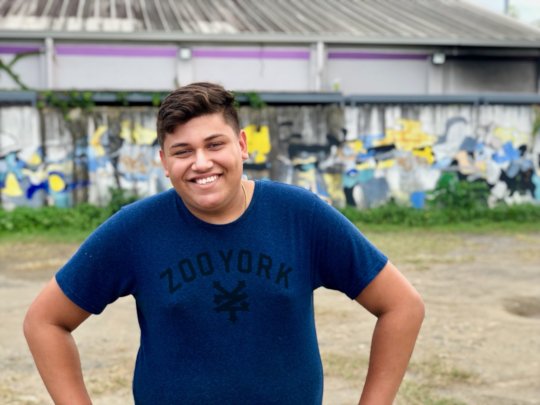 TIBOCO: community youth leadership incubator is the name the participants chose for the project because tiboco means "nest" in the arahuaco indigenous language. To them it represents the place where they are getting ready to become community leaders. Once they finish the training, they will leave the "nest" and work together to rebuild their communities.
We are excited to introduce some of the young leaders! By donating to our project you support the training which will enable these youths to take action within their communities.
Meet José
José lives in Ceiba, a town that has sparked his curiosity and interest in developing projects. He wants to be a leader with the ability to be an advocate and model for others, without losing humility. He decided to be part of our training in search of knowledge and tools to help and be an example for other young people. He is interested in working improve the environment in his community by developing effective recycling projects and by reclaiming public spaces which need cleaning, repairing, fixing roads and improving lighting.
Meet Brian
Brian lives in the town of Juncos. Through several of our programs, he has shown great interests in issues related to history and justice. He describes himself as committed and ambitious, characteristics that he associates with the possibility of being a leader in his community. He joined our program with the interest to learn more about how to be a good leader. Among the needs that he has identified in his community are the maintenance of public spaces, animal abandonment and homelessness. As part of the training he will focus on animal welfare issues.
Meet Delimar
Delimar is from the town of Juncos. She decided to train as a community youth leader because she understands that it takes a lot to inspire and guide other young people. As a young leader, she believes empathy, respect and optimism are key elements to reach and work with others. Among the situations in her community, the number of stray animals stands out. She also finds there is a great need to design a recycling that fits the needs of her community, along with fixing traffic lights and general lighting in the town, an issue that has not been resolved since the hurricane. Her project will focus on the dealing with the situation of abandoned animals.
Meet Adriana
Adriana is from the town of Naguabo. She is interested in developing more skills as a community youth leader to help other people in her town. She emphasizes that central elements leadership are persistence and loving what you do, along with daring to live new experiences. Within her community, she highlights the needs to deal with abandoned dogs, waste management, elderly housing and homelessness. Her project is aimed at contributing to the quality of life of the elderly in her community.
Meet Greishell
Greishell is a young resident of the Luis Llorens Torres Project, the largest public residential complex in Puerto Rico. She describes herself as a committed, persistent and daring leader. She joined our program seeking an opportunity to contribute something to the community where she grew up. She is determined to work with her community from the heart, wants to be able to support her neighbors and family members, and work together to build a healthier and peaceful community. Some of the situations that affect the quality of life in her community, are the conditions of abandonment and lack of services for the elderly, homelessness, abandoned animals and drug trafficking. Her project will focus services for the elderly in the community.