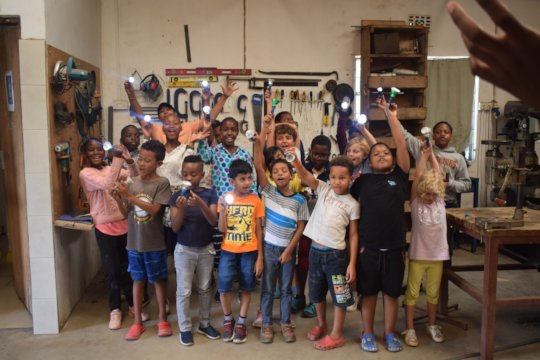 Our Workshop never ceases to make Magic and this time around it hasn't been any different.
We have hosted a number of youths through our Creative Capacity Building workshops, the incubation program and pupils through our build-it workshops. Saying our workshop is always busy is cliche since it has always been.
The incubation Program invited 9 amazing engineering students from different parts of Tanzania who were passionate about developing the prototypes that were once made and left in our workshop. They underwent 3 months of intensive prototyping that led to the fruition of 3 technologies namely; the Winnower, the Sunflower Thresher and the Coconut Oil Extractor.
The amazing job done by these youths is remarkable because these technologies have reached a promising stage in which one (the winnower) already has customers even before mass production.
As part of the incubation program, our students/ innovators underwent a business workshop tailored specifically to equip them with the right skills and knowledge for them to turn their technologies into a sustainable business. We are hopeful that what has happened so far will lead to excellent businesses and ventures.
The Creative Capacity Building (CCB) workshop always has led to the birth of fascinating technologies and the ideas keep on emerging and materialized.
We conducted two creative capacity building workshops with two different groups of youth who were sent by two partner organization (FUES Foundation and OKOA Generation). These two groups brought different project ideas which are still being worked upon in the early prototyping stage.
The project ideas includeWax mixing device, eggs collector, Dumpling steamer, Irish potatoes peeler and cutter, Vegetable and fruits solar drier, chicken plucker, maize thresher and coffee peeler.
The youths who took part in this workshop were so dedicated that they even came to develop their technologies weeks after the training. This shows how the youth have been inspired into becoming the change our communities do.
Our work is really never done until there is excitement from the young ones after they achieve making new devices. In December 2020, we worked with students aged 8-13 from different schools around Arusha who spent 10 days learning to make different devices like flashlights, battery phone chargers, rubber squeezers and blackboard dusters. After the program, their parents were impressed because the students could actually make the devices they were taught to make. We have also reached out to numerous schools with our LED intro program and they were excited to do more.
The reason we do what we do and more is through your continuous support. We are changing lives of Tanzanians, one Innovation at a time and we can not thank you enough for your support. It is through your contribution that we are getting closer to our vision of more local technological solutions to local challenges.
Thank you so much (Asante Sana!)
Nzira and the Twende team