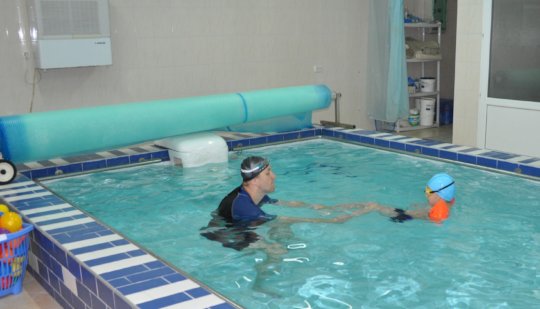 Thanks to our donors the Dzherelo Children's Rehabilitation Centre's Hydrotherapy pool has been providing a sneaky physical therapy as the children don't realize they are working while enjoying themselves. We have served many children in the last three months. Our two hydrotherapists have been spending 40 minutes per session with each child. The new "toys," like swim caps and floats are in use. Thanks to all of the donors who are making this possible for children with special needs in Ukraine.
The children sometimes begin their sessions reluctantly, but by the end of their course, they are often jumping in and ready to try things on their own. Children are kicking to strengthen legs, reaching to build gross motor skills, and splashing and dripping water from their fingers to improve fine motor control. The children are learning how to trust others and interact with the therapist under the watchful eyes of a caregiver.
One grandfather, Ivan*, commented that he hadn't seen his 4-year-old grandson, Petro*, react to therapy with joy before trying the hydrotherapy. They know physical therapy can be difficult as muscles need to be used and stretched, but the water takes away some of the tension and provides a playful atmosphere that is less intimidating. Often his grandson is timid and hesitant, but he found a good relationship with the therapist and seems to enjoy the warm water.
Oksana*, a mother, often sits outside the pool area, but watches through the window because her 8-year-old son, Viktor*, is trying to be more independent. Although she is supportive of his growth, she anxiously awaits to see it in action through his improved grasp and assertiveness with his treatment. Oksana is his biggest cheerleader, while the therapist is his second.
Please consider supporting the hydrotherapy project as this is an important component of children's physical therapy regimens at Dzherelo Children's Rehabilitation Centre. The pool has been the highlight of physical therapy programming, yet it is an expensive endeavor. The more donations we receive, the more children can experience the joy of relief through hydrotherapy. Thank you for your time and consideration.
* Names changed to protect confidentiality.
Links: