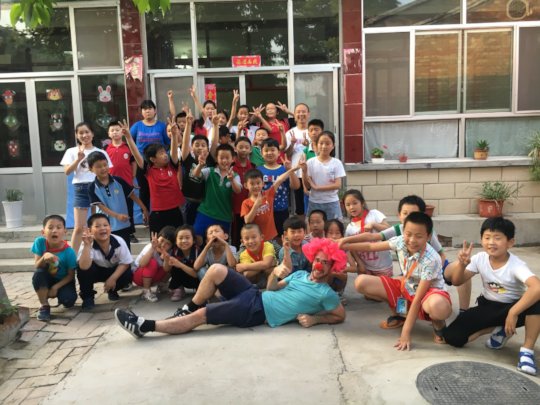 Dear all,
we hope you are taking a bit of a breather during the summer, spending quality time with your family. So we thought we piggyback on your leisure time and send you a short update.
Farewell to our clown Jean
He brought so much happiness and laughter to the children in China and Nepal. Before his departure he wanted to once again spread the joy. We visited the Gucheng school for migrant children. The event focussed on happiness and kindness, letting the children draw and then act out some of their drawings, and of course clowning. It ended with a few minutes of meditation. Thank you so much for all the laughter, smiles, wonderful and unforgettable events, Jean! The children in Beijing and we all from Magic Hospital will miss you, till we hopefully see you again!!
The weekly visits in Beijing Ertong Yiyuan and bi-monthly in Beida continue with Mr. Liu
Our Magic Band visits Bo'Ai Hospital
In a previous report we mentioned that we also have a Magic Band now. Just like laughter, studies show that music has incredible health benefits. Bo'Ai hospital has a special center for autistic children. For autistic children regular musical activities such as singing and playing instruments can help improve with their social interaction, verbal communication, initiating behaviour. The kids were handed out some musical instruments. Kids, parents as well as band had a great time.
Swimming with the children from Bethel orphanage
Bethel is home to visually impaired children. Going to the swimming pool was a big success last time, so as part of our Outdoorsy program we organised another visit. It was a refreshing fun for all. As a special treat we had George and Lucy, both cast members from CATS (curently touring China) coming along.
Another Outdoorsy Day - Soccer camp!
Students from the Yuanming migrant school came to visit Dulwich College Beijing. Dulwich school football coach Mr. Hurworth and few senior school students organized football drills for the kids. When it became too hot on the field, the fun continued on the playground.
We hope you like what you see. Global Giving will be running a Little by Little campaign during the week 12th - 16th. This is the week that small donations add up to big change. Global giving will match donations up to USD 50 while funds remain. We hope you consider to make another donations during that week.
It is you who make our projects happen, so thank you for letting us be the trustee of your kindness and goodwill.
Yours truly
Claudia