It's time to look back over the year and assess how we've done in our effort to "transform Uganda's only animal shelter": essentially how far are we from our goal to raise enough money to purchase land for a larger, more accomodating Uganda SPCA Haven? We're still very far from our goal! --Over $40,000 away.
But we are also very far from giving up (we won't give up until we've reached our goal).
The flow of animals into the USPCA Haven hasn't slowed. The number of cats and dogs getting adopted from The Haven has increased, that's the good news!
Animal-Kind International is the main donor to the USPCA, and besides raising money for a new shelter, the USPCA uses AKI funds to buy cat and dog food, to pay salaries and rent, to cover transport to rescue cats and dogs and to conduct pre and post-adoption home visits, to purchase vet meds and supplies and shelter supplies, to pay the electricity bill, and for any other priority need the USPCA has.
Here are some of the rescued animals that AKI funds have helped (stories and AFTER pictures; GlobalGiving's guidelines don't allow me to post the BEFORE pictures, but please check the AKI Facebook page on GivingTuesday for these and many more USPCA BEFORE/AFTER pictures).
The USPCA rescued a dog with an injured eye. The USPCA vet removed the eye, the dog fully recovered.
In August, someone brought a cat -in a sack-to The Haven, a relinquished pet, which of course, The Haven accepted.
Some of you may know the story of Diego, but it's worth repeating-and you may not know the happy ending: Diego was adopted by an American family in Uganda, a family with a lot of dog experience. Diego had lived at a house where he was ignored, often not fed or given water, chained 24/7. A nice Ugandan man knew of the situation and gave Diego food when he could. But still, Diego's condition deterioriated, and this nice man ended up contacting the USPCA about Diego. Diego was relinquished to the USPCA, where he was given the vet care he needed, including neuter surgery, nutritious food, vaccinations, and love. He's doing wonderfully in his forever home.
On October 23, Alex rescued a dog in Kitende along Entebbe Road. The dog has cancer on his leg and is being treated at the USPCA Haven.
Police was found with a TVT infection on May 10. She lives in Garuga and has a home, but they didn't know how to provide the care she needed. The USPCA accepted her into the shelter and they treated her, she healed, and went back home on Nov 3.
On November 13, the USPCA received a phone call about a puppy in Ntinda. They found the little, vulnerable white puppy abandoned, in the street. They brought the puppy back to The Haven, bathed her, and she's now under the USPCA's care.

Also on November 13, the USPCA rescued a mama and her puppies. She hid in the bush during the day, came out at night to find food. She and her puppies are now safe at The Haven.
It's not only the cats and dogs at The Haven that need more space, it's also the visitors!
On September 16, a group from Chrysalis limited-Butterfly project, an NGO, visited The Haven to learn about about cats and dogs.
On November 15, children from Clarke Junior School Primary 4 Muyenga came to visit the USPCA Haven to learn about dogs and cats.
These are just a snapshot of USPCA's rescues and visitors during the last few months. Wouldn't it be wonderful if the cats and dogs and the people who come to visit them could have a more spacious shelter experience? That's our goal for 2019!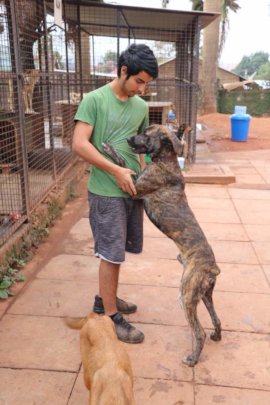 Links: