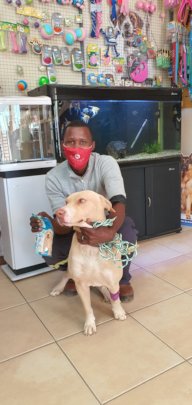 The AKI-HAH Emergency Fund is getting more and more requests for assistance. Of course, we don't blindly help; we (Geesche and Sarah/HAH, and passed through AKI) make sure that the clients are providing good, caring homes for their pets; have had or agree to have their pet spayed or neutered; agree to provide the follow-up care; and are truly in need of assistance. Here are just a few of the cats and dogs who recently benefited from the Emergency Fund:
Whisky was brought to an HAH spay/neuter clinic in September for neutering, but it turned out he had ehrlichia and was very sick. Thanks to the Emergency Fund, he received a full course of antibiotics and is doing fantastic now! And he was neutered.
That same day in September, Midnight, a small Afrikaanis dog, was brought to the s/n clinic. Midnight's owner, Mrs Higoam, was so committed to bringing her doggie to the HAH clinic that she brought the dog to work with her the previous evening just so that she could be in time the next morning for the spay surgery. Luckily for little Midnight because besides a really bad case of ehrlichia, Midnight had pyometra. This would have been a death sentence if left untreated. Midnight received all the vet care she needed to recover and live a healthy life with her happy family.
Then there's Vetkop (Afrikaans for Fat Head) from Walvis Bay. Vetkop is a 1 year old big boy, who came home one day with a badly injured leg. The owner was unable to afford the extensive surgery needed, including a pin in the leg. The Emergency Fund came to their rescue. And he was also neutered.

Ouvrou (Afrikaans for Old Woman), from Okahandja, is an old Have a Heart client who was spayed a while ago. Around mid-September, she came home with a big wound on her belly. The owner immediately contacted the local vet clinic for help and luckily there was a vet available that day and this seemed a perfect case for the AKI-HAH Emergency Fund. Ouvrou was stitched up and since then her owners aren't letting her out of their sight for one second! Ouvrou is under lock down!

Our current emergency is beautiful Sasha from Rehoboth. Sasha's owner didn't know about Have a Heart and was desperate to get help for Sasha. Her belly was swollen up badly. Sasha's owner brought her to Dr. Oliver in Rehoboth and asked for help. Dr Olivier allocated Sasha as an AKI-HAH Emergency Fund candidate and received approval from us. Sasha's belly was full of fluid. The 1st thought was this happened due to internal parasites, so Sasha received the full treatment: drainage of fluids, spay, anti-parasite treatment, vitamins, lots of medication, and quality food to help her back on her feet. But Sasha didn't get better. Two days later her belly started swelling again. We are now waiting for blood test results to see what Sasha will still need to be- hopefully- a happy and healthy dog again soon. Her family is very worried and we-HAH & AKI- promised to do all we can to help Sasha. We will keep you posted!

These are just a few of the cases since last I wrote. There's also 4 cats rescued from Usakos (2 were in bad shape and had to be euthanized); dog Kapulla, whose eye was injured; dog Spike with an injured leg; dog Ou Spikes with a molar abcess; and a few others!
Your support is helping cats and dogs in Namibia whose owners have no other place to look for help! Thank you, we are grateful for your kindness and generosity.
*****************
A sad update just received on 27 September from Geesche (HAH-Namibia volunteer):
This time I sadly don't have good news, Ouvrou, the cat from Okahandja died in her owner's arms :-( she couldn't recover from her injuries. The vet checked her again yesterday as she didn't do well but there was nothing they could do for her except keeping her warm. This is sad but at least Ouvrou is a cat humans didn't fail. She was loved a long time and many tried to help her. When she died she was surrounded by her family, she was not alone or in pain. Thank you so much for making it possible for us to help Ouvrou!
I also asked Geesche for an update on Sasha-we're still waiting for that, but Geesche said this:
"Hopefully we get an update on Sasha tomorrow. I'm so happy she got help, we just started working with the clinic in Rehoboth. Originally only for one semi feral cat colony but then the fantastic vet nurse Penny asked as if we can help a handful more cats and dogs and we were still busy sorting out the details about the dogs (how much we pay and what we want the dogs to get beside the operation) and along came Sasha. Perfect timing. 4 weeks earlier and there would be no way for her owner to pay for the treatment (he is disabled and unable to work, he only gets some monthly government disability funds) but instead to let her put down.
When she had to come back for her second treatment Penny sent me a message that the owner's family started to cry during Sasha's examination, this dog is so important for the family, I will try to push her treatment as far as possible."
And Geesche also told me about one more recent Emergency Fund case-it's not been easy to keep up with them all!:
"Oh and one more, Dr Baines operated a cat with cancer at the ear. He whatsapped me pictures but I still wait for details (where, when, names etc) and as soon as I have everything I'll send it through to you. In the pictures the cat looks a bit as if it went through a rough night but Dr Baines said she is happy and healthy!"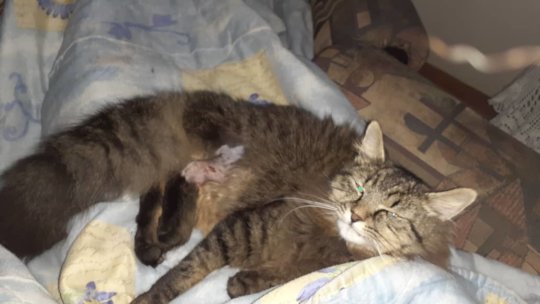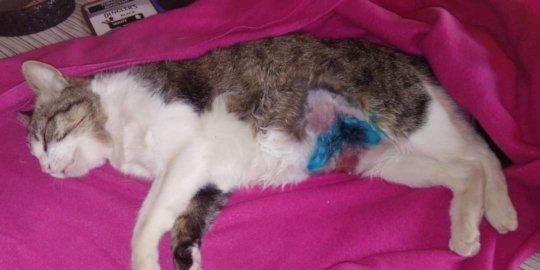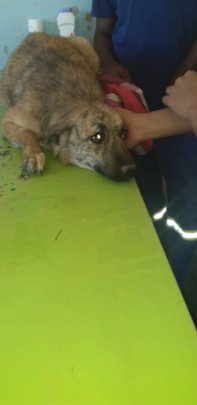 Links: