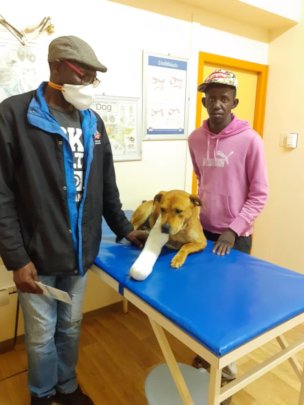 Since our last Progress Report (May 19), requests for the AKI-HAH Emergency Fund have been coming in faster than we can replenish the fund. In part that's good--we know we're providing a much-needed service; in part-obviously, it means it's hard to keep up with the need. We are so grateful for your support, which helps Animal-Kind International help Have A Heart-Namibia provide Lifetime Care to returning spay/neuter clients, including boosters and anti-parasite treatments, and to provide emergency vet care when owners are unable to afford it (the AKI-HAH Emergency Fund).
Here are some of the cats and dogs who have been helped in the last few months thanks to your donations.
JUNE
Dog Sure got hit by a car and his leg was broken. His family asked for help to pay for much-needed vet care, and vet nurse Sheelagh asked Geesche if the AKI-HAH Emergency Fund could be used. Geesche agreed. Xrays were done of Sure's leg to help Dr. Winterbach determine how to treat him. It turned out that Sure only needed a splint and rest, no surgery. Sure had to go for weekly check-ups and bandage changes to make sure all healed properly. During one of these visits, Sure was also neutered and vaccinated and treated against parasites--full service! (See picture of Sure with his family at the vet's office)
Kitzie, an old HaH customer in Luderitz, was run over by a car. Her owner, in tears, brought Kitzie to the Luderitz SPCA and Kitzie was seen by the volunteer vet nurse, who knew of the AKI-HAH Emergency Fund, and requested help. It turned out that Kitzie needed to get to Windhoek to be seen by a vet there, where she could get xrays and follow-up care. Kitzie's xrays showed a broken pelvis but no surgery needed, only 6 weeks of cage rest. Clinic employee Niki offered to foster Kitzie during those 6 weeks, and when she was well, she was transported the 900 km back to Luderitz and to her very grateful family.
Not all stories are happy ones, as we know. That is certainly true in Boe Boe's case. Boe Boe's owner moved away and left him behind! He became a community dog in Luderitz, fed and looked after by a number of people. Boe Boe was in the wrong place at the wrong time-hanging around a home when robbers showed up, they stabbed him. One of the people who looked after Boe Boe saw his injuries and contacted a vet for help. The vet's office contacted Geesche, and she agreed to use the AKI-HAH Emergency Fund. Sadly, even though he got the best treatment available-thanks to the Fund, Boe Boe just didn't pull through, the injuries were too serious. At least he was cared for and out of pain during those last days (see picture).
Joan, who takes care of many cats for HaH was told about someone on the street who was selling 7 tiny kittens. When Joan arrived only 5 were still there and out of the 5, 2 had already died. Joan took the remaining 3 to the vet for check-ups, where they tried everything but one was too sick and weak died. The other two received the treatment they needed -thanks to the Emergency Fund-and then went to foster care until old enough to be sterilized and adopted (see photo of one of the kitties below).
JULY
Glitter is an old HaH customer, very much loved by his family. Glitter had blood in his urine, and his worried family took him to a vet. Tests and treatment costs were more than the family could afford, so they asked HaH for help and thanks to AKI's Emergency Fund, Glitter got the help he needed. His blood test results were good, sonar showed some sediment in the bladder, no visible big concrements. He stayed overnight and the next day the sonar was repeated. The vet diagnosed idiopathic cystitis. Unfortunately, even with treatment, the problem might return and in some cases requires surgery. But for now Glitter is happily back with his family! (see photo below)
Snowy
(photo below) had a badly injured leg and his owner Jo-Dee, a student, couldn't afford the vet care that Snowy needed. The AKI-HAH Emergency Fund stepped in and Snowy wasneutered and his leg was stitched up.
AUGUST
Wolf
from Windhoek had a cauliflower ear. It doesn't look too bad, but in the long term it can lead to serious ear infections and that can be extremely painful and can lead to death. A minor surgery, thanks to the Emergency Fund, Wolf was saved from any pain and suffering the cauliflower ear may have caused. Wolf's owner Nadine was very thankful as she loves old boy
Wolf
very much but couldn't afford the operation.
ALREADY IN SEPTEMBER, WE'VE HELPED 3 MORE CATS THROUGH THE AKI-HAH EMERGENCY FUND. MORE ABOUT THOSE IN OUR NEXT PROGRESS REPORT!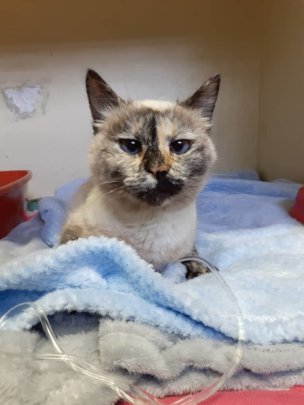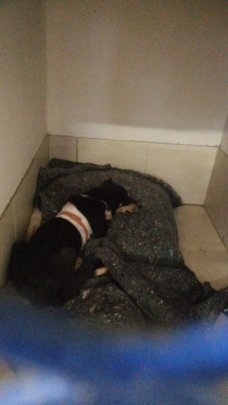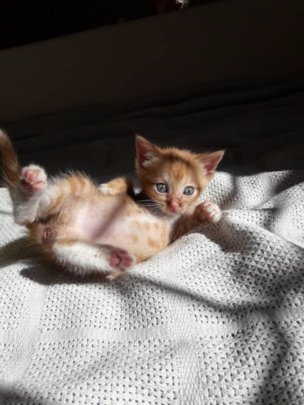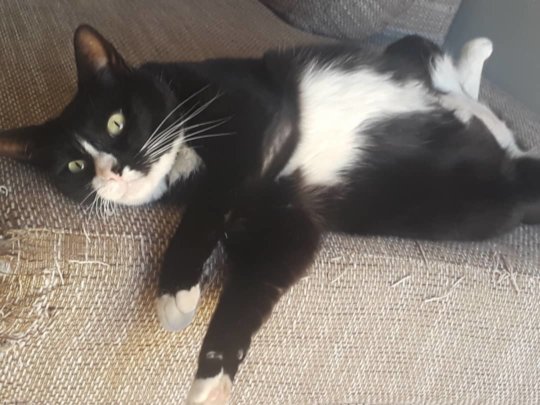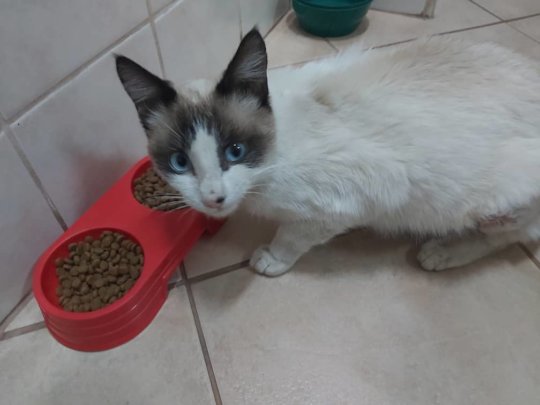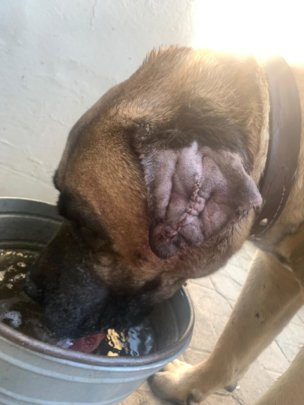 Links: