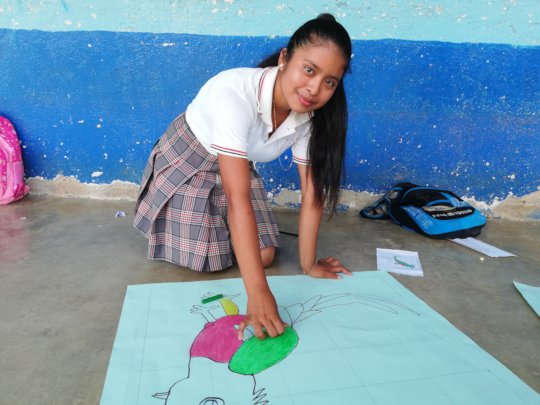 When a girl completes her 9 years of education, they will be able to decide their life project and their income will increase by 20% when they are adults.
With your support Irma achieved to complete their 9 years of education and now she wants to tell you her story:
I am Irma, I am 16 years old and I live in the department of Baja Verapaz, Guatemala.
My father, my mother and my 5 sisters compose my family. My father is a farmer and my mother is a housewife. Because my parents do not find a formal job the situation gets harder and we find difficulty on finding economic resources. That is why is not enough to support me with my education.
Thanks to the support with the scholarship, I completed my studies in secondary school, which was one of my dreams.
I loved going to school and I got good grades. I learned the Queqchi language and now ¡I am bilingual!
I also took advantage of other professional development spaces, such as entrepreneurship training.
We been saving money with all my family and we have achieved to open a little grocery store.
This entrepreneurship will help me to thrive and I will be able to continue my studies in high school and become a teacher, so I could give to all the children in my community the opportunity of receive education and in the future, they will get better opportunities, just like me.
¡Only because of your help I could achieve my goals! –Irma
Thanks to this project and the contribution of all of you, Plan International Guatemala was able to deliver 32 scholarships for secondary school, located in Baja Verapaz, Guatemala.