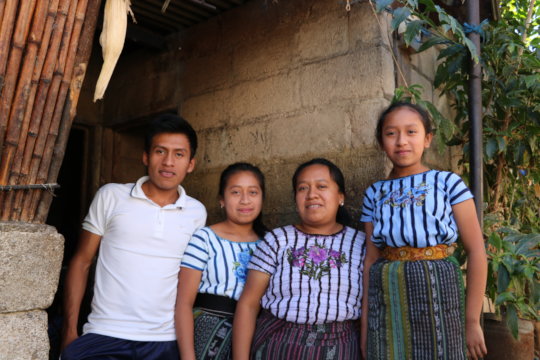 The History of JOSE SANTOS SICAY MESIA
Our new Coordinator of the Mano a Mano program
José has been a member of Cojolya since 2014. From a very young age, he was obligated to work so he could afford going to school. One of his goal was to be able to graduate from High School, but, in order to do that, he had to earn his own money since his family had very limited financial resources.
As an artisan, José has an incredible talent for the elaboration of the ''Jaspe'', which is an ancestral skill that implies to make visual design only with the wrapping threads of the weaving. When he was still a kid, he learned the Jaspe technique on its own initiative, and began working with people from his community. Through the years, he sold his Jaspe to the artisans that made the weaving on a larger floor looms. Today, he says that the money he earned doing that wasn't worth his work and competence, but was at least sufficient to cover his scholar fees.
José is Adrea's brother, one of our most talented weaver and member of our association for more than 20 years. Following his sister's path by becoming an artisan member of the assocation himself, José was part of the first Mano a Mano para el Desarrollo's cohort, when he was still finishing his last year of High School.
Now, José is officially a graduated professional. He is the very first of his family to achieve this goal, and is now a role model for his little sisters that are now following his path, but also for other artisans and other people of his neighborhood. It is a real joy and pride for us at Cojolya to know that our association has been able to play a positive influence in José's path to his scholar success.
Thanks to your generous contributions and collaboration through our last campaign, we have opened a new position especially for José as our new coordinator of the Mano a Mano program, so that, he also, can help to generate the positive impact for the other children of Cojolya. With his work, José will be able to guide the students through academic workshops, reading circles, and more. Even with these new professional responsibilities, José is still aware of the importance of his work as an artisan, and maintain all his textile activities.
For that the artisans can also pursue a path to self-development, and for that the students can also achieve their scholar goals, it is mandatory that José stays in the association, and therefore be a life role model for our members and their family.
With your donations, we wish to be able to offer the opportunity of having José as a full-time Coordinator of the program Mano a Mano para el Desarrollo, for the wonderful mentorship he can offer to the students of our program.
Please, consider supporting us so José can afford working full time with us!
To learn more about the Mano a Mano program, read our report HERE, or check out our WEBSITE.