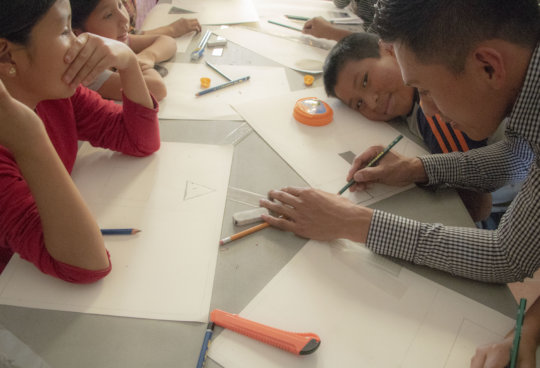 Brothers David and Diego are only 12 and 11 years old respectively, but they have been working since they were even younger. In their home, having a true childhood in which they could simply play and go to school was difficult because they had to help with the family income to compensate for their father's alcoholism.
Their mother, Juana, makes accessories made out of colourful beads. This artisan craft is a very common trade in Santiago Atitlán, that is (apparently) easy to learn, and requires very little budget to acquire the materials. Juana is a very hard worker, but her income as an artisan is insufficient to support her 4 sons to go to school.
David and Diego are the oldest brothers of the family and play a significant role in supporting their mother with her work and everyday chores. Everyday, they go to school in the morning, and come back in the afternoon to work until night to make accessories with their mother. Putting their forces together, they work in the hope of having a more financially secure and stable family.
Almost twins, David and Diego are in the same grade at their public school, and finishing the school year is a significant achievement for them. Their greatest dream is to be able to attend University and become professionals.
Like many mothers in our community, Juana's first priority is her childrens' well-being and progress no matter the sacrifices that supporting them may involve. Without financial support from her husband, she serves the role of two parents all year long, doing whatever she can to make sure her sons can stay in school.
At Cojoyla, we work to create employment with just wages for local women in Juana's position. We aim to empower families and help them develop their vocational skills so that we can work together to better their quality of life.
Cojolya and its social program Mano a Mano para el Desarrollo are essential institutions for the artisans of Santiago and their families. We hope to offer children like David and Diego with the necessary emotional and academic support to stay in school, reach their goals, and access opportunities that have been systematically limited in Santiago Atitlán.
We believe David and Diego can become role models to both their younger brothers and other members of the community. Their mother's love and dedication along with their hard work, resilience, and ambitions motivate and inspire us everyday to strengthen and improve our social programming.
We dream of a day where children like David and Diego won't have to work in order to afford to go to school. Dream with us.
With your donation, help us build our program and empower the kids in our community to stay in school!