The Suowi Ankave are people of the forest; they use bark to make the cloth they use as blankets at night and covering in the day, they hunt game under the canopy, they place newborn babies in their first bedding, huge, verdant tropical leaves. Their culture and livelihood is linked to the forest in so many ways, it is imperative for their cultural and even physical survival that the forest is preserved.
Firewood is something harvested from the forest for daily use in open fires for cooking and to keep mosquitoes at bay. There is a dual trap with the open fire practice, however. Not only do daily fires require a significant amount of wood, but the smoke emitted from them cause serious health problems, in particular for women and children, who spend the most time around them.
Rocket stoves that use very little fuel and emit very low emissions are slowly gaining popularity in Suowi Valley. While the longer term protection of the trees remains somewhat abstract, the decrease in daily wood preparation, decrease in cooking time, and decrease in respiratory illness has been encouraging.
Through participatory rural appraisal approach, in this remote community, accessible by three days walk or by small fixed wing aircraft, we have built a health center with solar lighting and water and a staff house. Now, there is a nurse stationed there full time as well; a key recommendation of the community. Joel, the nurse, works closely with the village birth attendants IHS trained, and regularly carries out health promotion activities, including discussing the dangers of exposure to smoke from open fires. The last quarter has been especially demanding in this regard, as the teachers that had been delivering a conservation conscious elementary school curriculum have left Suowi Valley.
Another round of clean cookstoves, solar backpacks for the village birth attendants, and outreach from health workers, biologists, and others is planned for April. During this time the Suowi Ankave will come together to reassess their priorities and goals, and inform further IHS engagement.
If you would like to learn more about this unique and rare culture, we are happy to announce that the definitive work about the Suowi Ankave, Drumming to Forget, a large-scale hardcover book with full color photos and text in both English and French, is available on our website in the Gifts section. The initiative we announced towards the end of 2018, to offer wild bush grown Arabica coffee for Papua New Guinea, has begun. Coffee can be found next to Drumming to Forget.
We continue to be humbled and feel grateful for your continued faith in the work, which you express through your generous material support.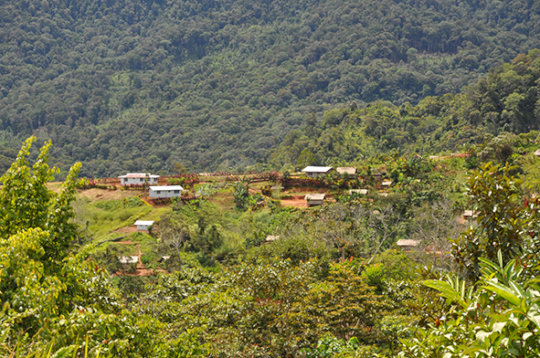 Links: