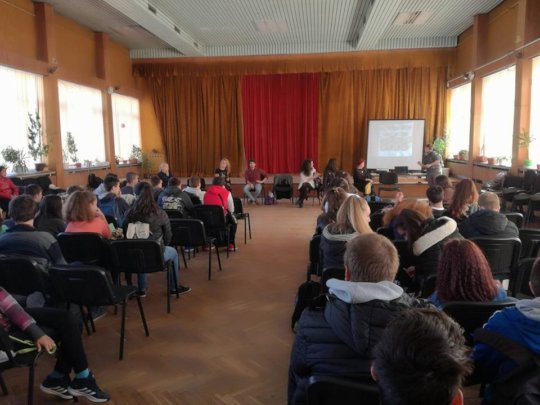 Dear all,
There are many things that we would like to share with you! In October, we conducted four career workshops in 4 different schools - three in Sofia and one in the town of Kostinbrod. It is the first time that the Step for Bulgaria Foundation enters into partnerships with schools with the aim to organize and conduct such workshops. What we hope to accomplish is to establish long-lasting ties with high schools visited by a higher number of disadvantaged youths. Our career workshops are the first step in our efforts to identify and start working with students from these schools who would benefit from the services, trainings, workshops, etc. that we provide.
The purpose of our workshops was to meet young people aged between 13 and 18 years with successful professionals from various fields. During the workshops they told the students how they had chosen their career path and what motivates them in their daily work. After their presentations the students had the opportunity to meet them in person and to ask them questions related to their future academic and career development. The students took part in various educational and recreational games, jointly prepared by the volunteers and the Foundation's team. The various areas, presented by the volunteers, were information technology, entrepreneurship, law, economics, journalism, education and educational technologies, architecture, engineering, fashion industry, logistics etc. As a result of the career motivation workshops, we were able to identify underprivileged youths among the students and to make them familiar with our mission and activities. Following our last career workshop, a half-orphan senior will begin working for an IT company after having a conversation with one of our volunteers working in the same company. During the workshops, several more students from the four schools exchanged contacts with professionals who promised to give them further career guidance.
We also met wonderful people, willing to share their knowledge, experience and point of view with the youths. One of our volunteers - Vellina - a kind and chatty young woman who took part in two of our career workshops, really got the attention of the students by telling them that back in her school years she had been expelled four times from four different schools because of her bad discipline and that in the end she graduated with honors. Now, she is the head of a Sunday school and the founder of the initiative "Rescue an icon", helping sick children by restoring and selling icons. Another one of our volunteers - Pavel, who runs a design agency - shared with the students how his motivation to follow his own career path and do the things he is passionate about gave him the chance to travel the world and work with different artists.
It was a pleasure for us to organize the career workshops: we learned a lot in the process and met many interesting people willing to cooperate with us and, most importantly, we reached children and young people whom we can help! We are very grateful for the brilliant work of our volunteers, as well as to the administration of the four schools. We will be glad to keep you informed about the development of our future workshops and other related initiatives and activities. The next workshop format, that we are planning to conduct in these schools, will be for career orientation, which is one step further.
We would like to thank you, our great supporters for your contribution to our cause!
Best regards,
The Step for Bulgaria Foundation