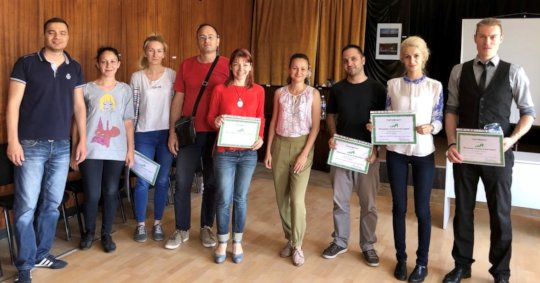 Dear supporter,

Our #StepforBulgaria team is excited to share with you the latest news with our ongoing mission to Fast-Track Career Development for At-Risk Youths!
The past couple of months were an exciting and busy time for our Career workshops! Step for Bulgaria's team was joined by, among many applicants, Asya, a Career Workshops/ Counseling consultant with a variety of Human Resources experience to offer to our youths and our volunteers. As you can see from the photo, Asya jumped straight into action and in short time was able to gather and prepare many new successful professionals for productive interactions with the students we work with. In the span of less than 2 months, she coordinated and helped coordinate a total of 6 workshops for the high schoolers in Kostinbrod, Novi Iskar and Lyulin. We are happy and privileged to have her on our team :)
Here is the story of one of the workshops:
A teacher from the Kostinbrod high school we work with, Radi, reached out to us to see if we could help with her initiative to organize a Career Forum for the youths. Many of them we had worked with in our previous motivational workshops, but students would be invited from all over the town (there's one more high school in Kostinbrod). So we jumped to the challenge.
Not knowing who we'd be working with, Asya tried to gather and prepare a diverse portfolio of volunteers for the event. And diverse it was - we had volunteers from the HR, Finance, IT, Journalism, Social and Educational sectors. Upon brainstorming the game plan for the workshop and how to make the most of it for the most students, the team also envisioned that participation would be a challenge - the event was held in the town library - a place infrequently visited by anyone, let alone high schoolers! The solution? Everyone got to work to gather students from our target age with nothing to do from around the town square, and they all pitched in to make a poster out of post-its to lure the students to have a look at the volunteer's professional experiences and interests, and to add their own alongside. You can a couple of the post-it's on our last photo :)
The initiative worked, and slowly but surely, the room we had allocated began to fill up with students. The first part of the workshop included a short question and answer session designed as an icebreaker, but also a way to let everyone huddle up and get to know who they might be talking to. Check out the students Dimitar, an IT volunteer, is introducing himself to - half of them decided to join the workshop straight from the football pitch!
In the second part of the workshop, each of the volunteers invited whoever it was among the students they left an impression on to have a more in-depth discussion about their career plans, and offered their advice and contact as a continuation. Despite his sporty personality, Dimitar attracted the attention not of the footballers but of a couple of other students who sat in on the event from the sidelines, yet, they actually did dream of growing into IT professionals. This resonates with a consistent lesson we learned throughout this pilot year of career workshops - it takes time, interest, understanding, and a genuine effort to reach out and be beneficial to the students who might need it the most.
As the school year draws to a close by the end of the month, we have now engaging our volunteers to systematize this and other lessons gathered from the past school year so as to prepare to hit the ground running in the next one. Watch out for our next report to learn what follows!
Until then, thanks once more for allowing us to do what we do.

Best regards,

Dancho and the Step for Bulgaria team

P.S. If you like what we do, please consider becoming a recurrent donor! Check out and share our other projects, too, at Mentoring Program for Underprivileged Youth and Teach life skills to children without parents!