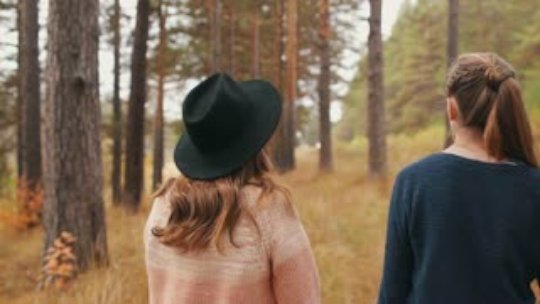 Dear all,
We would like to share with you some news related to our mentoring program! Recently, we managed to form three new mentoring pairs (between mentors and youths). The first youth, that we connected with a mentor is the 23-year-old Andrey. Until recently, he was unemployed and was looking for a job. Actually, it was harder than usual for him to find a job, because he had lost some of the documents that he needed in order to get started. With the help of his new mentor Plamena, he managed to issue the necessary documents and started working in a warehouse. Andrey has interest in the field of journalism and, apart from Plamena, we also linked him with another volunteer who works as a television broadcaster. Now he would receive some professional guidance and advice.
Svetoslava is another youth with whom we have been working for several months. She is 17 years old and is deprived of parental care. She is in a strained relationship with her grandmother with whom she lived until recently. At the moment, Svetoslava lives alone, pays a rent and works in a supermarket. Recently, the Foundation's team and our mentor, Dobrina, we have joined forces to persuade Svetoslava to continue going to school and return to live with her grandmother. Unfortunately, she did not agree to continue her education for the moment, but preferred to stay on her own. We continue to work on Svetoslava's case and hope that she will return to school next year, as she assured us in the course of our last conversation.
Yordan is the third youth that we would like to tell you about. He is a 16 years old school student who loves to draw and is very talented! Yordan is the eldest of three children in his family and is in a difficult family environment because of his father's illness, who is suffering from multiple sclerosis. We met Yordan with a mentor named Alexander who works as an architect. Alexander linked him to a friend of his who will give him free lessons in some sort of drawing software. We are so happy for Yordan and that he receives this wonderful opportunity to further develop his talent!
We will continue supporting underprivileged youths in their daily needs. We will also continue our search for new youths in need of our assistance, as well as with the forming of new mentoring pairs. Thank you so much for your support! We will continue to inform you of our progress!
Best regards,
The Step for Bulgaria Foundation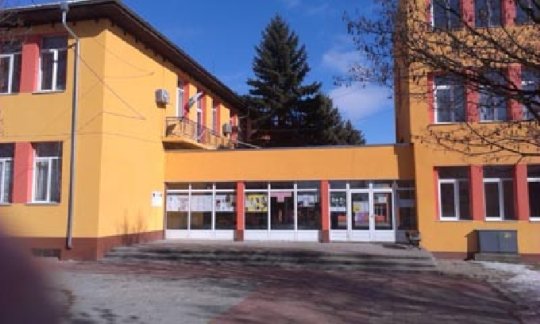 Greetings from the Step for Bulgaria Foundation! We are happy to inform you that our Mentoring program continues to develop and that the number of the participants in it also grows. Recently, another underprivileged youth has become part of our community. In July 17-years old Svetoslava contacted the Foundation with a request to receive mentoring support in finding a new job and for extra-curricular activities. Because of her working commitment, Svetoslava was lagging at school, so she wanted to catch up in some of her school subjects. She turned to us after she had to take some resits. We met her with two of our mentors - Gergana and Dobrina. Gergana will help Svetodlava in her Spanish lessons during the new school year, while Dobrina will prepare her for her Bulgarian language lessons. Meanwhile, the girl managed to find a new job, and now she is going to combine her with her lessons.
The other good news that we would like to share with you is that in September we plan to organize two career development workshops for the students of two secondary schools ­– one in Sofia and one outside the capital. We would like to meet the youths who study there with inspiring professionals from different fields. They will tell them more about their work and will discuss with them what does their job require in terms of mind-set, skills, knowledge and experience. This will help them become better acquainted with the different professions and follow a career path that meets their interests, aspirations and ambitions.
We hope that pretty soon, as a result of the two career development workshops, we will have more good news for you. We will continue to share with you the dreams and achievements of our youths, as well as the future activities that we plan and their results. Thank you so much for being a part of our success stories!
Best regards,
The Step for Bulgaria Team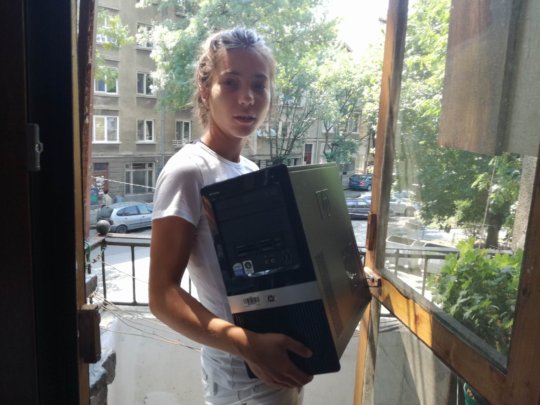 Greetings from the Step for Bulgaria Foundation!
We are happy to share with you some information on our current activities and campaigns, designed to help underprivileged youths in their efforts to find realization of their talents, knowledge and skills and become independent. Over the past two months we have run a donation campaign for used personal computers and peripheral computer equipment. We granted them for temporary use to some of the underprivileged youths that we work with and who do not have access to a personal computer. We provided them with the equipment necessary to ensure their needs, connected to studying, job search, communication etc. We wanted to help them become independent by ensuring their access to information and by providing them with the tools necessary for that purpose. During the campaign, we have gathered 20 computers, 16 monitors, 7 keyboards and 5 mice. Up to now, seven youths have received their personal computers. The remaining computers and peripheral equipment will be donated to sheltered homes for young people without parental care.
There is also another campaign that we are currently running. It is for the donation of two urban bicycles to underprivileged youths. The two bicycles were donated to the Foundation by private donors. A bike shop helping underprivileged children and youths repaired them for us and now we are offering them to our youths. The bicycles are still waiting to find their new owners. We hope to please the youths and to help them live their life trouble-free and fully. Thank you so much for your support! It makes this vision possible!
Best regards,
The Step for Bulgaria team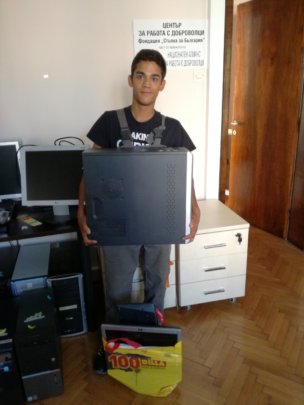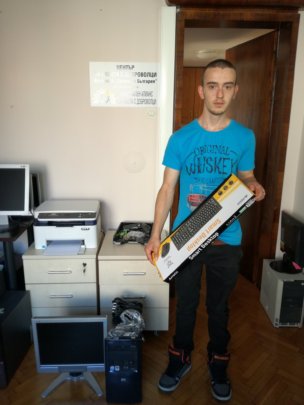 WARNING: Javascript is currently disabled or is not available in your browser. GlobalGiving makes extensive use of Javascript and will not function properly with Javascript disabled.
Please enable Javascript
and refresh this page.