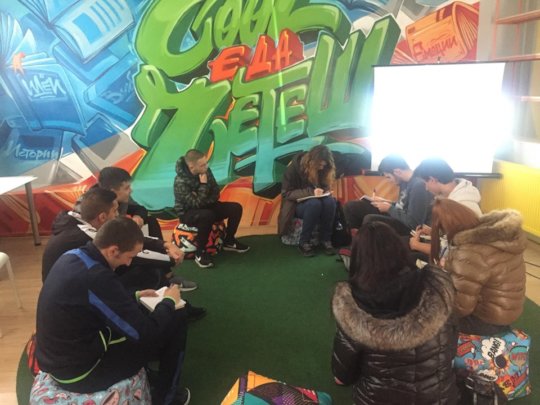 Dear friend,
Thank you for your continued support!

As the year-end gets near, the Step for Bulgaria Foundation decided to take a step back and reevaluate our efforts to see what needs to change in our mentorship initiative to continue its impact in 2020.

One thing that has changed significantly this year was our target group. We used to work solely with disadvantaged youth from foster care institutions. As the process of closing down all of the old-fashioned foster care homes in Bulgaria reached its completion this year, our organization's priorities changed. The new type of institutions that children without parental care were transferred to were providing much better care and support for them, including resident supervisors and therapists and were much more open to working with organizations such as ours than their conservative, often secretive predecessors.

Since our resources were limited, we decided to revisit our definition of our target group, and identify a group of young people, whom we could help with our expertise, but to whom such support was not as readily available. This is when we expanded our target group to include any child or young person growing up without parental support. This includes, but is not limited to, children whose parents are working abroad and are being raised by relatives, children whose parents are in prison or very ill, or who are being raised by a single working parent.

What we quickly learned was that such kids were very difficult to reach due to factors such as a lack of organizations they can reach out to in search of support and the stigma of their social situation. This challenge led to the next stage in the evolution of our mentorship program - we reached out to young successful teachers from the Teach For Bulgaria program, an organization that sends motivated young professionals to teach at schools in underprivileged communities. Each teacher was aware of the environment each of the students in their class was growing up in and they helped us identify young people who had both the need for and the motivation to work with a mentor.

This partnership helped us continue our mentorship program, but our impact was very limited due to the small number of such students we were able to recruit over the past academic year. This is how we reached the next evolutionary step of our mentorship program, which has in a way already started with the 2019 school year: providing career-focused mentorship to a whole school class at a time.

Through regular visits in schools serving underprivileged communities, our volunteers have started to provide assistance to more than one hundred Bulgarian youths. Acting as role models, our volunteers show participating students the importance of education and attending school for building a satisfying, self-sustained life. They teach the youths how to protect their personal rights, reflect on the skills they possess and develop self-confidence and autonomy. Through interactive games, the students also learn to express themselves non-violently and communicate freely, and to believe in their dreams.
Thank you for your help making this possible!

We wish you a wonderful holiday season and a successful start of the new decade,
The Step for Bulgaria Foundation Team


Dear friend,
While our partnering schools were on vacation during the summer, the Step for Bulgaria team was preparing for the upcoming school year.
We've been busy recruiting professionals and volunteers who will deliver the next series of career orientation workshops for high-school students from underprivileged communities. We have the support of many of the volunteers involved in last school year's careers workshops and have started building a list of people in different career paths who are willing to join our cause and speak about their job and professional path to the students.
Of course, at the same time we are approaching different schools where there's a need for the type of support we offer and going through the logistical details with headmasters and teachers.
The team has also been contacting different businesses inviting them to join our effort. Our partnership with two large companies operating in Sofia for the previous series of workshops turned out to be mutually beneficial and very inspiring for students, volunteers and the employees of these companies alike. In this way, we are looking to expand our network of volunteers, and with it, our ability to serve more schools.
All of us are very excited to be able to continue supporting high school students in the new academic year through offering them a richer vision for their future where there are many good opportunities. This is all thanks to you!
With gratitude,
The Step for Bulgaria Foundation Team
Dear friend,
Thank you for your continued support!
While the summer is a slow season for many activities (except those that involve tourism), our two mentor-mentee pairs have continued their work together. Our mentors' main focus is understanding the unique affinities and abilities of their mentee and helping them identify suitable goals based on this. The mentor is then, of course, tracking their mentee's progress, coaching as needed and playing the role of an accountability buddy.
While there aren't big news to report, we're happy that our mentees spent the summer starting new, be it small initiatives, and staying on track pursuing their goals.
With gratitude,
The Step for Bulgaria Foundation Team
WARNING: Javascript is currently disabled or is not available in your browser. GlobalGiving makes extensive use of Javascript and will not function properly with Javascript disabled.
Please enable Javascript
and refresh this page.