We are excited to announce that 35 youngsters from Sofia,

Berkovitsa

,

Gabrovo

and

Gorna

Malina took part in our Spring Academy in the beginning of April 2013! During the unforgettable four days we laughed a lot, learned a lot and we are now ready to face new challenges!
The aim of the program was to help the social integration of young people in the world outside of school and the foster care, to develop their abilities to adapt and to face new situations.
The adventures and challenges in nature helped the group to become a team and to function effectively. The participants went through different stages of the process: from the creation of the communication rules of the group and the distribution of roles in building trust between them.
Practices and activities based on experiential education (learning by experience). The method involves various communication models supporting active communication capabilities needed by young people for the future in life.
Expected benefits for the participants:
Training and support for young people to enter life through the development of personal potential and tolerance for diversity

Developing their creativity, their ability to build trust and concern for people and nature

Young people understand others, learn to respect differences and get more confident about the changes and challenges of life

Building of positive role models

Self-awareness and personal development in a

different

environment

Development of leadership capabilities
In order to achieve our goals, we used real challenges, party games and expedition orientation with map and compass. These methods focus on building confidence in their own capabilities, tolerance, mutual assistance, striving for leadership, responsibility, achievement of their objectives and respect for nature.

The program included many discussions on topics such as teamwork, common problems, tolerance, positive communication,leadership and
empathy. They helped the participants to reflect on their experience and to see how to apply it in life.
Check our photos and fee the energy coming out of them! Thank you for making this possible and for bringing smiles on our faces!


The Step for Bulgaria Team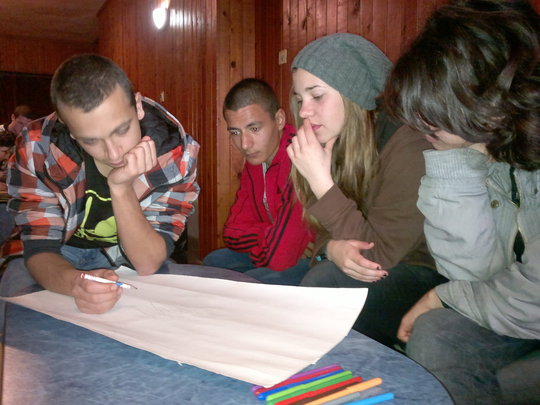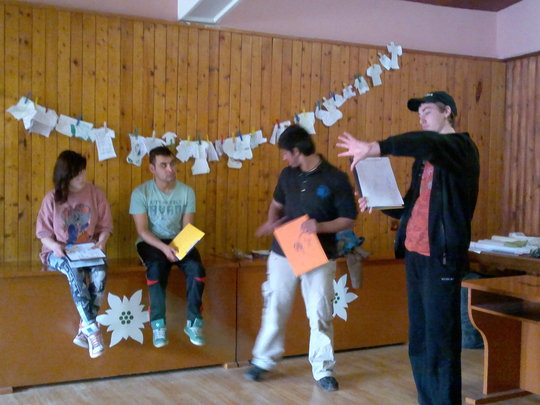 Dear friends,
The New Year started with new challenges, ideas and a great deal of passion for the team of Step for Bulgaria. It is a great pleasure to introduce myself- my name is Anna and I am the new Program Director of Step for Bulgaria. I am going to help in shaping the new strategy of the organisation and achieving even better results for the youth from the foster care homes.
We are continuing our efforts in trying to help the participants in the program with specific skills and know- how that will help them in pursuing their dreams- either continuing their education or finding a job. Several participants are still having their driving license courses and are expecting to have their final examinations. A couple of participants are focusing on Bulgarian Language and Literature and one girl is just starting classes in Spanish in order to prepare for a traineeship in Spain next year.
Also, we are preparing for a Leadership Skills retreat that will happen in the end of March and beginning of April. The goal of the retreat is for the participants to develop leadership skill and to work in a team, while challenging themselves and participating in various outdoor activities. We will update you with photos and materials from the retreat.
Furthermore, we are focusing our efforts on shaping our future approach and developing a mentoring model that will foster the relationships between the volunteers and the youth. This will help the participants in the program to be successful in the chosen area of development. We will update with further plans and in the meanwhile, do not hesitate to give us your feedback and suggestions.
Thank you for the continuous support. We would not achieve this without your valuable support!
We will continue to keep you updated on our progress and new initiatives.
Best,
The Step for Bulgaria Team
Dear friends,
Towards the end of 2012, Step for Bulgaria is closing the year with new thoughts and approaches to helping youth from foster care homes.
Most of the participants in the program are growing older and becoming more focused in their career and life aspirations. Thus, we have been trying to help them the specific skills each one of them needs to be successful in the chosen are of development.
For example, one participant from Plovdiv wants to earn an Engineering Degree and we secured him individual lessons in specific subject areas that will prepare him for the entrance exams of his chosen university. Another couple of participants from Sofia will focus on preparing for the Bulgarian Language and Literature. Several participants have started their driving license courses – a skill required for many careers here in Bulgaria.
Furthermore, we are realizing the power of mentorship and have been working on creating stronger relationships between participants and volunteers.
Our Gabrovo participants are preparing a Christmas celebration to celebrate the year and all that we have done together.
We are also starting to prepare for a Leadership Skills retreat that will happen in Spring 2013. The goal of the retreat will be for the participants to develop leadership skills in the context of outdoor activities. We will update you with further plans.
Thank you again for supporting us! We welcome any suggestions and feedback.
We will continue to keep you updated on our progress and exciting new developments.
Best,
The Step for Bulgaria Team
WARNING: Javascript is currently disabled or is not available in your browser. GlobalGiving makes extensive use of Javascript and will not function properly with Javascript disabled.
Please enable Javascript
and refresh this page.