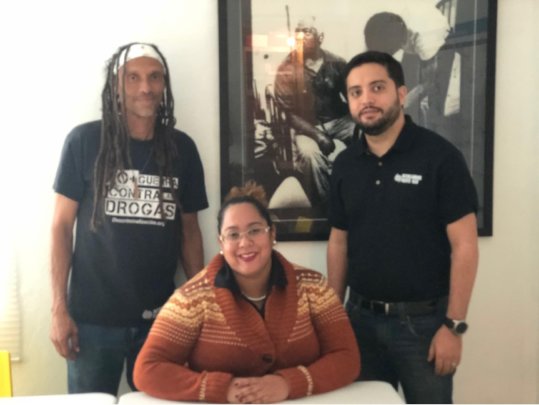 Unfortunately, more than a year after the hurricane's aftermath, social and health services for drug users continue to be limited. There continue to be many barriers to access medication-assisted treatment (i.e. Methadone and Buprenorphine) for people with problematic opioid use. In addition, there still limited availability and accessibility of syringe exchange services around the island. The declaration of an opioid crisis in the USA allowed for the distribution of the drug naloxone at a large scale in order to prevent opiate's overdoses, however it is extremely difficult for people in the island to access this antagonist. The government of Puerto Rico has not yet established micro and macro-structural strategies to allow access to Naloxone. The lack of sensitive public health policies has perpetuated the disastrous health and life consequences of problematic use of substances (heroin).
In response to this reality, Intercambios Puerto Rico continues its mission to strive for social justice and provide social and health services for people who are homeless and people who use drugs by meeting them where they are and in their own communities. The syringe exchange program continues to work from a harm reduction perspective in 12 communities in the northeast side of the island. Our regular outreach team includes a service coordinator, two community outreach workers, a case manager and a nurse who attend to the social and health services needs of our participants. Our participants lack access to primary care centers. However, through our mobile street outreach, they are able to access life-saving services for free on a regular basis such as: HIV tests, health evaluation by a certified nurse, linkage to medication-assisted treatment for problematic substance use and other essential services.
In addition, we recently added a new team to our staff that includes a professional mental health counselor, a professional substance-related disorders counselor, a community outreach worker, a case manager and a service coordinator. This new team will carry out mental health interventions from a harm reduction model with the purpose of supporting individuals who are homeless and had problematic substance use in their recovery process. We are excited to inform you that this new project will be working not only in the communities we serve in the northeast of the island but also in the metropolitan area. This guarantees a greater number of marginalized people will be able to access much need health and social services. And more importantly, we will be able to link homeless inviduals with/without problematic substance use to permanent housing programs. According to the Homeless Count of Puerto Rico (2017), it is estimated that there are over 3,501 homeless individuals in the island. This number is bound to increase due to the devastation caused by Maria and Irma's Hurricanes. At least 30.6% of individuals identified as homeless reported the main reason for being on the street was problematic substance use.

We are extremely grateful to all those who have donated and supported our work in the past and hope to have your continue support as we engaged in Post-Hurricane Recovery Work in our communities. This work is more challenging for Puerto Rico given that is government finds itself in the midst of a bankruptcy and has implemented harsh austerity measures that undermine the provision of essential services, such as health and education, to its population. Thank you for keeping up with the hard work carried out by our team at Intercambios Puerto RIco. We are committed to promoting public policies and direct service that may positively impact our vulnerable populations and ensure that we are better prepared to face similar natural disasters in the coming future.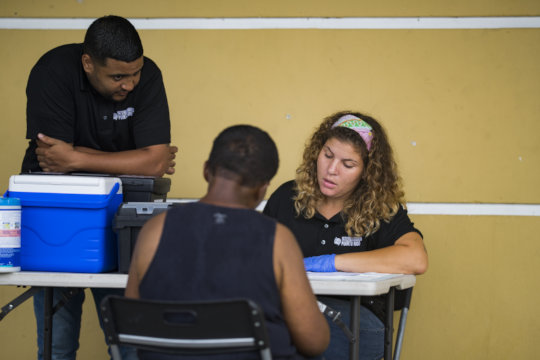 Here at Intercambios Puerto RIco, we continue our efforts to aid in the reconstruction of Puerto Rico in the aftermath of Maria and Irma through our committment to serving our participants. We are happy to report that the provision of our clinical and harm reduction services to participants in the eastern side of the island have not only continued without being negatively affected by cuts in local government funding to the department of health, but actually have increased thanks to the support of private foundations and our individual donors. In addition to harm reduction and life saving services, we now have a nurse and a social worker that are able to provide first aid care to participants and connect them to social and health programs that they so desperately need. Connecting to social and medical services is more challenging in the aftermath of the Irma and Maria due to the shrinking availability of doctors in the island who have migrated and the ever-increasing budget cuts resulting from the island's bankruptcy. Finding housing and connecting to medical services requires that many participants travel everyday long distances to other municipalities because they are not available where they live.
However, we still very much need your help in raising the funds to create storm survival kits (that contain water filters, solar portable lights, toilettres, and first aid iterms) that can be distributed to our participants especially as we geared towards a new water rationing season (due to lack of rain in certain areas of the island) and the upcoming hurricane season. Although our modest main office is back in shape and is better prepared to weather a hurricane, we still need to make upgrades that will make it self-sufficient in the event of a major weather disaster and outfitted, so it can serve as a refuge to participants who do not have a safe place to weather the storm. We need your help to continue our efforts to be resilient and effective in the event of a new disaster.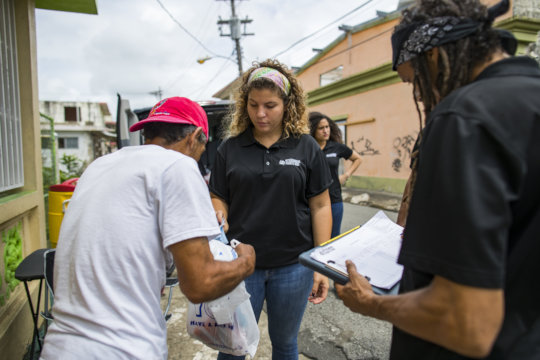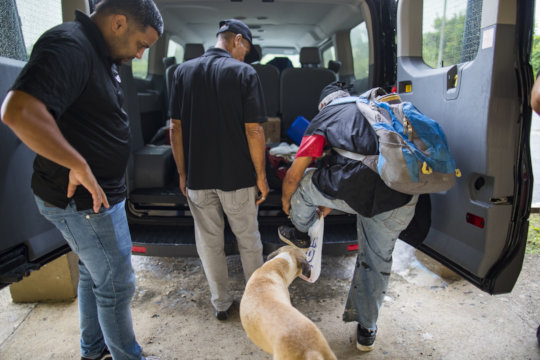 Links:
It has now been exactly one year since the devastation of Hurricanes Maria and Irma. Thanks to our supporters, Intercambios was able to quickly rebuild and be more prepared for future storms. We have been able to repair the damage to our office and resume our lifesaving services. Our clients have been able to attain greater stability, as they are no longer faced with ongoing power outages and lack of access to communications. The support from our generous donors and foundation partners made it possible to purchase a generator, cistern and water filter. These items will greatly help our clients stay safe in the event of future storms!
Although we have recovered from the immediate damage wrought by the hurricanes, we now look to the future to achieve full disaster preparedness. In the coming months, Intercambios will seek to create an emergency supply of essential items such as batteries, a convertor, and a power generator. In addition, we are raising resources to conduct an organizational needs assessment and establish written policies and procedures to implement in future storms, which will ensure a systematic and highly coordinated response that will save the lives of our constituents. We are also seeking support to purchase client survival kits, which would be equipped with canned food, bottled water, detergent, hygiene items and LED lamps.
Last but not least, we are excited to report that we are in the process of ramping up our clinical operations to address any barriers to treatment our clients face. Intercambios is deeply grateful for our individual and foundation donors, whose support in these difficult times has allowed us to rebuild to be stronger than ever!
WARNING: Javascript is currently disabled or is not available in your browser. GlobalGiving makes extensive use of Javascript and will not function properly with Javascript disabled.
Please enable Javascript
and refresh this page.