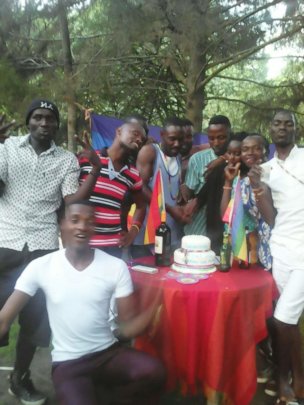 Cake baking empowerment program
The project is making substantial progress towards the achievement of the strategic development objective as evidenced by the results, benefits to target groups and impact to date.MRF is proud to mention that there has been a great achievement since 2017 in equipping skills to the rural LGBTQ communities with over 149 LGBTQ people being empowered. As of February 2020 a total of 40 LGBTQ people across western parts of Uganda have their own small scale cake baking business, 80 LGBTQ are being employed in cake bakeries. This year we decided to add a wonderful component in the Cake baking job empowerment project and it's a financial literacy training, we discovered that we might have trained the community with skills that earn them a living and sustain themselves in fighting unemployment but didn't teach them how to save, borrow, budget and other financial matters, in October 2019 it came to our tension that those who started their small scale businesses were making losses and almost losing their business due to lack of financial literacy.
We have managed to promote financial literacy and capability of the LGBTQ in western Uganda, on 16th and 17th February 2020, we gathered 50 participates selected from Kabale, Mbarara, Rukungiri, Ntugamo, Bushenyi, and Ibanda districts at generation suits in Mbarara district to educate them on cake baking and the following topics, managing credit, saving tips, how to make a business plan, step to step guide to creating your own budget and sticking to it, the organization had invited 40 participants but 50 participants attended. The cake baking program is continuing to train beneficiaries in Cake baking skills and empowerment, job skills, financial, entrepreneurial and literacy/numeracy skills, the benefits of this project to the target group are both economic and social, majority were previously unemployed and now gainfully employed or self employed and contribute to household welfare with their earnings. The success of many of their small businesses has led to the employment and additional LGBTQ workers. The social benefits are self esteem and new found respect of families and communities, LGBTQ people here in western Uganda are formerly known to be waste products. The rural LGBTQ community is now slowly building acceptance and becoming role models in their communities.
Here is a story of one of the cake baking empowerment project beneficiaries
"Ever since financial literacy was introduced by MRF on the 16 feb.2020 during the cake baking empowerment program, my entire life changed from there and then, And due to the skills and experience acquired from the training, I have been able to identify business opportunities, know my income and expenditures, on this note I would like us to look at how I progressed coherently in just two months and expanding on my cake baking production. with Benedict of the financial difficulties in our community at a low level of individuals I came up with an idea of extending financial assistance to my fellow members in form of credit accompanied with some interest and due to proper record keeping this has helped me to know all the debtors and reduce losses, I used and added up all the interests collected to my small caking baking business which has increased my income and expand my business, I currently employ two people who help me in my business despite the COVID_19 pandemic that has greatly impacted me, am now using and depending on the business savings and worried if at the end of the crisis I will have enough money to continue working"- (cake baking program beneficiary)
Challenges encountered
We have not encountered any difficulties during implementation of our programs. But because majority of the rural LGBTQ people are less educated, very few of them have jobs and a big number of them are unemployed and economically disenfranchised, the need for food, a place to live and paying house rents and bills overshadows the concern for their wellbeing and survival. There is high demand from members to be selected to participant in the cake baking project yet the organization had only budgeted for 100 more participants, so far a half have acquired cake baking empowerment and financial literacy skills and the demand to be included is high. Earlier this year we started a fundraising campaign to raise $5,000 and only $320 has been raised making it very difficult to effectively impact many liveshttps://www.globalgiving.org/projects/cake-baking-for-lgbtq-empowerment-in-uganda-1/
COVID-19
The COVID-19 pandemic marks an unprecedented time that will require the best of humanity to overcome. Coronavirus has taken thousands of lives and spread to nearly in the all world, In Uganda on the 18th March 2020, we documented our first positive COVID case but as of 8th April 2020, over 53 positive cases have been documented with numbers rising each day, rapid transmission, rising and increased impact. This pandemic threatens everyone's way of life, but it is especially difficult for people who are HIV positive and with weak immune system, including those rural LGBTQ individuals experiencing homelessness, wage workers and those with inflexible jobs since our country is stretched now during the lock-down and curfews.
This has in turn completely cut off supply and uptake of critical HIV medicines and supply of other essentials to HIV positive LGBTQ persons in rural grassroots setting of western Uganda who cannot afford walking long distances to health facilities leading to less/no adherence that could further worsen the situation of the LGBTQ people living with HIV in rural Uganda. In addition most HIV+ do not have food supplies in their homes and so taking art-retroviral (ART) and other related medicines on empty stomachs makes it very difficult for them to adhere and more weak. We have documented other challenges in the LGBTQ community that there is a difficulty in observing covid-19 preventive measures due to lack of basic preventive measures such as hand washing soap, sanitizers, and face masks.
We are raising funds here https://www.globalgiving.org/projects/help-hiv-positive-gays-during-coronavirus-pandemic/ to support immediate and offer relief to LGBTQ HIV positives during one of the most challenging times we have collectively faced, act quickly and protect them get;
Life saving medical supplies like face masks, hand sanitizers, hand washing bars of soap.
Buy 900 kilograms of posho flour, 400 kilograms of G-nuts and 200 kilograms of sugar and supply them to over 110 LGBT HIV positives, our peer leaders and volunteers will take responsibility of delivering the items on door steps of our beneficiaries.
Support hygiene awareness efforts. This is being carried out to sensitize the community through our social media platforms face book, like SMS, phone calls among many other ways.
Lastly, we already have a compiled list of all our members who are on HIV treatment indicating file numbers, and where they pick their treatment, and our peer educators are delivering ARVs medication on each ones door step and any other medical emergency to those in need.
We have so far raised $280 which has supported us to buy food and deliver HIV medication to 47 LGBTQ+.
COVID_19 impact on rural LGBTQ communities
Windy City Times an LGBTQ publication in Chicago published our statement in their weekly roundup news herehttp://www.windycitymediagroup.com/lgbt/WORLD-HIV-Ugandan-men-employment-lawsuit-Chilean-rejection/68402.html
And Gay city news:https://www.gaycitynews.com/the-plagues-covid-19-visits-on-lgbtq-east-africans/
Way forward
With the COVID-19 pandemic impacting everyday life, we thank you for your continued support and wish you and your family health and peace. Right now, Mbarara rise Foundation faces new challenges. As we adapt to these unprecedented circumstances, we'll continue to serve our communities as best we can. However, in order to ensure the safety of our community and ourselves, we've made necessary modifications to our programming adding COVID-19 relief/recovery efforts and we're doubling down on this work. We're grateful to be in a situation that allows us to continue serving our community during this crisis.
In the next months, we look forward to continue supporting those impacted by COVID and offer cake baking skills empowerment and other programs soon after the COVID crisis.
STAY SAFE