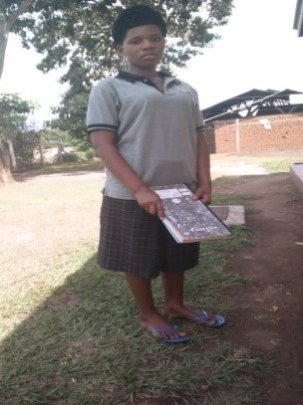 This month we bring Gloria (20), a young mother of 1 child and a student at Mbarara Institute of Social Development Kasese, living a single life with her parents.
Gloria dropped out of school at the age of 17years when she had sat for her Senior 4 exams. She says,
"Just like any other girl in a candidate class, I was excited to finish my exams. From peer influence and lack of knowledge about sexual reproductive health, I was convinced by friends that at S4 it was not proper for any candidate to finish without saying 'a good farewell' to the school since there is always likelihood of change of school at that level. I was completely taken in by my friends' pressure and we started escaping from school with boys, going to bars and night clubs as a way of celebrating our school life and saying bye-bye to each other.
"I ended up engaging in unprotected sex with a boy under the influence of alcohol. It resulted into pregnancy and when I came home from school after exams and told my parents, they immediately chased me from home to go and stay with the boy who was also struggling in S4 vacation. This left me with no choice other than to run to my aunt's home where I stayed till last year with my child. It was a life of no hope for me and my child at my aunt's place, who is a low paid primary school teacher.
"One day I was mobilized, with other girls, to be trained and given knowledge and skills by Act4Africa under the adolescent young mothers program. It changed my life completely, after learning that there is hope and life for young mothers, even when stigmatised by the community. Through counselling from Act4Africa, I gained my own esteem and became assertive in many of my life decisions.
"I called my parents after one of the trainings, asking for forgiveness and requesting them to accept me back home and take me back to school again. It surprised my parents when I mentioned joining school again. My father made a visit to me and, after some time, brought me back home with my child. After returning home, I continued to convince my parents that I was a changed girl with good behaviours. I was always supportive in domestic work at home, and with time my parents accepted my request of joining school.
"In August 2018, I joined Mbarara Institute of Social Development, Kasese, pursuing a certificate in Library and Information Science. I am now an empowered, happy, single young mother and the advocate of young women's rights in my school and village. I am member of an Act4Africa young mothers saving group and never miss community social trainings or workshops at school for sexual reproductive health education."
Gloria gives a big thanks to Act4Africa and GlobalGiving partners for remembering neglected young mothers and bringing hope to them. Her wish is to finish her school and upgrade up to a degree level and here she requested for continued support by Act4Africa with health knowledge and if possible she requests for financial assistance to have her education dream fulfilled.
Donate to our Brighter Futures for 65,000 girls project today, by clicking the GIVE NOW button below, and support Gloria and other girls like her.
Links: