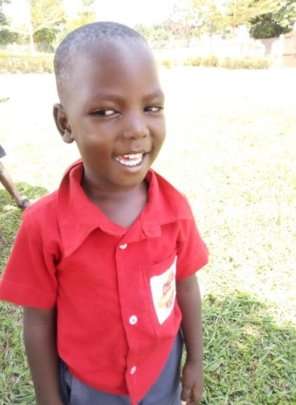 Meet Fahim, one of our pre-scholars at Kathy's Kindergarten, who joined us in January 2019. He lives with both his parents in Mayuge district, five kilometres away from the school at Kathy's Centre.
Fahim's mother, Kevin, when consulted about her experience with our school, expressed total gratitude for the great role of modeling her child and laying a firm educational foundation at this early stage. "I am very comfortable with the hands handling my son, the school was opened at the right time when I was looking for the best school for him" she added.
Kevin believes in her son so much and just like it's said, 'behind every young child who believes in himself is a parent who believed first'. As teachers, we are equally proud to have such supportive parents.
Teacher, Madam Jennifer, is excited to express that he is such an active boy and willing to learn at any time. 'I find it not hard at anytime to involve Fahim in any activity because he loves to learn new things and I am happy because teaching Fahim and his friends is an accomplishment and getting children like Fahim excited about learning is my greatest achievement."
Madam Grace adds that "I love teaching Fahim because he is an interesting boy whose smiles can melt your heart, his love for music and dancing makes me confident that Fahim is going to be a passionate lover of whatever he sets his heart to, Fahim is an outstanding boy that learns with pleasure. When we learn with pleasure we never forget!"
Head Teacher, Mr. Amatre says "The boy is ready to learn whenever instructed to do something. He listens attentively when anyone is giving instructions, acts accordingly and reports anything which makes him uncomfortable to the teacher and loves sharing materials with other children."
Fahim's friends love being around him because he is so friendly. Hashim who is Fahim's best friend says, "I love playing with Fahim because he shares his juice with me". How lovely to know this about him!
At Kathy's Kindergarten, we not only teach children how to count but also teach them what counts. We endeavour to provide the necessary environment in which they can learn.
Any monthly donation to our project will help us achieve our goal of bright minds and a brighter future for our children.
What's more a generous anonymous donor has agreed to match new monthly donations!
Please share our project with like-minded friends – they will get their first donation matched!
For example, for every new £25 monthly donation, Global Giving will donate an additional £25 to our project (following the 4th consecutive monthly donation).
Links: