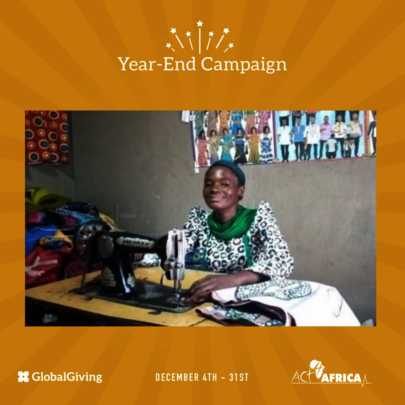 Brenda, a resident of a fishing village in Kasese District, Western Uganda, is one of the 65,000 girls Act4Africa aims to reach through our 'Brighter Futures' GlobalGiving project. Aged 21 years, she was a victim of peer influence that led her to drop out of school and into sex work, yet now she has seen her future again after the training and workshops by Act4Africa.
Can you help us transform the lives of more girls like Brenda by donating monthly to our project? If you start a recurring donation this December, your 4th donation will be matched by an anonymous GlobalGiving donor!
Find out how donations to our project have transformed Brenda's life, in her own words…
"I found myself out of school because it was the order of the day which I adopted too, having seen most of my age mates out of school and working at the lakeshore landing site. I was attracted to join them as these girls were smart and seemed happy. I left school and joined some of my friends to do business of selling food stuffs and packaged cold water. My decision to drop out of school did not get much resistance from my parents since my father is a fisherman and always away from home and my mother a fishmonger who travels to markets to do business. This gave me a lot of time to do all I wanted before my mother returned home late in the evenings. I dropped out of school during my second year at secondary level though I regret a lot this decision of leaving school because life has not been easy as I expected.
"My parents stopped supporting me because of my dropping out of school. I struggled for basic needs, especially clothing and sanitary pads and sometimes medication, this forced me to start looking up at men for extra money since business was becoming more difficult for us, our acts made people look at us as prostitutes in my own village which brought shame to me and my family, as a result my father chased me from home and I started renting with one of my friends which made us do whatever we wanted because we were so independent. Life seemed to be well at first but things turned when all people regarded us as spoilt community members, we were denied to freely interact with our friends and even our own sisters and brothers would look at us in a different way. No man admired to marry me because of my past history and I became isolated.
"However, ever since I started attending the trainings which was brought to our community by Act4Africa. A VHT trained by Act4Africa mobilized us and assured us to benefit from the program. Though my first expectation was money not knowledge, today I boost with pride to have been socially and economically changed by these trainings, my attitude towards my own life has completely changed and this has given me a new direction that has brought hope to my heart.
"I realized how I was lost and left alone in the world and how I needed to change because the training exposed all I did before as risky to my own life and wellbeing. I never knew all about condoms, I entirely depended on oral pills to avoid pregnancy, I never thought of HIV, but the health education, enterprise skills and sexual reproductive health education completely put me in a position to take up a rightful decision for my life.
"The knowledge came at the right time in my life and my life completely changed, and as a result my father allowed me back home with the help of the Act4Africa community trainer and our local leader. My father then enrolled me to a local Talent and Skills Development Centre to learn Tailoring and Designing Skills course for 9 months which I completed last June and now I am self-employed. Sometimes I am able to support my parents at home with small basics like food stuff and also my entire wellbeing is supported by the income I earn, am a financially independent lady and I hope, with time, I will buy my own sewing machines for better operations."
Brenda is now a Community Mentor herself and actively participates in community health trainings and social activities to transform the lives of other young people in her community. "I am looking forward to changing more lives of my peers in my village." She gives big thanks to the GlobalGiving supporters of Act4Africa, its local Community Mentors and partners for enabling this life changing project be implemented in her community.
Are you able to make a monthly donation to our project to help us save more girls like Brenda from a life of sex work, isolation and poverty? Join our Year End Campaign to change the lives of 65,000 Ugandan girls. Set up a monthly donation this December and GlobalGiving will match your 4th donation.
Links: