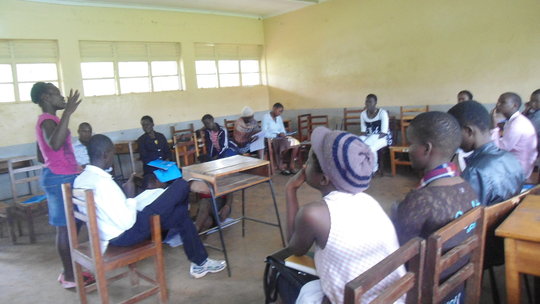 This last quarter we have been delighted to be able to bring Act4Africa Jinja District into our "girl effect" training programme. Patrick Kigongo our project manager said " We express our gratitude for the generous funding and support extended to Act4Africa JInja, through the "girl effect" project".
Patrick notes that statistically, Uganda is still struggling with combating the HIV scourge in the sub Saharan region, with the current prevalence standing at a stubborn and staggering 6.7per cent. Therefore, this girl effect training program is very timely and complements the government's efforts by addressing issues of gender that are part of the predisposing factors to HIV spread, as well as making a difference in the lives of communities here.
This last quarter Patrick and his team have so far managed to reach over 80 beneficiaries, including Girl Guides and in-school holiday clubs with the gender program.
Here below, is what some of the beneficiaries we trained had to say:
I am Flavia, a 20 years old school girl in Jinja. Through the Girl Effect gender workshop I have got a chance to learn about love and negotiation. I never knew that one has a right to negotiate for sex. I have also learned about stigma and gender. I thank Act4Africa for such a good program and I will do, and follow what has been taught to me
I am Mercy, an 18 years old and a student in Jinja District. Through the Act4Africa "Girl Effect" Gender training I have learnt a lot, from domestic violence, to stigma in society, But the training on sex and negotiation touched me most and I have come to realize that in a marriage life, women are more intimidated and have little say when it comes to issues concerning sex. So couples should learn communication skills, a foundation of love, trust and mutual understanding. Both husband and wife should agree on something before embarking on it. With this training, I will help my peers, friends and especially the married ones.
I am Martha, 19 years old. Through the "girl effect" gender training I have learnt that there is no work or roles just composed for a single different gender. I also learnt many things through the gender dramas , for example many lessons that will make me to have the best family in future. I will work hand in hand with my future husband and also teach other women that women also have rights and can make decisions on their own and even negotiate for sex.