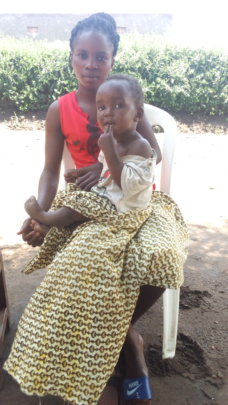 Meet Lorene
Lorene left school at the age of 13 and she is now a 17 year old married mother of one child.
Lorene's husband is a Boda Boda rider (giving lifts on a motorbike for money) but his income provides less than half of the family's basic needs.
Lorene said, "I joined an Act4Africa savings group of 20 young mothers and as a result of the financial knowledge I received I started to think about savings and how to start a business. I shared ideas with the group and my mother-in-law and she helped me to save small amounts of money. I managed to get a loan of 85,000 Ugandan Shillings (~£18) from the savings group and used that to start a small food vending business, cooking and selling hot food. The business is doing well and I am working hard to pay back the loan with some of the money I am making.
My husband's attitude towards me has changed since I started my business and our family is now a peaceful one. My husband used to be unkind towards me because I had to depend on him for everything, and this made me unhappy. At one stage I wanted a divorce because I was embarrased in front of my in-laws and neighbours, but now I think I have the beginning of happiness in my marriage.
Since I started the business we now have food at home all the time and I can pay for some small things without having to wait for my husband any more. We hope that the business will continue to grow to enable us to buy our own motorcycle for my husband to ride in future.
I wish Act4Africa and money from GlobalGiving could be used to reach more vulnerable mothers so they can change their lives socially and economically. It has greatly changed my life and I now live happily".
Meet Moreen
Moreen left school at the age of 15 and when she was 16 she became pregnant. The father of the child refused to marry or take care of her however, and she had to continue living with her peasant family.
Moreen said, "Life has been miserable and extremely hard since I have been entirely dependent on my parents for my survival and that of my child, yet my parents can hardly meet the basic needs at home.
I joined other young mothers for the Act4Africa training and felt empowered by the knowledge of sexual and reproductive health as well as financial literacy. I am now part of a small village savings group with 15 members which meets once a week.
The financial literacy knowledge greatly empowered me since it taught me that even poor people can save something small which accumulates over time. Most of my savings, to begin with, were from casual labour offered in people's gardens, weeding crops and cultivating land. By doing this I managed to save a reasonable amount that enabled me to get a small loan from the savings group.
After getting a loan of 50,000 Ugandan Shillings (~£11)I was able to set up a small business selling eatables at the roadside under tree shade. The business idea was from the finance training and sharing ideas with friends in the savings groups. Business is picking up and I am able to save most days and pay back part of the loan each time the group meets.
My life will change in time since I hope to keep saving and to get another loan to expand my business so I can support my parents and child.
I thank Act4Africa and GlobalGiving for the program that is empowering young mothers and the work should not stop, so that life will continue to be bright".