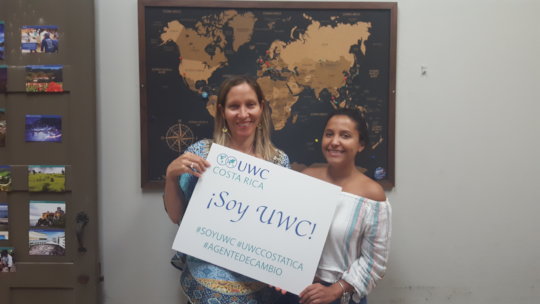 With our graduation taking place this coming Sunday, our community is gearing up to the closing of our academic year and looking forward to welcoming more than 200 parents, family members and friends to celebrate together the Class of 2019 this weekend.
At the same time our Admissions department is also hard at work preparing the arrival of the Class of 2021. In the picture above, you can meet Annette Grew, our Admissions Director, and Ingrid Madrigal, our Admissions Assistant, who are in the process of carefully reviewing all the student applications that we have received from our National Committees and the Global Selection Process (GSP) program.
From packing lists, to visa and travel arrangements, to securing all the important information needed for these students to start at UWC Costa Rica, Annette and Ingrid will be working closely with our 105 new students and their families to ensure their safe arrival to Costa Rica in August throughout this summer.
Thanks to Annette and Ingrid, here is a sneak peek at some of the countries confirmed to be represented by the Class of 2021:
Bahamas
Barbados
Bolivia
Costa Rica
Dominican Republic / Haiti
Ecuador
El Salvador
Guatemala
Nicaragua
Peru
Paraguay
Taiwan
Tunisia
Uruguay
As you can see, the Class of 2021 will have a strong representation from our host region of Latin America and the Caribbean, with at least 15 of them receiving the full scholarship thy need to access their UWC dream, something we feel very excited about.
Please continue sharing our project and inviting your family and friends to join us as we still have a bit to go to accomplish our goal of $60,000 to make sure that all of our Class of 2021 students receive the extra support they need. Though their full scholarships are secured, many of them still need our help to support their travel and other student success funds. Let's make sure that as little as $1,000 does not keep a single student from coming to UWC Costa Rica this August!
Un abrazo,
Annette, Ingrid and all the UWC Costa Rica team