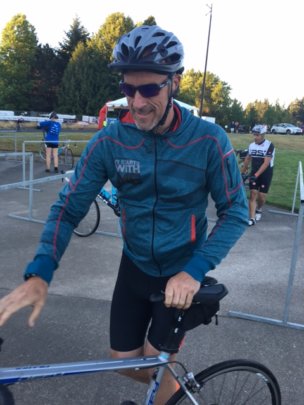 Tour de Cure may only happen one day a year, but our riders, runners and walkers put in hours of training and fundraising before they ever arrive at AmberGlen Park. This month, we're sharing the story of a Red Rider, Nate, who accomplished a full century ride this summer!
Maybe you're not ready to conquer the century ride quite yet, but we want to invite you to join us on July 28th, 2018 to ride one of our beautiful routes through the scenic Willamette Valley or to run or walk our 5K routes through Hillsboro. Registration is now open for 2018 – please visit www.diabetes.org/tourpdx to learn more!
--
Nate is a newly diagnosed Red Rider, having lived with pancreatic disease for more than 20 years before his diagnosis. He met ADA staff members at another event and signed up to ride 104 miles for this year's Tour de Cure to help support the American Diabetes Association's research and education efforts.
Nate started his century ride at 6:30 am and a couple of hours later, he took a break and texted his wife Rebecca "40 miles down." The next text came in at mile marker 70, and at that pace, he would be done before 1 pm! At mile 87, the text "everything hurts" came in and a couple minutes later he called and said, "I don't know if I can do it..."
Meanwhile, Rebecca was sharing Nate's story with our volunteers as she waited for Nate to come back to the finish line, knowing he was still 17 miles out. After a few more minutes, a rider wearing red arrived – it was Nate! The announcers shared his story over the loudspeaker and the crowd clapped and cheered. Nate had tears of relief and happiness in his eyes: "I did it! I finished!" He had crossed the finish line with another rider from Sacramento, who had never ridden 104 miles before, either!
After the ride, Rebecca shared her hopes for the future: "There has been so much technology in pancreas surgeries & diabetes research - there will be a cure in the near future; I am sure of it."