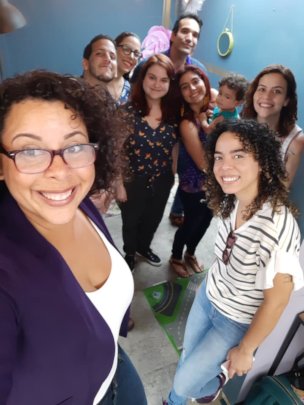 Many people take for granted their right to have a home, a community, access to schools and hospitals. However, there are thousands of people who do not have that security because their ability to repair or rebuild their houses depends on the assistance they receive from the state, their rent is subject to private entities that can speculate with the land or if the public school closes, forcing the family to move so their children can have an education. Because the right to a roof is not just the house or the property, it is the human right to decent housing.
"A decent home is a home that is adequate, affordable and accessible for people with functional diversity, for example. We say that it's a dwelling with secure ownership, that is, nobody can take it away from you arbitrarily, but it also protects a social fabric. It's not just a house, it's part of a community," explains Ariadna Godreau-Aubert, executive director of Ayuda Legal Puerto Rico, a non-profit organization that advocates for social justice and changes to public policy surrounding issues such as decent housing. While they don't offer direct services, they work with collaborators, free legal service providers, and community-based organizations such as Taller Salud, Proyecto Matria and IDEBAJO.
In the months after Hurricane Maria, Ayuda Legal Puerto Rico visited more than 70 communities around the island, and in the process, they realized that Puerto Rico is experiencing a housing crisis. They've since focused their efforts on legal projects involving the right to a roof, among other social justice projects.
"As lawyers and as social justice activists, we believe that if you defend the right to housing, you protect other fundamental rights," expressed Godreau-Aubert.
Ayuda Legal Puerto Rico received a grant from the Funder's Network through the FORWARD Puerto Rico Fund with the objective of developing a campaign supporting education, advocacy, and community legal assistance for vulnerable communities to secure government resources in order to conserve and rebuild homes damaged or destroyed by hurricanes Irma and María. The project, entitled Recuperación Justa (Fair Recovery), focuses on the issue of the Community Development Block Grant Disaster Recovery Program (CDBG-DR), provided by the federal Department of Housing and Urban Development (HUD). The interest of Ayuda Legal Puerto Rico is to avoid the forced displacement of vulnerable communities through the misuse of these funds.
"CDBG-DR funds have more to do with long-term reoccupation, and as the government has said, approximately $20 billion is expected for Puerto Rico and if this money is used well, it could be the only injection of capital that these communities will see for many years for economic rehabilitation, infrastructure, and housing," affirmed Godreau-Aubert.
"If they are misused, it'll be like New Orleans, it'll serve as a pretext to remove people, to speculate on the ground, and money will never get where it's needed," she warns.
Recuperación Justa seeks to encourage the participation of the very people who would be affected by this process and the organizations that defend them by influencing public policy, defending the right to decent housing, and ensuring that recovery plans respond to the real needs of the people.
This comes in response to the discrimination experienced by certain communities, such as when FEMA demanded property titles as a condition for granting rebuilding funds when federal and local laws do not require that, something that harmed low-income communities where residences have been passed down generation after generation and the original titles don't exist. Additionally, the possible displacement or expropriation of the homes of people living in low-income communities can only be addressed through changes to public policy and awareness of the measures taken by the government that harm the most vulnerable while benefiting private interests. Both examples are evident in the Action Plan designed by HUD that establishes how CDBG-DR funds will be used to address the humanitarian crisis and reconstruction after the hurricanes.
"For example, right now there is a prohibition in the Action Plan that establishes that properties that are in floodable zones or areas susceptible to landslides will not qualify to be repaired or reconstructed. The new maps establish that more than 40% of the surface of Puerto Rico is either floodable or susceptible to landslides, so it would prevent people who need the money to repair or rebuild, presumably poor people who have not been able to repair or rebuild two years after the hurricane, but could allow private money, through 'opportunity zones,' to build in those same areas. You'll have coastal communities that are going to be displaced because they will not be able to repair their houses, but a hotel can build in the same area," points out Godreau-Aubert.
Ayuda Legal Puerto Rico's job is to empower communities and community-based organizations by providing them with information about their rights and the legal alternatives they can use to protect their property. This includes a legal toolkit available on the Ayuda Legal Puerto Rico website that contains a glossary of terms, summaries of plans, key concepts, and other types of free educational material written in an accessible and inclusive language. Ayuda Legal Puerto Rico also facilitates the Jornada de Participación Comunitaria CDBG-DR, a coalition of entities working for social justice in Puerto Rico, which has given communities greater access to the process of allocation of CDBG-DR funds, such as extending the hours of public hearings so that people with jobs or who live outside the metro area can attend. Ayuda Legal Puerto Rico has also been very active in the press exposing their findings.
"Part of the work we have been doing is to be very open about this process to demand that the government respond and be influenced by the people who really need it," she adds.
The FORWARD Puerto Rico Fund supports innovative approaches to help Puerto Rico prosper. Puerto Rico's recovery and rebuilding is a long-term effort. Hurricanes Irma and Maria devastated an island that was already reeling from a longstanding economic crisis. Quicklyafter the hurricanes, the Fund provided emergency funds to vetted, high impact local grassroots organizations that were offering immediate assistance to those affected. Now, the Fund is pursuing essential long-term strategic priorities to help move Puerto Rico forward. This report describes the work that is being done by one of the organizations supported through the Fund.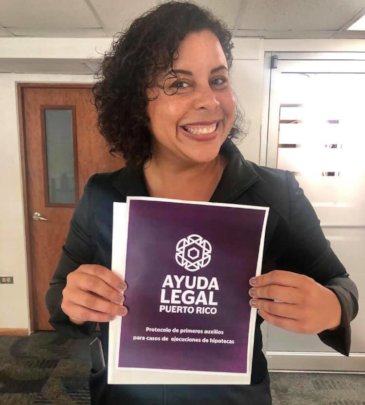 Links: