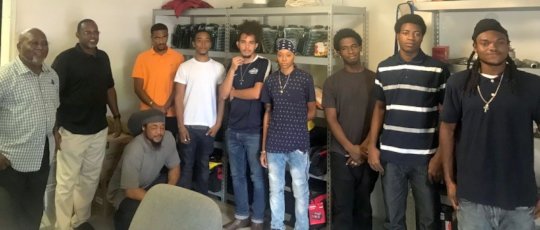 As we write this report, we are mindful that next month will mark two years since Hurricanes Maria and Irma stormed the Virgin Islands in 2017. Today, as our community continues to recover, St. Croix Foundation is focused on work that supports long-term sustainability and resilience. As in so many other communities, on St. Croix sustainability and resiliency are not just words but imperatives. At the Foundation, we are acutely aware that as an isolated island community, St. Croix must look beyond theory and put into practice community-based initiatives that will drive our priorities of energy independence, economic resiliency, nonprofit stability, workforce development, and overall community self-sufficiency.
Today we are so pleased to announce that the projects we've been developing and updating you on, in conjunction with partners in the public, private, and civic sectors, are actively at work! And, because it wouldn't be possible without you, we wish to extend our deepest appreciation to GlobalGiving and our family of supporters for making our vision a reality.
The Synergy of Workforce Development, Energy Independence, and Community
In June, St. Croix Foundation announced the official launch of our Solar-Supported Community Center Project and Workforce Development Initiative. A perfect representation of how the Foundation is advancing its recovery agenda and its commitment to holistic community development, this initiative was conceptualized to serve as a replicable model through which local youth are trained in order to build a skilled local workforce of solar installers; in turn, they will receive hands-on internship opportunities by solarizing several carefully selected community centers on St. Croix. Funded in partnership with the Virgin Islands Department of Labor, the Center for Disaster Philanthropy, Global Giving and a number of other national philanthropic entities, the community centers that will be solarized include The Caribbean Center for Boys and Girls VI, Flambouyant Gardens- senior citizens community, Mon Bijou New Youth Community Center, and USVI Soccer Association Center.
We are now fully in the first phase of the initiative, with 10 students aged 18-28 who are currently enrolled in the 5-month National Center for Construction Education and Research (NCCER) course. Our students are receiving intense classroom instruction in NCCER Core Curriculum, Electrical Levels 1-4, and Solar PV Installation. They also receive a stipend during the program in addition to uniforms and toolkits which they will be allowed to keep upon completion of the program.
Once students have completed the classroom component of the program and have successfully passed each level of coursework, they will receive on-the-job training installing Solar Photovoltaic Systems on our four identified local community centers.
While building a skilled workforce around sustainable energy is undeniably critical to St. Croix's social and economic health, we are equally excited about how this initiative will impact nonprofit community centers and the neighborhoods they serve. Community centers were selected based on their strategic location to isolated or underserved neighborhoods and their connection to established nonprofit organizations serving vulnerable populations and providing structured community-based programming. Centers will ultimately serve as neighborhood hubs for individuals and families in walking proximity that will support them with critical needs in the aftermath of future natural (or manmade) disasters. Independent of the grid, these centers will enable residents to store medication that requires refrigeration, charge electronic devices, and use internet connection to communicate with family. Community centers can also serve as localized distribution sites from which aid and relief items can be stored and disseminated in the future. Equally important, this initiative seeks to nurture a culture of resilience by empowering each nonprofit community center to achieve a reduction in utility costs, the savings from which can be reinvested in direct services that benefit the communities and vulnerable populations they serve.
Our first center, the Caribbean Center for Boys and Girls has already pledged to begin November 4, 2019. And, thanks to our incredible network at GlobalGiving, the Foundation has secured funding to solarize our second community center, the Mon Bijou New Youth Community Center. The Foundation hopes to secure funding for two additional community centers, one of which serves the elderly and another that is located in a remote neighborhood with very little access to services in times of trouble. Each community center will be collecting data on usage, savings, and programming impact and the Foundation believes that this approach to sustainability and resiliency will become a model for recovering communities.
Hear from our students and Deanna James, President of St. Croix Foundation, on how this initiative is and will impact community:
https://www.facebook.com/News2vi/videos/1842826285820467/UzpfSTE1NjU4MTY2NDQxNTA2MzoyOTI2MTIzNzQwNzk0MTYx/
AmeriCorps VISTA comes to the Virgin Islands to Support 8 St. Croix Nonprofits
After a comprehensive and rigorous application process representing over 400 staff hours, St. Croix Foundation is happy to report that we've been awarded a $340,157 grant by the Corporation of National and Community Service to assign fifteen (15) AmeriCorps VISTA volunteers to support eight St. Croix nonprofits beginning in September 2019. We are very excited to welcome the first AmeriCorps VISTA Team in the territory in over 20 years.
In the aftermath of the 2017 Superstorms Irma and Maria, St. Croix Foundation conducted a survey on the status of nonprofits, who serve some of our most vulnerable residents, finding that 70% of nonprofits reported an increase in demand for their services while 64% were operating on a limited basis or not at all due to loss of funding, facility damages, and staff relocation. In response, St. Croix Foundation identified the AmeriCorps VISTA project as a strategy to build organizational capacity for nonprofits and began the comprehensive, year-long application process. With the application approved, a VISTA Volunteer Team will support the following organizations: Caribbean Center for Boys and Girls VI, St. Croix Landmarks Society, Virgin Islands Good Food Coalition, St. Croix Montessori, Clean Sweep Frederiksted, St. Croix Long Term Recovery Group, Virgin Islands State Historic Preservation Office and St. Croix Foundation. In total, St. Croix Foundation's VISTA Project expects to directly benefit youth, historic preservation, food security, green spaces, and relief and recovery services.
St. Croix Foundation specifically identified participating organizations who represent each of our subsectors within our civil society, including youth & education, health & human services, the built & natural environment, and arts & culture. All sectors are also directly aligned with the priorities of the Foundation to ensure a holistic approach to capacity building among our nonprofits. As an added benefit, this initiative is also providing further opportunities for local residents by encouraging residents to apply to be part of the VISTA team, thereby learning about the critical role of our nonprofits.
Fiscal Sponsorship Opens Grant Opportunities For Recovery Groups
In every report, we like to update our partners on the work of the St. Croix Long Term Recovery Group (LTRG), who continues to steadily serve residents with unmet needs resulting from the 2017 Hurricanes. As the LTRG's fiscal sponsor, the Foundation has been providing the LTRG with initial start-up support, waiving financial management fees and providing office space to the group so they can keep working while they build capacity.
In total, the LTRG has raised over $1,000,000 including a generous grant from GlobalGiving which will cover the cost of 6 new Disaster Case Managers (DCM) for the Territory. The DCM staff will work with the three Long Term Recovery Groups (STT, STX, STJ) to help address the needs of residents who were severely impacted by the 2017 storms but have no resources or recourse for recovery. As part of its response, the Federal Government was projected to award an $11 million grant to the Territory for Disaster Case Management almost two years ago; unfortunately, funds were failed to be released. As a result, our local nonprofits have been piecing funds together to hire staff to fill the gap. Beyond the DCM initiative, the STX-LTRG has, to date, completed major roof and hazard mitigation restoration on 52 hours.
Watch what our LTRG does every time a home is finished! https://www.facebook.com/stxltrg/videos/411558026377373/?q=LTRG
Our Appreciation...
Sometimes there are no words to adequately describe the appreciation we have for empowering St. Croix Foundation to serve, to lead, and to make these projects possible - projects whose ripple effects literally change lives. So instead, we'll just say thank you for being a part of philanthropy in the U.S. Virgin Islands!