Within days of Hurricanes Irma and Maria (two Category 5 storms which devastated the Virgin Islands) in September 2017 almost a year ago, St. Croix Foundation for Community Development launched the CARE (Caribbean Assistance and Recovery Effort) Fund to provide direct support to front-line relief efforts and long-term recovery to the US Virgin Islands and neighboring Caribbean Islands.
Because of our generous global community – you—St. Croix Foundation is driving a comprehensive hurricane recovery and resiliency strategy with one overarching goal: to support impacted communities on St. Croix and in the Territory equitably and responsibly in order to ensure a sustainable, resilient recovery. We are conducting grantmaking but that's just not enough! We are also providing programming of our own and serving as the fiscal sponsor for over 40 community-based organizations. That's impact you are helping us to make!
CARING FOR OUR CARIBBEAN NEIGHBORS
First, in honor of our pledge to serve as a trusted conduit of funds for so many of our neighboring islands who were also devasted by the hurricanes, we recently distributed over $3,000 to the British Virgin Islands Red Cross, the Anguilla Community Foundation, St. Maarten's Mental Health Foundation, and the Halo Foundation on Antigua to assist with their recovery efforts. Every dollar is meaningful as it represents a person who simply cared.
DATA REPORTS RELEASED TO COMMUNITY, PUBLIC OFFICIALS, AND FEDERAL RESERVE BANK
As reported in the third quarter, the Foundation received early results from our two surveys, the Nonprofit Capacity Assessment Study and Household Needs Assessment, and shared them with our GlobalGiving Community. Today, we are pleased to announce that we officially released the two comprehensive reports in June. The first of its kind in the Territory, we ensured that local community stakeholders had access to the data and directly distributed the reports to the community foundations on our sister islands, the Virgin Islands Government, the St. Croix Long-Term Recovery Group, and the Federal Reserve Bank, to name just a few. The reports underlined the importance of building capacity for our nonprofits in the recovery process; but they also shined a light on residents' individual household needs.
Shortly after the release of the reports, the Foundation was contacted by a representative from the US Department of Agriculture who said, "This report has been very helpful and provided specific insight. Are you aware of any similar efforts taking place on St. Thomas and St. John to highlight the nonprofits in particular?" This testimony was invaluable to the Foundation: our work informs how we approach every aspect of community development and hurricane recovery. Being data-driven and community-minded is critical during these times!
Also, in June, St. Croix Foundation presented at a forum hosted in New York by the Federal Reserve Bank. During this time, the Foundation presented our data reports and advocated for St. Croix through an equitable lens. With 60% of blue roof tarps in the Territory on the island of St. Croix, (which also has the highest poverty rate of 41%), an equitable recovery is an imperative. The convening afforded us the opportunity to advocate for St. Croix and St. Croix's nonprofits with organizations such as Newman's Own Foundation and the Association for Black Foundation Executives and set the stage for the Foundation to leverage our partnerships for greater impact.
A SNEAK PREVIEW OF CARE GRANT IMPACT
At the St. Croix Foundation, our grantees are partners, so although our CARE Grantees from the first cycle in March are busy implementing their projects and final reports are not due yet, we're excited to report some early success stories! Here's just a few things our grantee partners have accomplished to date:
A New Executive Director at the Caribbean Museum Center for the Arts!
Imagine an organization that had no executive director in the aftermath of a hurricane, making it impossible to run programs, gain traction and play an active role in the community's holistic recovery. Recognizing the critical role that the arts play in healing communities in distress, the Foundation made a deeply impactful investment which is reaping tremendous benefits already!

In July, the Foundation awarded a grant which funded half of the salary of a new Executive Director for the Caribbean Museum Center for the Arts (CMCA). Having already conducted critical organizational development work for their operations, CMCA is beginning to turn vision into action and impact in just two months. Since Executive Director Mike Wilson's arrival on island from New York City, CMCA has met with countless community members and is now developing a strategic plan that is community grounded and culturally relevant. In terms of programming, the CMCA is actively bringing community to its doors by: (1) extending its free Jazz Concert Seriesthrough its West End Music Institute; (2) hosting a "Silent Party" in a historic courtyard; (3) creating a space for farm-to-table, cultural experiences for St. Croix's growing culinary and spirits community, (4) making the museum accessible online, and (5) hosting critically important summer enrichment programs in a community with limited offerings for youth in the aftermath of the storm. Our investment is already paying off.


Filling Critical Mental Health Gaps
With a $3,950 grant from St. Croix Foundation, a team of physicians and psychiatrist leaders led by Dr. Donna Christensen (former Delegate to Congress), and consisting of Patricia Newton (CEO and Medical Director of Black Psychiatrists of America, Inc.) and Annelle Primm (Chair of the All Healers Mental Health Alliance) traveled to the Territory to participate in face-to-face meetings on St. Thomas and St. Croix with stakeholders concerned about increasing psychiatrists and psychiatric services in the USVI. In addition to participating in the meeting of the Steering Committee of the Mental Health Coalition, the team met with the Substance Abuse and Mental Health Services Administration (SAMHSA) Regional Administrator, the Deputy Commissioner and Commissioner of Health, the executive staff at the St. Thomas East End Community Health Center, and the Frederiksted Health Center, just to name a few.

The team expressed their deep appreciation for the support from the Foundation, which they indicated set the Territory on a path to bringing needed, culturally concordant psychiatric services to the people of the Virgin Islands, both in the short and long term. The group's aim is to work with the local mental health community to develop services that will be sustainable.


The Importance of Dance
Our local dance companies do more than teach technical skills. They are not only the heartbeat of a legacy of culture that remains strong but are also ramping up their classes so that they can serve more children who have been displaced at home and at school. Our two dance companies, Caribbean Dance School and Music in Motion, combined, serve countless students, and to keep them strong St. Croix Foundation awarded $7,500 to repair damages to the Caribbean Dance School and $7,000 to Music in Motion (pictured at right) in order for them to keep their doors open and house students who were only in school half day due to 8 of 13 public schools being condemned.


Supporting Children and Families
Children and families are the cornerstone of our community, representing the present and the future. They have been severely impacted by the hurricanes. As such, the Foundation is supporting them with off-cycle funding for scholarships, capacity building, and after school programs.
Our public high school seniors and college students had quite a challenge this year. Between trying to make plans to attend college despite having no electricity or attending their last year of high school with only 4 hours of instruction per day, and with few school guidance counselors left on island- our students had a mountain of challenges to overcome this year. As a result, the Foundation awarded two young people, a future lawyer and future nurse, tuition scholarships totaling $14,500 to keep their dreams intact.
To build capacity within the Virgin Islands Parent Teacher Student Association (PTSA) so this vital organization could help parents work through the difficult conditions at school and at home, the Foundation awarded our Territorial PTSA $3,500 to attend the National PTSA 2018 convention in Louisiana.
The Foundation also awarded the St. Patrick Alumni Association, Inc. $5,600, which works in Frederiksted, the area that received the most damage from the hurricanes. They are restoring hope to 50 children and their families and providing real instruction and cultural activities to mitigate the long-term physical and psychological conditions caused by the hurricanes. Their afterschool tutorial program consists of both an academic and a steel pan training program. These two programs run for 9 months throughout the academic school year and serve children and youth ranging from ages 5 to 15 years.
FISCAL SPONSORSHIP FOR COMMUNITY DEVELOPMENT
St. Croix Foundation is not a conventional foundation that serves primarily as a fund developer and grantmaker; instead, we are a conduit of funds, ensuring that charitable projects are able to apply for grants and receive donations for strategic community work. Just since the hurricanes in September of 2017, St. Croix Foundation has managed $400,000 in hurricane relief funds for the following grassroots projects and local nonprofits that are working double-time to meet unmet needs:
ReVIve: In the first 100 days, Revive, a community-based project, brought in hundreds of thousands of pounds of immediate relief supplies to residents in need.
Clean Sweep Frederiksted – Frederiksted, the hardest hit from the hurricanes, had a lot of clean up work to do. Enter Clean Sweep Frederiksted, a grassroots movement whose mission is to keep the historic town a welcoming, economically thriving community space! To thank the linemen who helped to restore electricity in Frederiksted, they held a special dinner to show their appreciation.
Neighbor to Neighbor is literally knocking on doors and referring residents to service providers. They are checking in with and assisting the elderly and the disabled, in clearing their properties of debris, in turn bringing community closer in the process.
Our St. Croix Long Term Recovery Group has brought together over 9 volunteer groups and is putting roofs on houses to keep residents sheltered and safe with tools from the Foundation's Tool Bank created through a donation from the Danish Emergency Management Agency.
Team Paladin Youth Sailing, which teaches public school students to sail, lost their boat in Hurricane Maria and is now working to replace it to ensure that every child has access to sailing.
Just about every public-school teacher lost their supplies in the hurricanes. The Virgin Islands Department of Education, St. Croix District, is striving to replace critical back-to-school items in time for the 2018-2019 School Year. To assist with this endeavor, the Foundation provided teachers at the Claude O. Markoe Elementary School with $3,000 worth of gift cards to Office Depot.
THE ALEXANDER THEATER: RESILIENCY PLANNING AND SO MUCH MORE...
When the Foundation became the court-appointed receiver of several historic properties in the heart of downtown Christiansted, the Old Alexander Theater became a key element of the Foundation's downtown revitalization vision and strategy.
Once a thriving movie theater and the center of economic activity in the mid to late-1900s, the theater currently stands in disrepair. We are incredibly happy to report that, after months of convenings and the dedicated work of our staff, the theatre has been approved as a First Tier Restoration Project by FEMA. Not only will the Alexander Theatre become a critical community disaster shelter that can house up to 300 people in downtown Christiansted, but it will be also transformed into a state-of-the-art performing arts center that will include a movie screen and a stage for a wide variety of performances. Since most of the 8 public schools condemned after the hurricanes also served as disaster shelters, the Community is currently facing an urgent crisis during this current hurricane season with limited options for sheltering. This project has, consequently, become of urgent import for the Territory in preparation for the 2019 hurricane season.
The rehabilitation of the theater will also provide the only inside amphitheater on St. Croix large enough to accommodate conferences and large gatherings, ensuring Christiansted's continual evolution as an economically viable location to conduct business. The theater is also slated to be a job training center for youth pursuing careers in hospitality as well as theater and music production. To make the theater's restoration a reality, the Foundation is currently seeking a reimbursable grant in the amount of $250,000 in order to begin work before FEMA reimburses the Foundation.
SOLAR ENERGY PROJECT: A MODEL OF SELF-SUFFICIENCY
To build on our commitment to sustainable re-development, St. Croix Foundation, in collaboration with Sustainable Systems and Design International, Lions Den Solar, and the Virgin Islands Workforce Board is developing a Solar-supported Community Demonstration Program which develop "pilot" resilient working communities. The project will serve as a replicable model of sustainable community development powered by affordable, energy cost reducing, solar-PV systems installed in neighborhood-based Community Centers. The Foundation is pursuing this program urgently given that the 2017 direct strike of Hurricane Maria on St Croix exposed the critical need for energy independence in isolated neighborhoods.
The overall program goal is to develop centrally located solar powered community centers in some of our more vulnerable underserved communities. The program will also incorporate a workforce development component to provide on-the-job training for local youth interested in pursuing careers in solar energy. While the Virgin Islands Workforce Board is providing most of the funding for this project, the Foundation is working hard to raise matching funds in the amount of $60,000.
The Foundation is working with private and public-sector partners to develop and institute comprehensive resiliency strategies for St. Croix and the Territory with program components that can be activated during times of emergency and disaster.
THE URBAN LAND INSTITUTE
Overall, the Virgin Islands has a long road of rebuilding ahead of us. And, as an operating foundation, St. Croix Foundation is utilizing a data driven approach to sustainable recovery by providing strategic grantmaking and direct services designed to leverage scarce community resources and ensure deep measurable outcomes.
In June the Virgin Islands Housing Authority engaged the Urban Land Institute (ULI), a global land use consortium of experts, to visit St. Croix to conduct a comprehensive, independent, land use assessment for downtown Christiansted. With a 71-year legacy of convening teams of national and global experts, ULI spent several weeks on St. Croix with an expert team of real estate developers, housing experts, cultural anthropologists, architects and engineers. SCF assisted ULI in developing the stakeholder interview list. These specialists toured the town and interviewed key local stakeholders and, when all was said and done, released a report that was affirmation of the Foundation's findings and our evolving community vision. Their recommendations were also partly aligned with the Christiansted Town Plan (conceived by local architect Gerville Larsen in 2013) which was duly crafted, voted on, and approved by the Economic Development Authority (EDA).
ULI's final recommendations, which have been supported and shared by the Foundation for years, is a blueprint for an economic development strategy for St. Croix that includes the following:
Equitable economic development that ensures all residents have access to opportunities
Bigger is not necessarily better (smaller economy with incremental growth)
Focus on the fundamentals like roads and crime
Make small business entrepreneurship a priority
Keep cultural identity central to development (moving away from cruise ships and toward cultural and heritage tourism)
Commit to new technologies that can transform our towns into smart cities
Foster an agribusiness sector (with fidelity)
Put local people first
WORKING WITH PURPOSE
The St. Croix Foundation's work is today aimed directly at using smart technology to serve our most vulnerable residents, providing for our farmers to increase food security, and focusing on small, neighborhood-based models.
Taking into consideration the demographic realities of St. Croix, with higher poverty rates and fewer economic resources, St. Croix Foundation's CARE Fund is supporting St. Croix non-profits by targeting those that are filling critical social service gaps with fewer financial resources. Our commitment is to support a holistic recovery through a community-based approach to sustainable re-development.
We truly feel connected to our Global Community and wish to thank the many foundations and donors who make it possible for us leverage funds for long-term, capacity building that goes far beyond immediate recovery. This is community development. This is impact. This is philanthropy.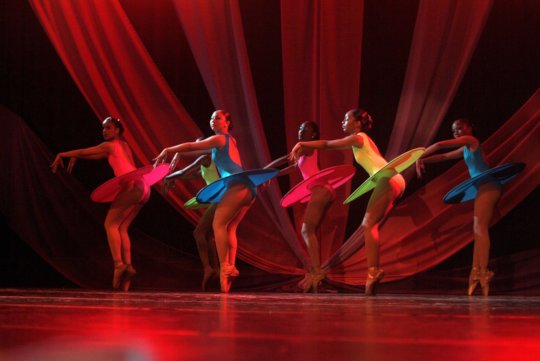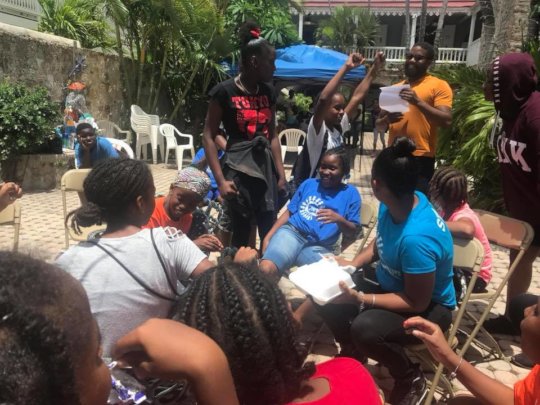 Attachments: