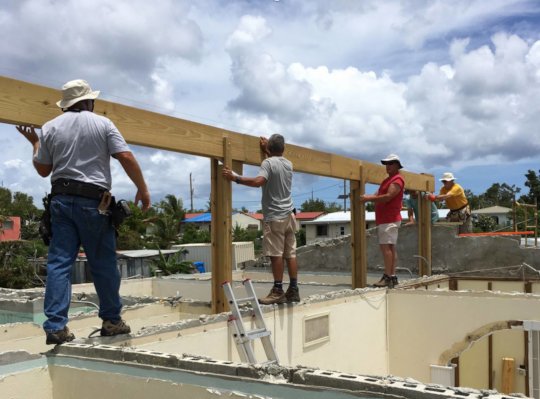 Introduction
The St. Croix Long Term Recovery Group (STX LTRG) is a collaborative partnership of nonprofit and volunteer organizations, faith-based organizations, as well as federal and local government agencies, private sector businesses and concerned citizens, working together to address the recovery needs of individuals of the St. Croix community in the aftermath of Hurricanes Irma and Maria. According to current estimates, some 3000 territory residents will need Disaster Case Management (DCM) assistance, followed by Unmet Needs support of the territorial LTRGs. One of the greatest issues confronting the St. Croix community is the extensive number of damaged houses throughout the island still in need of repair. Today, one year after the hurricanes, when flying over St. Croix, the number of blue tarps on roofs is staggering. But because of the support of so many friends of St. Croix and Global Giving the St. Croix LTRG has completed nine (9) homes that house elderly who live alone, who would otherwise not have a roof and were living in hazardous conditions.
The first volunteers for the volunteer rebuilding initiative arrived on June 2, 2018. This followed a several month period of planning which included: hiring staff, recruiting volunteers, developing policies and procedures, securing volunteer housing, identifying initial homes to repair and purchasing vehicles (vans, trucks, trailer), tools, and an initial supply of building materials.
From June 2 to August 17th, we have hosted 9 volunteer groups, consisting of 155 volunteers. They have provided 7,444 hours of free labor. Most of our volunteers have come for two weeks, with some staying 3 weeks, a month and longer. Six of the initial 9 groups have been from United Methodists Volunteers in Mission. We have been fortunate to have had skilled groups, with one or more construction contractor leverage volunteers in almost every group along with carpenters and other people with building experience in addition to lesser skilled volunteers who come with a desire to work hard and help.
We are booked with volunteers constantly until Thanksgiving week, 2018. We are presently accepting reservations for groups who want to come after that date.
We are primarily repairing the homes of low and fixed income senior citizens who cannot afford a contractor. Our labor is free. The homeowners contribute towards the building material cost with funds received from FEMA for that purpose. We make up the remainder in material costs from donations for that purpose. We are primarily rebuilding roofs. We construct to a standard of "safe and dry". Homes go through a screening process for eligibility as a client and suitability for our rebuilding capacity. As needed, we ask architects, engineers or draftsmen to help us create the rebuilding plans.
The sections below describe in detail some of the work the volunteers have accomplished.
HOME REBUILDING AND GUT PROJECTS
Homeowner: #1
Address: in Frederiksted town
Particulars: Male senior citizen, veteran, lives alone. Very old family house had evidence of neglected maintenance, storm damage and then further damage from the very close-by house next door burning down. The homeowner did not have working electricity or plumbing when we started repairs. House came to the attention of LDR due to its proximity to the Lutheran Social Services main office. The homeowner lived in the house during rebuilding.
Work done:
The homeowner continued to live in the house as we worked and contributed with electrical work and painting.
Wood Section – work done
Floor – installed about 15 new floor joists and support posts.
Plumbing – replaced plumbing to get both the kitchen and bathroom working
Electrical – Installed a new meter base and rewired this section of the house completely
Walls – installed new wall studs as necessary, replaced exterior siding on one wall to replace damaged wood.
Roof – scissor new rafters alongside damaged and weakened existing rafters. Installed hurricane clips. Bolted ledger boards through the walls and attached straps to rafters. Replaced the galvanize roofing. Installed new facia boards and soffits. Added gutters.
Doors – rebuilt exterior doors and jambs, built new steps to exit from this section to the courtyard.
Out building
Patched metal roofing and added hurricane clips.
Masonry Section
Doors & Windows – replaced entrance door jamb, replaced two upstairs windows
Plumbing – minimal plumbing to get upstairs bathroom working
Staircase – built a new staircase from courtyard to second floor (only access). We did not plan to do this but realized the existing staircase was a safety hazard due to rotten supporting beams.
Roof – added wood to convert roof framing into trusses for additional support, installed hurricane clips connecting rafters to top plate and to ridge beam, added bolts to top plate to increase to one bolt per truss for strength, replaced old roof with new purlins and galvanized metal. Reduced overhang size. Added gutters.
Total hours of Volunteer Labor – 1,578.5
Homeowner: #2
Address: Estate Hannah's Rest, Frederiksted
Particulars: Widowed, female senior citizen lives alone. House suffered complete roof damage. After the storm, due to her medical needs, her family sent her to Florida where she still resides waiting for her home to be repaired. One of her sons engaged a contractor and used some of her FEMA funding to start repairs to one half of the house although he knew there was insufficient funding to replace the roof. More information about this rebuilding is below. House was referred by the homeowner's son who was aware that LSS had done rebuilding work after previous hurricanes.
Work done:
This is a house most easily understood as having two halves, a south half and a north half. Each half has a gable end roof.
North half
Demolition – tore off remaining roof and ceiling pieces. Muck and gutted the house and yard.
Roof – built a new ridge beam, installed new rafters, hurricane clips, plywood, felt, purlins, galvanized metal, facia board. Installed ledger boards bolted through the walls and strapped rafters to the ledger boards. Installed valleys where both roofs intersect. Replaced soffit and installed facia boards and gutters.
South half
Roof – this section was partially rebuilt by a contractor hired by the homeowner. A ridge beam and rafters were installed. The bond beam had been heavily damaged as the contractor gouged out sections looking for steel to tie the rafter too. Very little steel was in the original bond beam. As an alternative we added ledger boards bolted through the walls and strapped the board to the rafters as we did on the north half. We installed hurricane clips, plywood, felt, purlins, galvanized metal, and facia board. The rafter installation done by the previous contractor was not square and had irregular spacing. This led to a slow process as we had to make multiple plywood cuts and it was equally difficult to place the galvanized metal roofing. Installed facia boards and gutters
Interior – Installed t-111 plywood as trim pieces to cover the areas where we bolted ledger boards and strapped down the gutters.
Total Hours of Volunteer Labor – 1,447.5
Homeowner: # 3
Address: Estate la Grange, Frederiksted
Particulars: Female homeowner lives alone, has visual and auditory disabilities. House was referred by a neighbor who provides assistance to the homeowner. The homeowner lived in the house while we made repairs.
Work done:
Main damage to the house was a front second floor porch roof that was destroyed. Without the roof all rain water entered the house causing a danger to the visually impaired homeowner.
Porch roof – minimal demolition, installed new rafters, purlins, galvanized metal and facia boards.
Back of house roof – replaced a few sheets of damaged galvanized metal. Repaired other damaged and rusty sections with a three-step coating process.
Total Hours of Volunteer Labor – 137
Homeowner: #4
Address: Stoney Ground, Frederiksted
Particulars: Female, widowed senior citizen lives alone. Has one daughter on St. Croix who also lost her roof. Mother and daughter are in temporary housing and both will move in when the new roof is built.
Work done:
This house lost its complete roof. In June we did muck and gut work and demolition as needed. We built a new ridge beam changing the original flatter pitch to a 5/12 pitch.
In July we resumed work on the house, installed plates on the tops of the walls and secured them with bolts and epoxy. We installed rafters and hurricane clips connecting rafters to wall plates and ridge beams. Installed collar ties on rafters on both ends of the house. Built up masonry gable ends on both sides of the house to meet the new higher ridge beam and installed a bond beam on the gable ends. Finished the roof with plywood sheathing, purlins and galvanized metal. Installed facia and gutters.
Total Hours of Volunteer Labor – 916.5
Homeowner – #5
Address: Estate Catharine's Rest
Particulars: Senior male homeowner lives alone. Wife died two years ago, and he has not touched much in the house since then. Homeowner has a daughter on St Croix at whose house he slept in following the storm. He spends the days at his damaged house while the daughter is at work. House had some hurricane damage and mold which was fixed by the HER program.
Work done:
A group of volunteers from an independent Christian church in Maryland, worked with the homeowner and his daughter to remove two dumpsters of items from the home, reorganize and clean.
Total Hours of Volunteer Labor – 200.5
Midland Wesleyan Church
Address: Estate Calquohoun
Particulars: The pastor asked for volunteer help to remove construction debris and tree limb debris from his parsonage area on the church property.
Work done: A group of volunteers worked over a two-day period to complete the task.
Total Hours of Volunteer Labor – 24
RENOVATIONS FOR VOLUNTEER HOUSING & TRAUMA COUNSELING
St Dunstan's School
Address: Estate Orange Grove, Christiansted
Particulars: Closed school, owned by the Episcopal Diocese. The LTRG identified it as the best St. Croix site for volunteer housing due to its size and layout.
Work done:
Using some UMVIM volunteers along with volunteers from other groups we have done muck and gut work, minor repair to bathrooms and extensive cleaning and interior painting of classrooms (will be used for volunteer lodging) kitchen and bathrooms.
Future work includes creating a shower facility and outfitting the kitchen.
Total Hours of Volunteer Labor – 2,016
IGGY
Iggy is a locally created storm trauma processing and reduction curriculum for children kindergarten through 3rd grade. The main feature is a puppet show that creates a scene in the storm's aftermath to show the impact on families and then processes to an ending designed to normalize feelings and give hope. Volunteers with the assistance of LTRG members and crisis counselors have made 25 presentations to approximately 600 children.
Total Hours of Volunteer Labor – 162.5
UPCOMING PROJECTS: It's more than a roof. It's Home.
We are waiting for wood flooring to arrive in order to fix a bedroom in a hospice patient's home, so the patient can be next to a bathroom.
Three houses with significantly damaged roofs are being prepared to be our next major projects. Two houses with broken ridge beams are going through engineering and drawings process now to ready them for building permits. A third house is being assessed for material needs.
We continue to receive rebuilding requests from the crisis counselors, disaster case managers and a hospice social worker as well as the general public. People come to our office daily to fill out a referral from which is then sent to disaster case managers for initial screening.
FUTURE PLANS: Leveraging Renovations for More Volunteers
We intend to continue recruiting skilled construction teams and rebuilding the roofs of low and fixed income homeowners, primarily the elderly. We will continue to need funds/St. Croix Long Term Recovery Group is currently identifying funding to subsidize building material costs. But perhaps most importantly, we hope to be able to expand the program by finishing renovations on St. Dunstan's School, which will allow us to house three times more volunteers than we can at our current location. We need /Further repairs to St. Dunstan's School and we will also need additional vehicles and trucks for an expanded volunteer program. It will require approximately $150,000 to finish that project. Presently, we are seeking a donation of, or funds to buy, a ¾ ton crew cab truck to allow us to transport large loads of building materials with our trailer and carry additional volunteers.