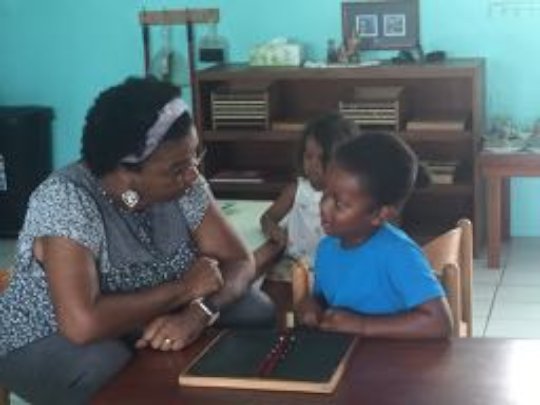 A year after two Cat-5 hurricanes, Irma and Maria, rampaged across the Caribbean, St. Croix Montessori opened its doors to embrace 37 children and their families and welcome the start of a new school year. The new gutters gleamed in the sunlight, and the campus burst with the sounds of rejoice – our children ran across freshly grown grass to leap on the playground they hadn't seen in two months, families shared stories of summer vacation and hugged as they reunited.
"It feels like a family reunion!" one father shouted.
"You've moved back to the island! Thank you!" a grandmother said to a young mother of two.
"We are just so thankful to have been able to join Montessori this year," exclaimed a grinning parent of one of the four public school students able to enroll in our Elementary program.
Thanks to the GlobalGiving community and St. Croix Community Foundation, our school was able to navigate our initial year of hurricane recovery. We struggled. We survived. Your support ensured we provided a year of education following the storms, six weeks of summer enrichment to the children of St. Croix, and enabled St. Croix Montessori to re-open our doors for the next year of recovery.
The Foundation for Learning
In St. Croix, there is a severe gap in options for early childhood education. Roughly a dozen private options exist for pre-school, and the public system introduced a pilot pre-school program for 30 children ages 4 and up this September.
Our school exists in a unique position, having the only accredited option for developmentally-based education preK-grade 6. St. Croix Montessori understands that 90% of a child's brain development occurs during the first five years of life and forms the neural foundation for all learning, behavior, and health (Center on the Developing Child at Harvard University). Programs engage all aspects of a child's development – i.e. emotional, social, practical life (movement), and academic - beginning at age 2 ½ and continuing to age 12.
We practice equitable collaboration – parents and community partners are part of the learning process. We teach social justice and peaceful conflict resolution. Our team of 5 instructors integrate cultural education as well as academics and gardening into the daily routines. For St. Croix Montessori, systems-thinking is just good Montessori.
The Importance of The GlobalGiving Community's Support
It is only through the support of St. Croix Community Foundation and GlobalGiving that our school has survived through to September 2018.
As of this report, our school has not yet received disbursements from insurance, FEMA Private Non Profit Assistance, or SBA Disaster Loans, despite having begun these processes in September 2017. The impacts of having been stretched to capacity for over twelve months are seen across our organization, however, in the face of islandwide, chronic shortages for teachers, contractors, supplies, and in response to the demand for safe learning spaces, we have remained open, provided quality education, repaired a collapsed sewer line and damaged roof, expanded our Elementary program, and became one of the only summer enrichment programs to remain open.
We have a saying: the child is the promise of humanity.
St. Croix Montessori believes that access to education should never be determined by socioeconomic status.
Thus, we fundraise to provide scholarships to over 50% of our families. On average, St. Croix Montessori's fundraising results in 25-50% of the total amount waived for scholarships for low-income families, which are 35% of our population.
Our commitment is to practice our core beliefs. For example, the Head of School refused to take a salary for over a year so that teachers could receive a living income. In the face of rent increases and housing shortages, the Head of School continues to receive less than half of her salary so that all available funds can be directed towards teaching, learning, and ensuring the integrity of our school's operations. Our team, at their personal expense, is in the process of becoming cross-trained in order to address the realities of life (e.g. we get sick; our relatives pass; our children are ill) and still provide support to our students.
The Global Giving community is saving children in St. Croix.
In 2015, 40% of all VI children entering public kindergarten lacked age expected cognition skills and over half (55%) lacked age-expected word recognition and comprehension skills for kindergarten readiness (USVI KidsCount 2015). In comparison, 85% of St. Croix Montessori's students who are eligible for promotion (i.e. 1st grade, 3rd grade, or 6th grade) perform at or above grade level, and transition successfully into public, parochial, and other independent schools.
And our classrooms are filled!
In September 2018, public school students were promoted to the next grade despite having had a year of half-day sessions. Many were sent back to schools with hurricane damage. In comparison to St. Croix Montessori, the only other choice for non-parochial education on St. Croix charges over $12,000 a year for Elementary education and increases to $16,000 per year for middle school.
On an island whose median family income is $42,000 (pre-hurricane), we ask: how can we ensure equitable access to education exists for all families?
The Challenges & Joys of Being Different
St. Croix Montessori is unlike most independent schools. We operate more closely to a public Montessori program, yet don't receive the support of our public counterparts; nor do we have an endowment or affluent, enrolled families.
The reality of continuing to provide access to wholistic, child-centered education is challenged by an island in crisis and our school having:
Full responsibility for all damages to the leased campus and property, including ongoing maintenance (over $10,000 per year), routine repairs (approximately $5,000 per year), and property insurance, which doubled in annual costs.
Hurricane Repairs total over $200,000; we have not received disbursements from FEMA, SBA, or Insurance.
Rent was increased three times since the two hurricanes, even as critical plumbing infrastructure collapsed and the school requested an agreement that would not compromise our ability to remain open
Our Elementary programs are at capacity with a waiting list; space on STX is in demand.
Enabling access to schools is a critical cornerstone in securing an economic future; it is also a fundamental requirement for humanity.
The Joy of Being Different: Together with the GlobalGiving community, we build a network of relationships whose purpose is to support families on STX and create a scalable, model system of education that always places the child first.
The magnitude of change needed in the USVI makes it clear that closing the education gap and ensuring St. Croix's children have the skills for a 21st century world, requires investment in partnerships that are built upon an equitable collaboration philosophy and community of practice.
St. Croix Montessori, with a team of 6, has been steadily growing its relationships to meet this call. With you and our global Montessori partners commited to ensuring our school survives through the next year of hurricane recovery, we will transition from survival to a model for thriving. Parents, who have donated their talents and time to building, repairing, and cleaning, join this commitment.
You, our GlobalGiving community, have ensured that 37 children, and their families, can discover the joys of learning and feel the security of knowing they have a school for another year.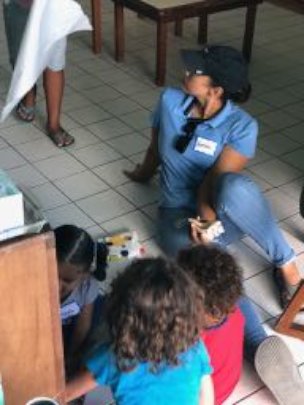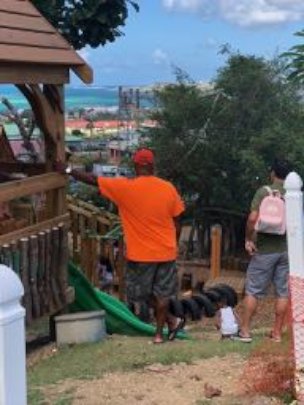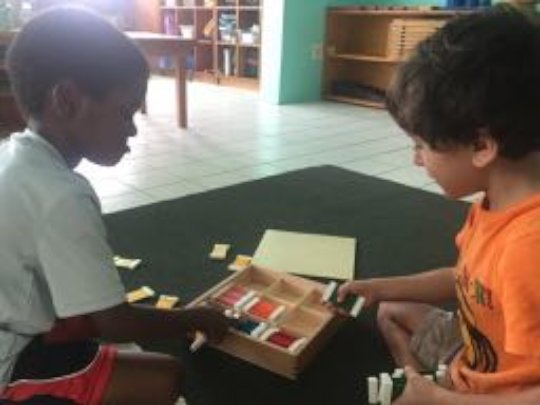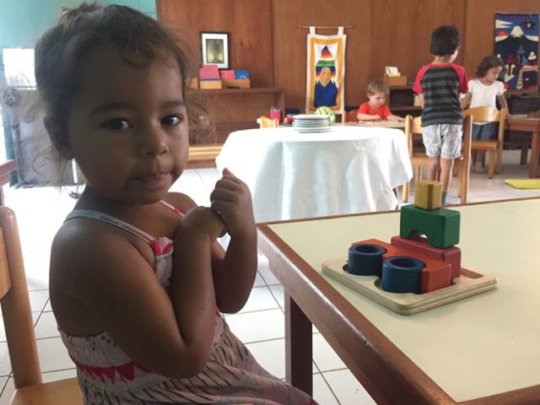 Links: