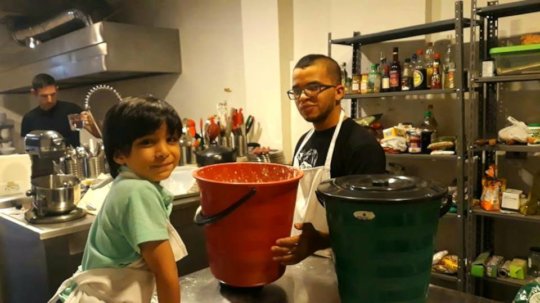 Happy New Year! At Via Cocina - Food Train we were fortunate to finish off the last week of December and the first week of January with some last minute tourism groups and referrals, which brought in enough funds to order the remaining flooring required to finish the first floor entrepreneurial space! So soon we'll have Humberto back in the house working away to get that done as quickly as possible.
Daniel, who participated in our pilot project with his vegetarian and vegan sandwich small business, has returned from Chile after two years working there to help his parents who relocated from Colombia. Now reunited with his young family in Medellin, we´ve been working to define some new bread products and fillings so he and Sara can start selling again in the next week or so. And once I have the entrepreneurial sales space ready in the coming months, the plan is for them to be selling once or twice a month there as well!
So the year has started off well, let´s hope that things continue positive with us and with you!
Hasta pronto!
Links:
After roughly six months of waterproofing and renovations on the Vía Cocina rooftop, we are finally happily finished this phase of work!
Our worker Humberto has returned to his village home in Valencia, and I'm trying to get some well-deserved rest too before what we hope will be a busy December with community and private events to finish the year.
It took almost 2 months to finish installing the flooring on the roof, because of the tiny 10cm x 10cm size of the tiles. In the photos you can see that we've also got some of the ornamental plants growing in the new rooftop gardens. In the next report I hope to share images of vegetables and herbs growing with community member help too!
The next phase of work will be to get the flooring and plumbing etc ready in the front patio so that low income entrepreneurs can start learning and selling to the public in our space ASAP. Hopefully Giving Tuesday and tax deductible year end donations will give us a head start, but either way we're looking forward to a slow and steady road forward!
Thanks again for your support!
Brian
Hola! Thanks to the donations received during the June accelerator, we were able to get the prep work for roof waterproofing done by our local handyman Humberto! The donations went directly towards paying Humberto, who needed to do all types of work pouring concrete, brick laying, prepping the future rooftop garden areas, and basically ensuring the entire roof area was ready to install the waterproofing, which was installed and paid for by another generous donation. I can now confidently say that the roof is leak free!
We've also had important contributions from volunteers like Gary, Karen and Tatiana who helped out with the prep work, as you can see in the photos. We are extremely grateful for all the collaborations we've received, and look forward to leaving the dust and cement behind, replacing it with green spaces and community workshops!
Thank you!
WARNING: Javascript is currently disabled or is not available in your browser. GlobalGiving makes extensive use of Javascript and will not function properly with Javascript disabled.
Please enable Javascript
and refresh this page.