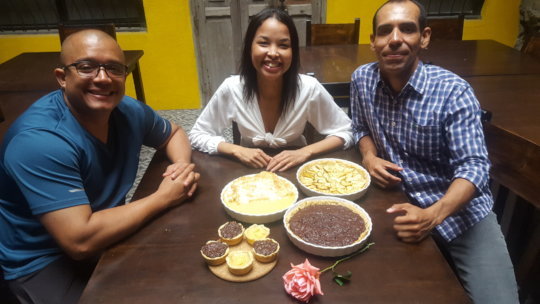 As promised in my last report, I finally started up my community classes again this quarter! I've been trying to alternate between new classes for participants who came to all of last year's classes, and a repeat of last year's classes for the new participants who want to learn what was offered last year too. So far I've repeated our popular artisan bread making class, healthy homestyle Chinese cooking, and our pesto class, to take advantage of all of the herbs that are growing in the rooftop garden and needed to be trimmed back. Some people from last year have even repeated the classes, eager to refresh their minds and relive the flavours!
The new classes I've developed and shared so far are homemade Mexican mole with salsa verde, pie crusts with savoury quiches and chicken pot pie, and refined sugar-free sweet pies and tarts. All have been well received, and we have a good mix of participation from all neighbourhoods in the city!
In addition to the classes, I've been working on getting the house and project organized both physically and administration-wise, with more than 4 years of photos and videos that need to be categorized and archived; it's a long process, but it's going well. I also found out that one of the big international tourism operations I've been in contact with for 5 years now and hoped to partner with, have chosen a different project in Medellin to support with their organized tours. So while this is an unfortunate blow to Via Cocina's strategy of sustainable project management and financing through tourism activities, I'm happy for the other organization that will hopefully be able to bloom and increase their infrastructure and support for vulnerable women on the other side of the city. At the same time, it means that organizing our visuals and online presence, and working harder to have stronger marketing material, references/rankings, and direct relationships with a variety of tourism companies and online platforms becomes an even bigger priority for this year, as we strive to be fully operational in 2020.
And as you might have imagined, it's almost impossible for us to go a full quarter without some type of renovation in the training space: with the funds from the community classes and some private events, I was finally able to save enough money to purchase the materials and pay for the installation of a drywall false ceiling in the kitchen! As I write this report, one of the workers is in the kitchen using plastic containers as improvised stilts as he plasters up the joints, before I clean and remove all of the dust from the kitchen to have it sterilized for my monthly cooking event and final bread class, and the workers come back and finish up sanding and painting. Once that's done I can do one final big cleaning job and the kitchen will take on a new breath of fresh air!
Thanks as always for taking the time to read our reports, and for your support from near and far!
Happy summer!
Brian