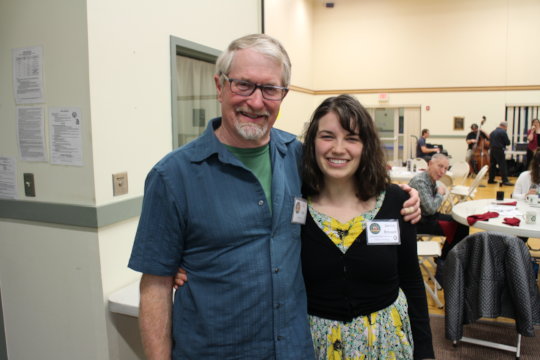 "When you're hungry, you can't think, you can't work, you can't do anything," said CFI Board Member and Athens County farmer Rick Vest. Rick is one of many local farmers and food vendors who have joined us in our efforts to reduce hunger in our local community in Southeast Ohio. You'll frequently find him donating unsold produce at weekly markets or taking advantage of our Harvest Hotline to donate excess crops during harvest season. It's farmers and food producers like Rick who help make our Donation Station program so successful.
Our Donation Station receives both food and monetary donations each week at local farmers markets and produce auctions from customers and vendors. We use the monetary donations to purchase fresh foods from market and auction vendors. The food that is donated or purchased is distributed to social services agencies in five Southeast Ohio counties.
We started this program in 2007, and our unique model has received widespread support from farmers, food vendors, and pantry coordinators alike. Monna Taylor, the Food Pantry Coordinator at Bishopville Food Pantry in Morgan County often comes to our distributions. She says, "Getting fresh produce every week is great—it's fresher, tastes better, and sometimes I joke with patrons that I picked it all myself!"
The Donation Station is successful because it addresses poverty and food insecurity in our region while simultaneously supporting the growth of the local food economy, working towards a more equitable local food system for everyone. We believe in this model, and we can measure its success.
In 2017, we distributed 90,410.5 pounds of local produce and food products distributed to 41 food pantries and social service agencies in five Southeastern Ohio counties. We also invested $13,632 back into our local food economy by supporting famers and food producers.
We have three goals for 2018 to strengthen our program and extend our reach to meet the needs of our region. First, our distribution goal for 2018 is 95,000 pounds, 5,000 pounds more than we distributed in 2017. Second, in 2018 we will also work to deepen our reach in nearby counties outside of Athens. We currently serve Athens, Meigs, Morgan, Vinton, and Washington counties, with most of our distribution remaining in Athens county. We will work especially closely with pantry coordinators in counties beyond Athens to ensure that their needs are being met. Finally, we will share this model throughout our region. Our goal is to replicate the Donation Station, so that each community can benefit from a similar program buying products directly from local farmers and food producers and distributing those products to people in need.
Nearby Ross County, Ohio launched the first pilot replication of the Donation Station in 2017. In their first year they distributed 11,016 pounds to Ross County food pantries and invested over $5,000 in farmers market vendors. In 2018, our goal is to replicate this program in at least one other community in our region. Your support will help us make this goal a reality, and we look forward to sharing our progress with you!