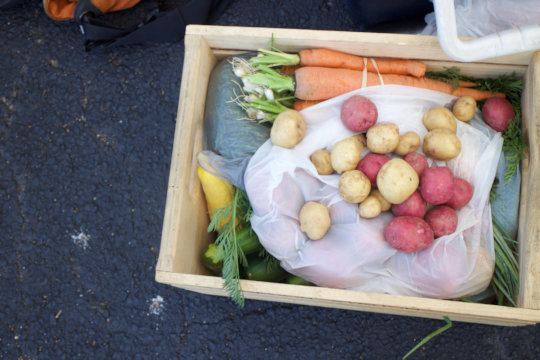 The Donation Station at Community Food Initiatives in Athens, OH, is in the midst of yet another busy season! We're at our local farmers market every Wednesday and Saturday, and at a local produce auction every Monday and Thursday, which means that we're spending the majority of our time out gathering produce to distribute to people in need. During this time of peak produce we host an extra day of distribution, and are even sometimes able to call on pantries for a special one-time pickup if auctions and markets are especially fruitful. Just last week we received nearly 2,000 pounds of produce at the produce auction alone, enabling us to distribute more than a ton of fresh, local, food to pantries and other organizations working to fight food insecurity in southeastern Ohio.
It's inspiring to be partnered with so many individuals, volunteer groups, businesses, and non-profits in this region of Appalachia that share a common goal of providing equitable access to healthy food. Nelson Mandela wrote that "overcoming poverty is not an act of charity, it is an act of justice," and at CFI we firmly believe that everyone deserves to be able to eat -- not just food, but food that will support their health and well-being. Well-being on an individual level increases community-wide well-being, so work being done to address food insecurity is critical for resilient and sustainable communities. Thanks to our partners and to the amazing, continued support of generous donors, we've been able to distribute 38,085 pounds of food so far this year, and have invested thousands of dollars back into the local economy, directly supporting farmers who are producing food that is good for people, good for the planet, and therefore good for the economy. A truckload of potatoes, apples, winter and summer squash, melons, tomatoes, onions, greens, beets, and other gorgeous fruits and veggies -- all for distribution -- is truly a beautiful thing!
In addition to handling tons of produce (literally!) each week through the Donation Station, CFI is in an exciting period of growth with new staff and volunteer members. Executive Director Scott Winemiller, Gardens Program Manager Molly Gassaway, and Donation Station Program Manager Susie Huser all joined the CFI team this summer; Caitlin Garrity moved into the new position of Special Projects and Outreach Coordinator; and an outstanding group of new COMCorps and VISTA members started this summer as well. Additionally, CFI continues to work on the SEO Foodlink project, an initiative creating a valuable resource hub for a people-centered, resilient food network. Only in its second year and still evolving, the project has already received considerable interest and positive feedback from community members.
As many from this area are aware, Ohio is ranked 47th in the nation for food security. Within Ohio, food insecurity is worst in this southeastern region we love and call home, which means demand for the food and services we provide at CFI is great -- so great, in fact, that it often exceeds our supply. It can be overwhelming to think about all of the people facing food insecurity, but one of the most encouraging things about experiencing what we do at markets and auctions first-hand is seeing the cumulative impact of many hands. At market people drop donations in the jar and bring produce from their garden, and each person -- whether a young kid, parent, college student, or someone who's been supporting the Athens Farmers Market for multiple decades -- knows they're making a difference. Coming together as a community, supporting the community, supported by the community -- This is a model for resilience, and we're thrilled to be part of it.
Links: