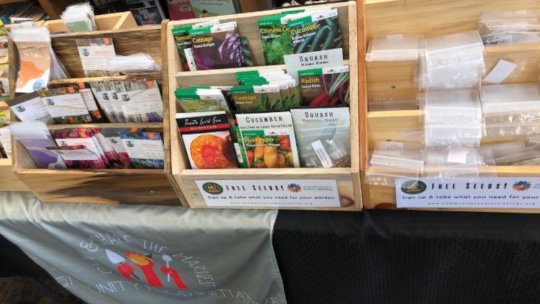 The Nelsonville Community Garden plots are growing!

Our grand re-opening ceremony on April 8 was a ton of fun and brought together community members, partner organizations like the Athens Health Department, COMCorps (an Athens AmeriCorps program), the Tri-County Career Center, and CFI staff and board members for an evening celebrating months of hard work. A brief downpour gave us excellent opportunity to test out the new shed (it's waterproof!), and the event was even published in local media! We also took advantage of the community gathering to give away seeds as part of our annual seed giveaway.
Throughout this project we've really enjoyed working with various members of the Athens Creating Healthy Communities Coalition. With help from a CHC grant we were able to purchase beautiful, new tools for the Nelsonville Community Garden as well as put up our final wall of the fence. The Athens County Health Department, who facilitates the grant, also worked with Nelsonville accessibility group Sech-Kar to test out the accessibility of the garden. We are so fortunate to have the continued support of these organizations, and cannot wait to see what else we can accomplish!
We also owe enormous thanks to the awesomeTri-County Career Center Carpentry program! They refurbished a shed and built our two accessible garden beds. Their contribution has made such a difference in getting this garden together and we could not be more grateful.
Now, thanks to your support and to community collaborations, the plots are ready to grow some amazing food! We've been digging in the dirt together and tomatoes, potatoes, onions, garlic, and kale are in some plots already. A million thanks for helping us make this project happen, and for ensuring that it's sustainable.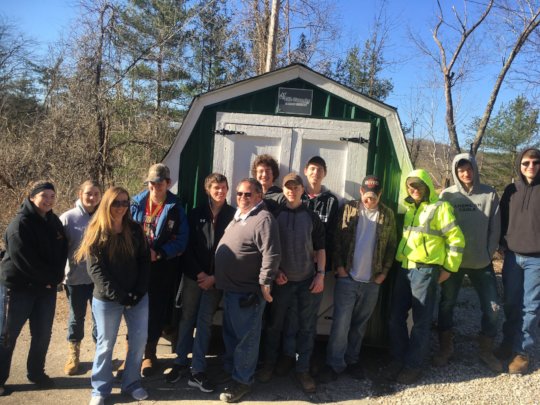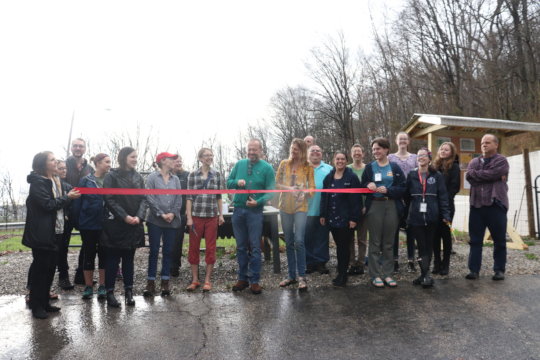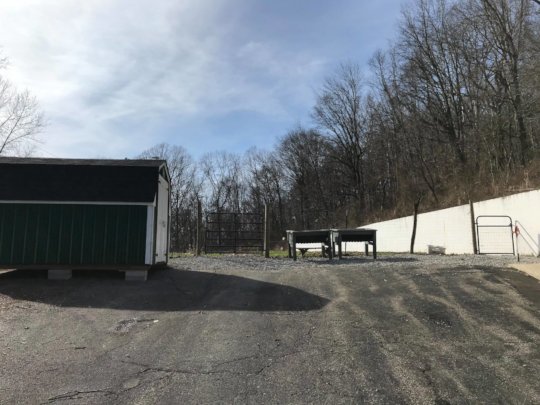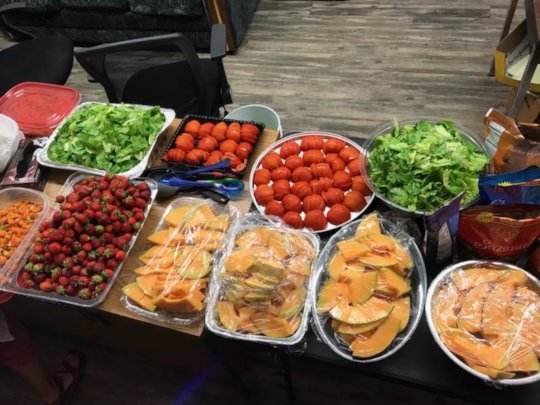 The growing season is in full swing and we're busy back in the gardens with weekly work parties, and at the Athens Farmers Market and Chesterhill Produce Auction, at each event twice weekly. Because people are growing and donating more food, and we're purchasing more food, we have more to distribute! We're back to distributing locally grown/produced food twice each week, and we've also been able to do some special distributions of greens to partner organizations that provide free meals. All of this programming happens thanks to your support! When we ensure that everyone in the community has access to locally grown/produced food, whether through immediate access to food or through garden access and education, we're not only supporting individuals facing food insecurity, but also working for transformative change through promoting continued interest in our local food system.
Some big events have happened since kicking off this campaign:
We hosted our seed and plant-start giveaways, distributing over 4,000 plants and reaching hundreds of families throughout the region.

We collaborated with Athens Public Libraries to host bucket gardening workshops, where participants learned how to garden even without garden space. Attendance was great!

We helped sponsor the Nelsonville Community Dinner, sharing an awesome meal featuring locally-grown food with over 150 people. It was an awesome event, and inspiring to see several organizations work together to make it happen.
Thank you again for your support! We only create transformative change with engagement from the entire community, and we know our community is both invested and expansive.
With much gratitude,
The CFI team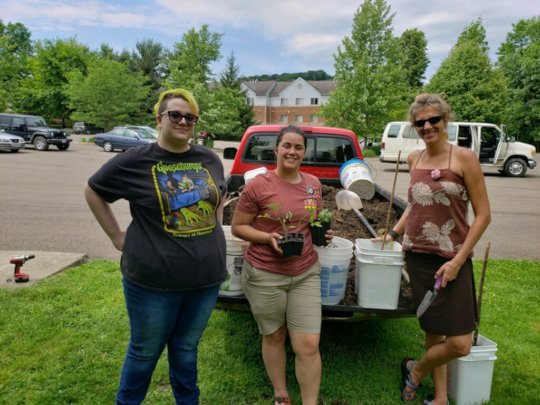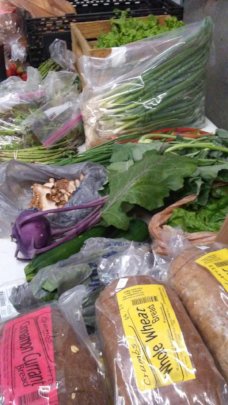 A lot is happening at CFI! It's because of our community of support that we're able to do what we do, so THANK YOU! We'd like to share with you about two big initiatives.
POTATO GIVEAWAY
On Friday, March 22, CFI hosted its annual seed potato giveaway, distributing nearly 30,000 pounds of seed potatoes to individuals and organizations throughout the region. Given an average of 8 pounds of potatoes produced from every pound of seed potatoes, this event enabled future provision of 240,000 pounds of food. How amazing! With the generous contribution of time and energy from businesses, partner organizations, and individuals, we were able to get all of these taters to families throughout Appalachia.
DISCOVERY KITCHEN WORKSHOPS AT OHIO UNIVERSITY
The Discovery Kitchen events that CFI has been hosting at OU have been a huge success! These free workshops are part of the Initiative for Appalachian Food and Culture, and help drive the demand for local food on campus through hands-on experience preparing recipes that highlight seasonal, regionally-grown food. OU and Athens community members make and share a meal together while learning about food access and the importance of a sustainable, thriving, and equitable local food system.

The workshops are led by COMCorps member Sierra Faris and Discovery Kitchen Intern Jackie Stevens with the help of Tom Stevenson, Visiting Assistant Professor for the Restaurant, Hotel and Tourism program. Recipes have featured winter squash, kale, and other produce available during these non-peak production months. Additionally, we have been fortunate to partner with the Patton College of Education in the use of their McCracken Hall kitchen.
This is what Stevens (DK Intern) has to say about the project:
The goal of Discovery Kitchen is to provide OU students and Athens community members with knowledge about food accessibility and local produce. The workshops are hands on. The community members get hands on experience cooking the meals!
We always incorporate local fresh ingredients from the farmers market into the recipes. In the past we have used kale and sweet potatoes, which come in all funky shapes and sizes. Some potatoes are the size of a small dog!
Those who attend step away with a new found confidence in the kitchen. One of our repeat attendees, Sharon, told us that "I had never used kale before, to be honest it intimidated me. But after working with it during Discovery Kitchen I cook with it all the time. It's so delicious."
------------------------------------------------------
Working directly with community members as a grassroots organization, we see the need that exists in this region first-hand. It's so inspiring to witness and experience the incredible support that's out there for organizations working for positive change! Thank you for your
continued support as we move forward in our mission
!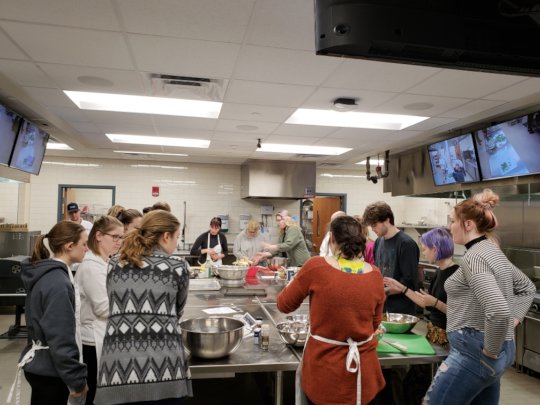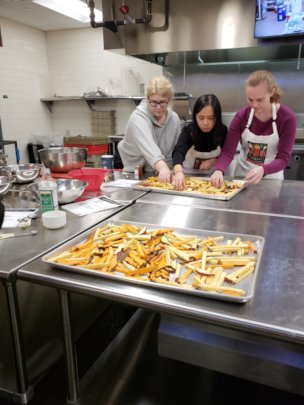 WARNING: Javascript is currently disabled or is not available in your browser. GlobalGiving makes extensive use of Javascript and will not function properly with Javascript disabled.
Please enable Javascript
and refresh this page.