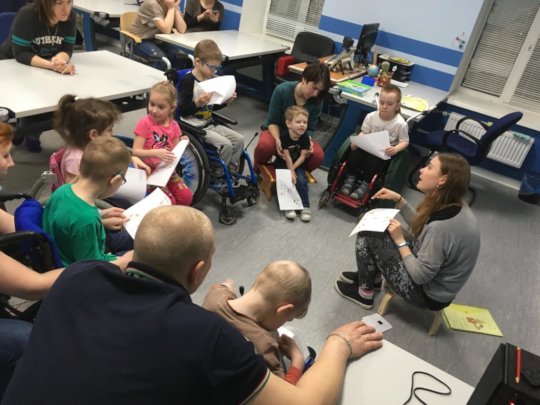 Timosha is a member of our St Petersburg group. Like all the children in this group, he has physical challenges that means he can only sit and stand with support. These also affect his ability to talk. Timosha doesn't speak, but thanks to our work, that doesn't mean that he doesn't communicate. Far from it!
His mama tells us,
"Timosha has been coming to the project for two years. He can understand speech well, as well as pictures, photographs and a few familiar written words. This year, Timosha got a communication book, which he has been actively using at home and at sessions. He quickly understood how the book worked and now we are increasing the number of pictures and making the structure more complex. Timosha is also learning to understand rules, to take turns, and to accept other people's choices. We are practising these skills in games and Timosha is making great progress. Most of all during the group sessions, Timosha likes the tea and biscuits, letters, playing hide and seek with little toys, and writing words with help. He uses his communication book in all his games.
Everything has changed since we joined the project two years ago. I have felt colossal support, Tim has started to change and loves going to the sessions. What's most important is that we have concrete goals and understand where we are going. Timosha doesn't talk, and we can't always understand what he wants. Now, thanks to the project, we have a communication book, which Timosha can use to ask for a drink, to choose what he wants for breakfast, to tell us where he wants to go, or what he wants to play. He can even tell us what mood he is in. It's great!
At the sessions with the physio, Tim is learning to sit at a table with a support on his legs, to stand at a support, to transfer his weight and to use his left hand. We practice all this at home when we are playing and in our daily routines. When we started coming here, Timosha couldn't do any of this without adult help. Now he can! Timosha has also learnt to interact with other adults and children, to wait and to observe rules. Our family is very grateful to be part of the project. Thank you!"
We video some of our sessions and put them on YouTube so that professionals and families can see how we work and the progress the children can make. You can see Timosha at work with his mama and his speech and language therapist by following the link below. I'm sorry we haven't sub-titled the video. You may also wish to skip the first minute of intro, especially if you don't read Russian.
Links: